A disconnect between traditional teaching methods and insights from immigrant and Indigenous children can lead to disinterest in vitally important math education, according to a University of New Brunswick graduate student.
Zyrene Estallo, winner of a $5,000 award from the Social Sciences and Humanities Research Council (SSHRC) as part of their 2023 Storytellers Challenge, is working on ways to fix that disconnect by studying how to improve diversity in math teaching. 
Estallo, a master's student from The Philippines, said math can be learned through culturally relevant daily activities, not just by memorizing formulas and shapes on a board.
"For some children, depending on where they're from or how they grew up, it's hard to integrate with a world that does not recognize where they're from or what they are," said Estallo, noting that the traditional way of schooling was created in the West for the western youth. 
The SSHRC is a federal agency that funds and encourages research and training in the fields of humanities and social sciences. Their Storytelling Challenge is an annual competition where post-secondary students participate by creating a digital piece such as a video, infographic, audio or text, that shows their research and how it demonstrates that social sciences and humanities can improve lives. 
Estallo made a video explaining how the education system's approach to math neglects many students, particularly immigrants and Indigenous children, who struggle to connect with the subject matter. She also introduced the Migration and Indigenous Contexts of Mathematics Education (MIME) project led by education professor and associate dean at UNB David Wagner, which aims to incorporate cultural perspectives into math education in classrooms.
During Estallo's post-graduate studies, she became involved with Wagner's project because she understands first-hand the disengagement that some students experience when learning math. She recalls learning math in a "Western fashion," writing down formulas for exams and then forgetting them when no longer needed. 
Estallo suggests that the current system of teaching has led to a lack of interest in children, even when they understand the subject well outside of the classroom in their daily lives.
For example, she mentions that cooking is often used as a method for teaching math in many cultures and households, but this approach is not commonly utilized in schools. 
"The project is making schooling more accessible for everyone. Accessible and relatable for everyone," she said. 
Another way in which children, specifically those with Indigenous backgrounds, learn math is by balancing resources in their communities, negotiating lands and treaties and going outdoors and understanding traditional medicine. 
"Most of us have thought of math as this really this complex thing when for other communities it's common sense. It is something that you see around you," she said. 
Estallo is collaborating with the research conducted by Wagner, which is entering its next stage—data collection. She said the study will involve asking students in New Brunswick from newcomer and Indigenous families about their experience learning math and then analyzing their relatability to the subject. 
"The goal is to further build strength-based pedagogy that can be responsive to their experience," she said. "Sometimes we have a notion that we can assume what someone's culture is like, but there are certain limitations."
Other groups of interest that will be consulted are parents and teachers, who might give valuable information on how they teach math in the household or at school. 
"I think the teachers can really discover more ways to teach by learning from students, which is very important if we want to have a more inclusive education and if we are pushing towards education that will continue to evolve," she said.
By collecting qualitative data, Estallo said the research hopes to gain a better understanding of how students view math through their cultural background and in what ways can the system accommodate them. She stated that the findings shall be juxtaposed with comparable research carried out in the United States and Norway.
Estallo is also conducting her own thesis research about migrant students and their cultural practices as they relate to their potential in school. Her goal is to increase the recognition and importance of skills gained through cultural experiences in the academic world. 
"The world is a vast source of knowledge and there are certain things that we won't see because they're oppressed and they're marginalized," she said. "This is about uncovering all the knowledge that we have been deprived of. Always capitalize on cultural knowledge."
______________________________________________
Giuliana Grillo de Lambarri is a New Canadian Media correspondent based in Fredericton, New Brunswick. This story and photo are part of a partnership between SaltWire and New Canadian Media.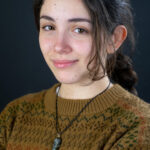 Giuliana Grillo de Lambarri
Giuliana Grillo de Lambarri is a student based in Fredericton, New Brunswick. She is originally from Lima, Peru, and came to Canada to pursue a career in journalism and political science. To Giuliana, journalism is all about forming a sense of community and shedding light on issues that affect everyone, including people who have been historically ignored by the media. When she isn't working, she is usually enjoying a walk along the trails of Fredericton or on the phone with her family. Have a story tip or pitch? Contact her at giuligrillo08@gmail.com.