When the federal government bused 247 asylum seekers from Quebec to New Brunswick earlier in March, Hola NB, an organization that primarily supports Latin-American newcomers, had to step up to the challenge.
The asylum seekers, some of whom are Latin American, crossed the border via Roxham Road and were later moved into the province by the federal government. 
According to Tabaré De Los Santos, a Dominican-born immigrant and founder of Hola NB, the large volume of asylum seekers combined with the lack of planning compelled the organization to take action. 
"Bringing these people here without the necessary structure to support them, it's more [harmful]," said De Los Santos. "We have to provide people very basic human dignity services."
Translations for asylum claims
To file an asylum claim, asylum seekers need to fill out paperwork verifying their identity and proving a "well-founded fear of persecution," according to the federal government. This means they need to tell their stories and collect documents and articles that back them up, hence the need for interpreters.
María Adelaida Fernández, Hola NB's grants and monitoring officer, said as soon as they realized they required translators, the organization began messaging members through their WhatsApp group looking for volunteers.    
"We were trying to sound the alarm early on to really make them see how urgent this was, but they weren't able to do it," she said. "They have never worked with that kind of population before, so they didn't really know what they have to do, the steps and how fast they needed to do it due to the time constraints."
While the settlement organization operates in Spanish, Hola NB helped some refugee seekers from Haiti get in contact with the Haitian community so they could get translations as well. 
Daycares, schools and clothes
Ana Santana, Hola's program director, said Hola NB included the asylum seekers in the social safety nets they provide other newcomers, such as enrolling children in schools and helping parents find daycares while they work and take English classes.
Furthermore, in partnership with local organizations, Hola NB held a donation drive on April 29 in Moncton. Santana said often refugees come with very few clothes, making it hard to acclimatize to the changing weather.
"It doesn't matter if you're an asylum seeker, refugee, permanent resident, international student or temporary foreign worker, it doesn't matter. We will assist."
From personal experience to community empowerment
De Los Santos had moved a lot in his life for his and his father's work. But when he came to Canada with a working permit, he was taken aback when someone from a different settlement organization wished him luck as a "second-class immigrant."
"I arrived as a temporary worker with a work permit … and I discovered that all the funds and all [the federal and provincial] support goes to people that are permanent residents, not like myself," he said. 
He establish the organization in 2017 to fill in the gaps in the support for non-permanent newcomers such as international students and temporary workers. 
However, he recognizes that the new asylum seekers require extra help from his community and the government. 
Government's role
Arlene Dunn is New Brunswick's minister of aboriginal affairs, minister responsible for economic development and small business, minister responsible for Opportunities NB and the province's minister responsible for immigration.
In an emailed statement to New Canadian Media, Dunn said the province is assisting the asylum seekers through Opportunities New Brunswick and also receiving support from the department of post-secondary education to find employment. 
"Through crucial partnerships, including IRCC, we can continue to offer asylum seekers the opportunity to access essential tools, resources, support, and the important connections needed to launch a successful career and fulfilling life in New Brunswick," Dunn wrote. 
Dunn added that the New Brunswick Refugee Clinic is talking to the federal government to get legal aid funding to help meet the new demand. 
"Also, we have accepted a recommendation from the clinic and are providing emergency funding to support the hiring of a full-time lawyer to assist asylum seekers and refugee claimants."
De Los Santos says that the government needs to do more.
"Besides the legal aid, they should bring some mental health specialists because all these people are going under a lot of stress when they leave their countries," De Los Santos said. "You can imagine the experiences these people had in their journey."
______________________________________________
Giuliana Grillo de Lambarri is a  New Canadian Media correspondent based in Fredericton, New Brunswick. This story and photo are part of a partnership between SaltWire and New Canadian Media.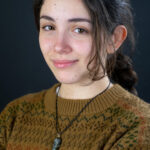 Giuliana Grillo de Lambarri
Giuliana Grillo de Lambarri is a student based in Fredericton, New Brunswick. She is originally from Lima, Peru, and came to Canada to pursue a career in journalism and political science. To Giuliana, journalism is all about forming a sense of community and shedding light on issues that affect everyone, including people who have been historically ignored by the media. When she isn't working, she is usually enjoying a walk along the trails of Fredericton or on the phone with her family. Have a story tip or pitch? Contact her at giuligrillo08@gmail.com.