Toronto can surely claim itself as one of the most book-friendly cities thanks to its many little free libraries. A little free library is an outdoor book-sharing cabinet which most often looks like a tiny wooden house mounted on a pole. On top of being a nice tiny attraction, these libraries play a surprisingly big role in the lives of newcomers in Canada. Due to COVID-19, most of Toronto public libraries were forced to rethink their operation plans, making these little libraries more popular than ever.
More visitors due to pandemic
Little Free Library (LFL) is a non-profit based in the U.S., but operating globally. According to the organization, there are more than 100,000 registered Little Free Library book-sharing boxes in 108 countries around the world. The number of registered Little Free Libraries in Canada is over 2,100, with 159 listed in Toronto. However, the actual number in Toronto can be far greater, as many libraries are established by book enthusiasts independently. New Canadian Media reporter visited at least 10 little free libraries in Toronto, and only one of them was registered with LFL.
In recent months, little free libraries seem to have attracted more users, as confirmed by Margret Aldrich, Little Free Library's director of communications. 
In a recent poll of the Little Free Library stewards in the U.S., most said that, since the pandemic, their Little Free Libraries have seen more visitors than ever. They attribute the increase in foot traffic to people spending more time at home, going for more walks, and missing their community's bookstores and public libraries. As Aldrich told NCM, Little Free Library is also noticing more book donations as people are spending more time at home culling their book collections. 
Outpouring of generosity
Aldrich added that during the pandemic, Little Free Library has seen an outpouring of generosity. In March, people began sharing essentials like food, face masks, and even toilet paper through their little libraries to help neighbors in need. That led the non-profit to create a Sharing-Box Map to track the libraries used for sharing essential goods. The organization also introduced best safety practices to help control the spread of COVID-19. 
"I have noticed a significant increase in the number of books that are being borrowed recently," said Diane Anton, an independent founder of a little library in the Scarborough bluffs area. "I don't know where they [visitors] come from, but a lot of people are visiting my library every day."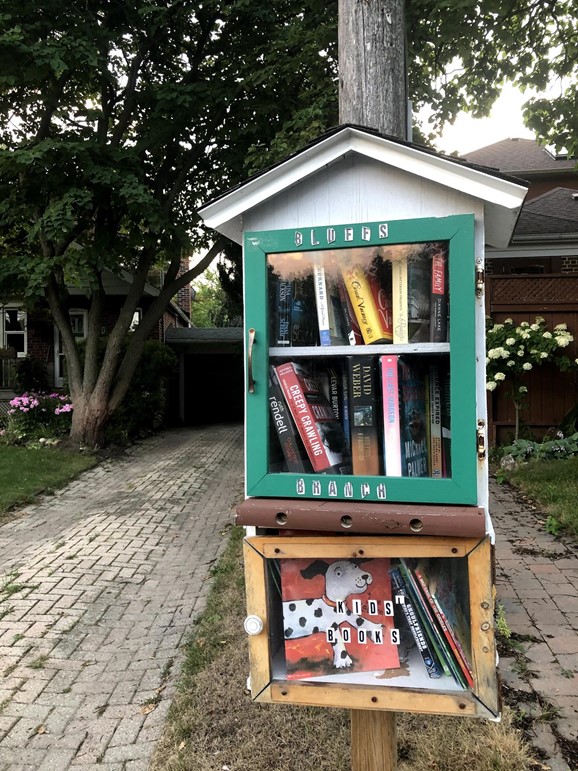 Anton, a retired librarian, had seen little libraries in some other parts of the city before she decided to establish one in front of her house. Her neighbours came along to help. Larger in size than any other library in her neighbourhood, Anton's little library also has a kids section. Anton tries to update her book collections regularly, as she says it's important to keep people engaged.
Making Canada More Livable 
Based on the 2016 census, the majority of Canadian immigrants (52.1 per cent) have post-secondary education, and they are often hungry for books. Sixty-seven per cent of immigrants use Toronto Public Library branches once a month or more, compared to 46 per cent of non-immigrants, according to a November 2012 report by the Canadian Centre for Policy Alternatives. During the pandemic, little free libraries became an attractive alternative. Just like public libraries, with many other add-on services, the little libraries are also a great way to build networks for newcomers. 
Parvez Chowdhury, a poet and a media activist based in Toronto, has visited many big cities around the world. Parvez always feels an inner connection to books. "When I came to Canada a few years ago, one of the first things that attracted me was the little libraries." Parvez says. "These libraries create a bridge between the new immigrants and Canadian society. It helps newcomers to integrate and adapt more efficiently."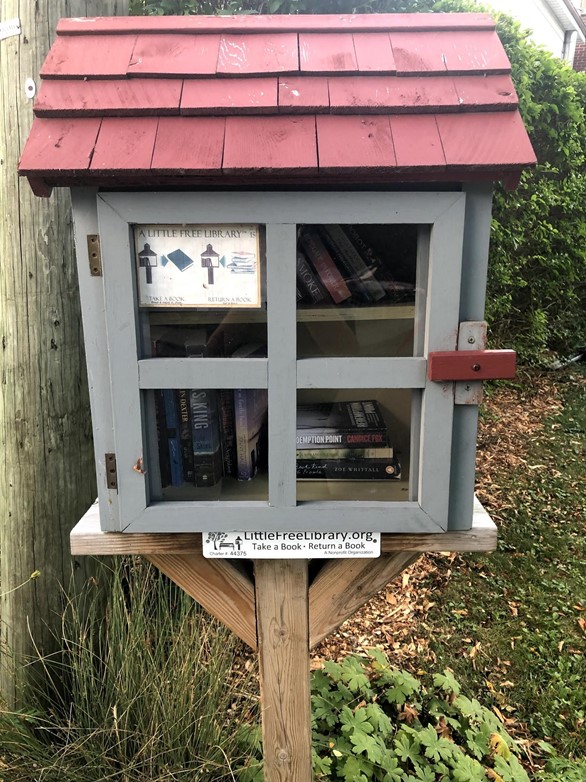 Ujjal Das, an immigrant journalist, has lived in London, U.K. for more than seven years before immigrating to Canada. Ujjal and his 8 year-old son regularly visit the little libraries in their Birchmount-Danforth neighbourhood. "When we came here, my son was excited with very few things in Toronto; little libraries are one of them," said Das. 
"Having a Little Free Library is a wonderful way to connect with your neighbors, wherever you live and wherever you're from," Aldrich stresses. 
Immigrants are not only using the little libraries; they are also contributing to society by establishing new ones. Little Free Library's Impact Library Program grants book-sharing boxes at no cost to a select number of applicants each month. Aldrich says, they often receive applications from immigrant families and individuals.
As an individual library founder, Anton is not sure how many of her library visitors are immigrants, but admits little libraries are a great way to make new friends. "When people come to take a book, sometimes they want to meet and talk. They always appreciate my collection of books. If people don't give back (books) I don't mind. I get disappointed only if they don't take anything," she says. 
Photos by Iqbal Chowdhury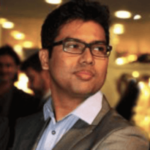 Iqbal H. Chowdhury is a journalist and filmmaker. He has covered major film festivals around the world including Cannes, Berlinale and TIFF. Chowdhury completed his post-graduation degree from Centennial College, Toronto, in Advance TV and Films. Before moving to Canada, he worked for the daily Prothom Alo, the largest newspaper in Bangladesh, for 10 years.