Immigrating to a foreign country usually involves stress, anxiety and apprehension, coupled with a dose of excitement. Landing in Canada in the midst of the COVID-19 pandemic has created extra challenges for recent newcomers, from delays in getting a driver's license or opening a bank account to difficulty with finding a job, to lack of opportunities to form new social bonds and a feeling of isolation.
Abhijeet Ganguly arrived from India on March 14, just three days after the WHO declared COVID-19 a pandemic. He had to go into quarantine for 14 days, hindering such settlement plans as opening a bank account and getting a Canadian mobile phone number. As the COVID-19 situation worsened, Ganguly's HR bridging program was cancelled, effectively slowing down any employment plans.
"The hiring generally opens up from mid-March every year; however, the hiring halted due to lockdown in 2020," says Ganguly. "I couldn't foresee the pandemic's impact on the lives of the people of Canada while I was in India. … My friends in Canada were assuring me that I should make an immediate landing as there are no traces of COVID-19 in Canada. Had I known that I would be landing in such a difficult period, I wouldn't have left my job in India and probably would have landed in 2021."
Those who landed before the lockdown may have had some upper hand, but they have also experienced processing delays with a variety of immigration, resident and citizenship services.
"I arrived in Canada towards the end of January and focused on acclimatizing and settling in initially," says Sugandha Mahajan, who immigrated from India with her partner. "Usual processes like getting a driving license and other important documents were delayed due to nation-wide lockdown."
"Social connections are important when you are in a new country, but we were restricted and are yet to make new friends due to social restrictions," Sugandha Mahajan adds.
The labour market has been unforgiving, too. "Of course, searching for a job in an economic slowdown and uncertain times was painful," she says. "But having said that, no one can foresee a pandemic and predict better timing. However, I feel my journey would have been seamless if I had landed last year."
Would coming later in 2020 make a difference?
"While the process of economic recovery has started, I strongly doubt that things will be back to normal any time soon, so arriving later in 2020 would not have made much of a difference," Mahajan says.
The arrival delaying strategy was adopted by another recent immigrant, Kalra, who asked to remain anonymous.  He planned to arrive with his family in March, but due to lockdown they were stuck in India without a job, and they lacked a stable source of income to properly settle in Canada.
"We needed a stable source of income to start living here," says Karla. "But since we have a kid and having the COVID situation around, my wife and kid couldn't come. It is hard to say, I feel I could have come a little earlier, but then we were going through uncertain times and I thought of waiting and observe on the strategy. 
"But then I finally planned in July that COVID isn't going out of our lives and we have to start marching towards our goal, so I had decided on my landing and finally came to the country in August amidst the pandemic." 
Immigration has been fundamental in bolstering the economic growth of Canada, and the country still needs a lot of immigrants to shake off the economic impact of COVID-19. While nearly 70,000 immigrants arrived in Canada in the first quarter of this year, compared with nearly 66,000 in the first quarter of 2019, the numbers however sank drastically in the second quarter, to 34,275 people from 94,274 in the prior-year period. 
Meanwhile, a new immigration plan was unveiled on Friday by Marco Mendicino, Minister of Immigration, Refugees and Citizenship, which states that the Canadian government plans to usher more than 1.2 million immigrants over the next three years. The report also states that 60 per cent of the admissions will come from the Economic Class, to help to drive the Canadian economy and create skilled jobs.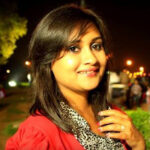 Seemanti's career as a Public Relations professional enhanced her writing skills and jumpstarted her writing trajectory on various subjects. Over the last seven years, she worked with agency giants such as Weber Shandwick, MSL, AvianWe in many sectors such as automobile, consumer durable, manufacturing, healthcare, pharmaceutical, corporate social responsibility. Seemanti holds a Post Graduate Diploma in Mass Communication from New Delhi, India, and a Bachelor's Degree from Bangalore University, India in Communicative English, Journalism and Psychology.