COVID-19 has spotlighted an urgent demand for personal support workers (PSWs), development services workers (DSWs), and intervenors working with individuals who have diverse abilities, spurring investment into home and community care by the Ontario government and creating new job opportunities.
The government of Ontario has recently pledged more than $115 million in funding for community care services, which is supposed to provide around 1.4 million personal support worker hours.
This type of role wasn't something 22-year old Prabhjot (Shyna) Kaur was familiar with back in India, where she had been working in a position equivalent to a pharmacy technician. It wasn't until she immigrated to Canada in 2018 as an international student when, upon taking her International English Language Testing System (IELTS) test, she considered studying as a DSW.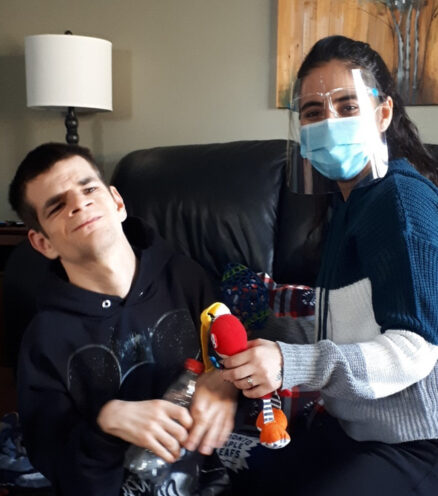 She enrolled into the Developmental Services Worker program at St. Clair College and ended up doing her placement at Community Living Chatham-Kent (CLC-K), a non-profit organization providing quality services and meaningful and inclusive opportunities to people with diverse abilities.
In Ontario, agencies such as CLC-K, PHSS and DeafBlind Ontario Services are three of the leading community-based organizations in the province, dedicated to fostering inclusion and celebrating diversity both among the people they support and employees.
The ongoing education and skills learned through in-depth, on-the-job training are big draws for people interested in working in this field. Kaur now works with CLC-K part-time as a direct support professional, helping those she supports with all aspects of daily living, including behaviour support, personal care and activities for greater independence, citizenship and social living.
Making an impact
Compassion and caring are common traits among those drawn to this work, as is determination. Like many others, Maria Peralta is a nurturing individual with a passion for family. She came to Canada in 2004 and initially worked as a nanny, before juggling a factory job with part-time work at a local coffee shop.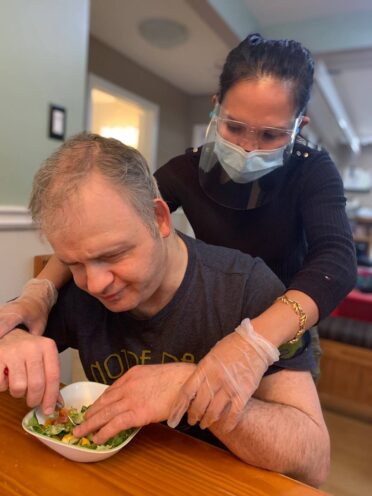 But a little over a year ago, a friend brought her over to DeafBlind Ontario Services in Georgina. Peralta had previously received her PSW certificate and was now able to put it to use. Today, she is a full-time, permanent intervenor and is enjoying the challenges and rewards of supporting those with deafblindness thrive in their community.
Intervenors are professionally trained to act as the "eyes" and "ears" of the individual with deafblindness through the sense of touch, utilizing a person-centered approach of "do with, not for." They facilitate the exchange of information and assist with communication methods, empowering people with deafblindness to gain independence through active community participation, including grocery shopping, medical appointments, volunteer work placements and other activities of their choice.
Working at DeafBlind Ontario Services, Peralta was also able to learn sign language and was given high responsibility duties including administering medication.
"It's a really interesting role that allows you to feel proud of yourself because not a lot of people have the opportunity and ability to communicate with individuals who are deafblind," says Peralta, and adds that she is now much happier in her new role.
"This job is amazing because I know that, at the end of each shift, I've helped them in different ways to keep them safe and happy."
Making an impact is also important for Donnie Antony, who had already completed a diploma in nursing and a postgraduate diploma in nursing management before moving to Canada in 2013, when a friend told him about the role of DSW.
In his second year of studies at Fanshawe College, he joined PHSS on a part-time basis and then became a care coordinator at one of their London locations, providing assistance to people with severe physical, developmental and/or multiple disabilities. It was here that he realized he preferred the more person-centred community setting, where he could build relationships with those he supports and more directly help them achieve their goals and dreams in life.
"PHSS provided plenty of ongoing education, along with opportunities to grow, but also I really aligned with their values and mission of supporting others in a way where they are seen as valued members of society," Antony says. "I knew I wanted to be able to do the work we are doing on a larger scale, making it possible for everyone in the community to live independently."
In 2018, Antony became a senior coordinator, where he now manages several locations and blends his nursing skills with leadership to make a greater impact. He intends to stay within the DSW field while continuing to further his career through leadership and management courses.
Tips for people considering a career in disability services 
Here are some tips if you're considering work in community-based support roles:
Get an educational edge — There are more than a dozen Ontario Colleges offering full and part-time program certificates for PSWs, DSWs and intervenors, and entry-level programs require an Ontario Secondary School Diploma (OSSD) or equivalent. These programs feature valuable placement opportunities, and many of the instructors or even other students are a great source for information and networking.
Ask about training — Look for employers who invest in their employees through extensive training, mentoring and other professional development opportunities throughout all levels of the organization. For example, given their unique needs, DeafBlind Ontario Services developed the TOUCH™ program, specialized training to strengthen the competencies of their intervenors.
Leverage your network — Many positions are found through word-of-mouth referral, often from people already working in the field. Start with your colleagues, friends or even clients; you never know who may know someone or have a connection to an organization that's of interest. Consider joining associations such as the Ontario Association on Developmental Disabilities.
Consider the culture — If you're looking for a new challenge and want to help people, or you're eager to make a change, a career in disability services may be the right path for you. Look for organizations that offer a collaborative culture, supportive environment, open communication, and commitment to your personal and professional development.
Roxanna Spruyt is the CEO of DeafBlind Ontario Services, Brian Dunne is President and CEO of PHSS, and Ron Coristine is Executive Director of Community Living Chatham-Kent. DeafBlind Ontario Services, PHSS and CLC-K have formed an integrative partnership to jointly advocate for and continue to provide high quality, client-centered and integrated community-based support to individuals who have highly specialized and unique needs across Ontario.