Fifty-four year old Punjab native Atamjeet arrived in Surrey, B.C. on a super visa in December 2022 to visit his children who are permanent residents in Canada. 
He immediately began to look for work. 
It took a few phone calls and a lot of patience, but Atamjeet finally landed a job cleaning windows on a skyscraper in downtown Winnipeg for $14 per hour. 
"I worked at a pharmacy back home," he said. The heights and subsequent safety risks, and his lack of provincial medical insurance made him fearful of taking the job, but he did so anyway in order to help his children manage expenses. 
As Canada relies on new migrants to fill its labour shortage, a mushrooming of cash jobs paying below minimum wage are helping people like Atamjeet make ends meet.  
"I come from a humble background in the Philippines," said 43-year-old Carina, who moved to Ontario in October. "I am proud of my daughter for supporting herself here but I cannot become a burden for her." 
Carina earns between $13 and $19 per hour cleaning houses, depending on the area and customers' preferences. 
'Migrant pathways in platform work'
PhD candidates Laura Lam from the University of Toronto and Anna Triandafyllidou from Toronto Metropolitan University interviewed a number of migrant workers and analyzed how they fit into Canada's labour market. 
Their 2022 study "Road to nowhere or to somewhere? Migrant pathways in platform work in Canada" finds that while some newcomers have accepted platform work — jobs that include being self-employed, contract-based work or freelance, irrespective of whether it is happening online — it felt like a "forced choice." 
Lam and Dr. Triandafyllidou conclude that platform work perpetuates structures of inequality and blocks new migrants from finding economic mobility. 
Immigrants who are qualified, experienced, and plan to settle in Canada also face structural barriers to obtaining education equivalencies, licenses, or registering for re-certification exams. While waiting for these processes, many new migrants turn to short-term gigs to support themselves. 
Aditi, an international student from the western state of Rajasthan in India, said packing boxes in warehouses is another popular gig for newcomers to stay afloat. She has been working in one part-time for over a year and works with multiple newcomers on visitor visas — mostly parents of permanent residents or students. 
"While I started at minimum wage ($15.50 per hour), the others were initially offered just $12 per hour and are supposed to pack ready-to-deliver items in cardboard boxes," the 22-year-old said. 
Canada Revenue Agency spokesman Christopher Doody said any income earned from a job in Canada, even when someone is working for cash, is taxable and must be reported. This is true even if the job is not a primary source of income.
As for the employers offering work for cash, income tax must be withheld when employees are paid for a service, he said.
"We would remind taxpayers that although some people think that if they don't declare a small amount of income, if they operate in cash, or if they don't keep records, the CRA won't find out. This is not true," Doody said. "We have many tools to detect underground economy activity and we work with many partners to combat the underground economy."
'I knew I had to take the job'
Atamjeet and Carina said they aren't aware of these laws and, because they're only visiting Canada for a short time, have no alternative ways to earn money and support their children during a period of rising cost of living expenses. (In 2022, over one third of Canadians reported finding it difficult to meet their financial needs.) 
There are no recent counts of how many people work in the underground economy in Canada, but a Statistics Canada report released Feb. 20 estimated underground economic activity accounted for $68.5 billion or 2.7 per cent of the country's total GDP in 2021. 
Residential construction, real estate, retail trade, and hospitality sectors contribute the most to Canada's underground economy. 
For his part, Atamjeet hopes to pick up a different, less dangerous trade, but still operating within the underground economy, until he returns to Punjab this summer.
"I knew I had to take the job as [jobs] are hard to find, especially in the winters," Atamjeet said about his skyscraper window-washing job. "I will keep looking for a safer opportunity."
__________________
Note: New Canadian Media spoke with newcomers on visitor visas who have agreed to what experts call "platform work" – taking unlivable wages under the table to skirt regulations. Pseudonyms have been provided to protect their anonymity. Find NCM's policy on anonymous sources on our website.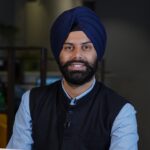 Ishrat Singh is an award-winning multi-media journalist residing in Brampton. He writes
about immigration, gender and social issues. Ishrat is also a PhD candidate in journalism at
the School of Communication Studies, Panjab University, India.