For the first time in Canada's electoral history a Mandarin-speaking member of Parliament was elected.
Now hailed by the Chinese Mandarin community members as their "true voice", the Liberal party's Geng Tan won the Don Valley North riding in Toronto with a solid 51.4 per cent of the vote. He trumped second-place Conservative incumbent Joe Daniel's 37.8 per cent by more than 6,000 votes.
Tan's win is not only a reflection of the Liberals' landslide victory, but also proof of a momentum generated by the Mandarin community, which has been very supportive of Tan's campaign.
Reflecting the community
Even the defeated incumbent Daniels knows that the Chinese community is divided into three groups – the Mainlanders, Taiwanese and Cantonese – and simply saying, "I represent the Chinese community," is naive and unconvincing.
It's possible to represent one or the other, but not all of them.
According to 2011 Statistic Canada reports Don Valley North has more than 12,750 Mandarin speakers, the highest amongst other ethnic languages and outnumbering the Cantonese-speaking population of 9,540 and other Chinese sub-groups that only answered "Chinese" to the question of mother tongue.
Beyond this, the riding has a 65 per cent immigrant population and 67 per cent of its constituents are visible minorities. The top occupations are in professional, scientific and technical services, and 67 per cent of residents have a post-secondary education.
"As an immigrant from Mainland China, it is so hard to set foot [in] Canada's politics."
Tan, an immigrant with a high educational background, is very much a reflection of the average face of the riding.
"As an immigrant from Mainland China, it is so hard to set foot [in] Canada's politics," Tan told supporters at his victory party on election night inside a Chinese fine dining restaurant.
"I'm a typical first [generation] skilled immigrant with more than a decade of community experience," he continued. "I understand newcomers' needs and I have the responsibility to work for newcomers and all ethnic groups."
Ties to Chinese community
Born in 1963 in Hunan, a mountainous province where father of Communist China, Mao Zedong, was born, Tan came to Canada as a visa student in 1998.
He completed his postgraduate and PhD in chemical engineering and applied chemistry at the University of Toronto and then worked as a scientist at Ontario Power Generation.
"I also have [a] responsibility to ask for more benefits for our Chinese community."
Tan's community involvements are closely tied to the Chinese community and his Hunan clan associations.
During his study at University of Toronto, he served for two terms as president of the school's Chinese students and scholars association.
Tan was also the long-term president of the Hunan Fellow Association of Canada, the vice president of The Confederation of Toronto Chinese Canadian Organizations and a founding member of the Council of (Chinese) Newcomer Organizations.
These groups are regular fixtures at significant events held by the Chinese Canadian community to celebrate things like the lunar New Year, Mid Moon Festival and China's National Day, as well as any organized rally or denouncement against the Tibetan separation.
Ties to Michael Chan
Michael Chan, the Ontario cabinet minister who was once investigated by the Canadian Security Intelligence Services over fears that he was under the influence of China, is a close political ally and mentor to Tan.
Since Tan's Liberal candidacy announcement to him winning the seat, Chan has been a regular face during the newly elected MP's campaign.
Even just two days before election day, Chan attended a Chinese media event along with Tan and three other federal Liberal candidates from the Greater Toronto Area to blast the federal Conservative government.
When asked about why he was actively involved in the federal election, Chan said the federal government had been disrespectful toward Ontario Premier Kathleen Wynne. The Conservatives had made too many funding cuts to Ontario, making it difficult for his government to provide services to residents, he said.
Going beyond his Chinese heritage
Tan has promised that he will work hard to improve Canada's relationship with China.
"I also have [a] responsibility to ask for more benefits for our Chinese community," he stated during his victory speech.
"[T]he way we vote for our parliamentary representative should go above and beyond ethnicity."
But Sheng Xue, a prominent overseas Chinese Canadian writer for the Chinese democracy movement and an independent political commentator, says Tan must go beyond just serving the Chinese community.
"As a native Chinese, I'm happy (for Tan's winning)," said Sheng. "However, in a democratic country such as Canada, the way we vote for our parliamentary representative should go above and beyond ethnicity because looking for rights and benefits should never be based on a candidate's skin colour and his or her country of origin."
Sheng added that while their native country was still under a totalitarian system, it is important for Tan to respect Canada's system and maintain Canadian values.
"I'm not acquainted with Mr. Tan, however, I urge him to act as a Canadian when he represents Canadians."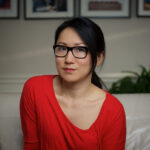 Shan is a photojournalist and event photographer based in Toronto with more than a decade of experience. From Beijing Olympic Games to The Dalai Lama in Exile, she has covered a wide range of editorial assignments.