The win of the prestigious Nobel Peace Prize by a Filipino journalist brought the Philippine's struggle for democracy to the international stage. The fact that the prize was for journalism, an embattled profession for many Filipinos, felt like a win for democracy advocates, even those in Canada. 
Maria Ressa, a journalist whose media company has been openly critical of Philippine President Rodrigo Duterte, was named one of two Nobel Peace Prize winners this year. She shares the award with another freedom-fighting journalist, Dmitry Muratov of Russia, who is critical of Russian President Vladimir Putin. 
The Oslo-based Norwegian Nobel Committee awarded the two journalists "for their efforts to safeguard freedom of expression, which is a precondition for democracy and lasting peace." 
Filipinos across the globe, including those in Canada, were expectedly ecstatic at the historic win ‒ the first for a Filipina and a win for Philippine democracy in general. 
"The Nobel Peace awarded to Ressa affirmed that there is power when the press rises to wield and use the pen against the fascism and dictatorship," said Lui Queano, national convenor of Malaya Movement in Canada, a grassroots group aimed at "putting a stop to the killings, ending Duterte's campaign to silence dissent, and preventing the imposition of full-blown dictatorship in the Philippines," according to its website.
He said Ressa's fight against Duterte is proof that Filipinos will not bow again to tyranny and dictatorship, as experienced during the time of the late dictator Ferdinand E. Marcos. He said Ressa personifies the defiant press in the Philippines, which have been fighting "to bring to the fore the truth even in the midst of paid trolls, hackets (sic) bashers and peddlers of fake news." 
Marites N. Sison, a Toronto-based Filipino-Canadian journalist and contributing writer/editor for Rappler, said Ressa's win "shines light not just on the lack of press freedom, but many other issues in the Philippines that some Filipinos overseas may have either ignored or even questioned, for various reasons … I hope this wakes them up and they realize what's at stake, especially with the upcoming [2022] elections." 
She added that it also says a lot about the courage of Filipino journalists, given the country's history with repression of the media and reporters, many of whom have been imprisoned and even killed for fighting for the people's right to know. Many have sacrificed their lives in the line of duty, not just during the Martial law era of the 1970s, but even during the transition to democracy, and now, with the return of authoritarian rule in the Philippines. 
Erie Maestro, another convenor of Malaya Movement, told NCM that Ressa's win is "a slap in the face of the Duterte government, the military and judicial agencies for their attacks against Maria Ressa … and other journalists who criticize and dissent." 
"The Nobel Peace Prize is proof that the world is watching and that the accusations and the charges against Ressa by the Duterte government were meant to silence and kill critical dissent," she added. 
Ressa and her team at Rappler news have been named defendants in many lawsuits, including charges stemming from a newly minted cyber libel law, one of which was dropped recently, and corporate tax evasion. 
Filipinos abroad 
"Maria Ressa's commendation by the Nobel Prize jury for using freedom of expression … resonates with millions of Filipinos abroad who aim to protect and promote our democratic rights and freedoms," said Leonora C. Angeles, Associate Professor, University of British Columbia, in an email reply to New Canadian Media. 
Angeles said she had the pleasure of meeting Ressa in the Rappler office in 2015 through a mutual journalist friend. 
"To me, Maria's transnational life represents the many gifts, possibilities and choices Filipinos in the global diaspora can have and make use of for a better world," added Angeles, who specializes in community development and social justice studies with interest in Filipino Canadian migration. 
Canada Support 
When Ressa was arrested for libel in 2019, no less than Canada's top diplomat expressed concern. 
On Twitter, Deputy Prime Minister Chrystia Freeland wrote: "Deeply troubled by reports that @mariaressa has been arrested in the #Philippines. A free press is a bedrock of democracy. Canada reiterates its call for due process to be respected and for journalists to be free from harassment and intimidation. #StandWithMariaRessa." 
Nevertheless, in a press statement on Ressa's win, Malaya Movement in Canada called on Canada to stand up and do more for human rights in the Philippines. 
The group is fighting for victims of Duterte's war on drugs that has claimed the lives of thousands and perpetrated other abuses due to extensive militarization, particularly against Duterte critics. 
"Canadians need to know why the Government of Canada is not pressuring the Duterte regime to uphold the human rights of the Filipino people, and end his genocidal war against the poor, the human rights advocates, and the press," the statement read. 
More Filipino winners 
While Ressa is the first Filipino to win the award almost single-handedly, there were other Filipinos who have won the awards as part of teams. 
Rappler reported that Jasmin Nario Galace and Loreta Castro of Miriam College were part of the group International Campaign to Abolish Nuclear Weapons (ICAN) that won the Nobel Peace Prize in 2017.
In 2013, 10 Filipinos, led by Franz Ontal, also won the Nobel prize with the Organization for the Prohibition of Chemical Weapons (OPCW). 
Aside from the Nobel Prize, Ressa was also been named Time Person of the Year in 2018 for being a "Guardian in the War on Truth." She was honoured along with the staff of Capital Gazette newspaper in Maryland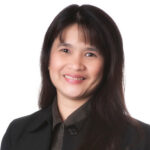 Veronica Silva Cusi is a multimedia journalist and researcher with more than two decades of experience as a reporter/writer and editor. She also taught journalism and communication courses for 14 years at the university level. Veronica also writes and edits technical reports, such as research reports and training materials, and marketing communications materials, such as brochures and newsletters. Veronica holds two master's degrees -- in communication research and journalism. She also conducted media training while a university lecturer.