When Valery Peña and his family landed in Toronto early in January, little did they know that the cold weather would be the least of a string of challenges awaiting them. Armed with their life savings, the family of three from Colombia were raring to start living their Canadian dream. But then, COVID-19 struck. 
Peña, 36, came to Canada as an international student, in hopes of later applying for permanent residency. Now, he worries where he will find the funds to pay for this coming winter's school fees, and next month's rent and groceries.
Braving fall's cold temperature on October 25, the Peñas joined other international students in a symbolic protest to ask the Canadian government for help to cope with the pandemic. The protesters installed a giant symbolic post-graduate work permit (PGWP) in front of an immigration office in downtown Toronto. Among others, they were asking the federal government to renew the expiring permits, as during the pandemic many PGWP holders are unable to complete the job requirements to apply for permanent residency. 
The protest was led by Migrant Students United, a project of Migrant Workers Alliance for Change that is fighting for the rights of migrant students and workers. The group claims that over 17,000 one and two-year work permits were issued between September 2019 and June 2020. 
"Migrant students are also calling for access to emergency income support, health care, and lower tuition fees to help them cope with the impact of COVID- 19," the group said in a press advisory.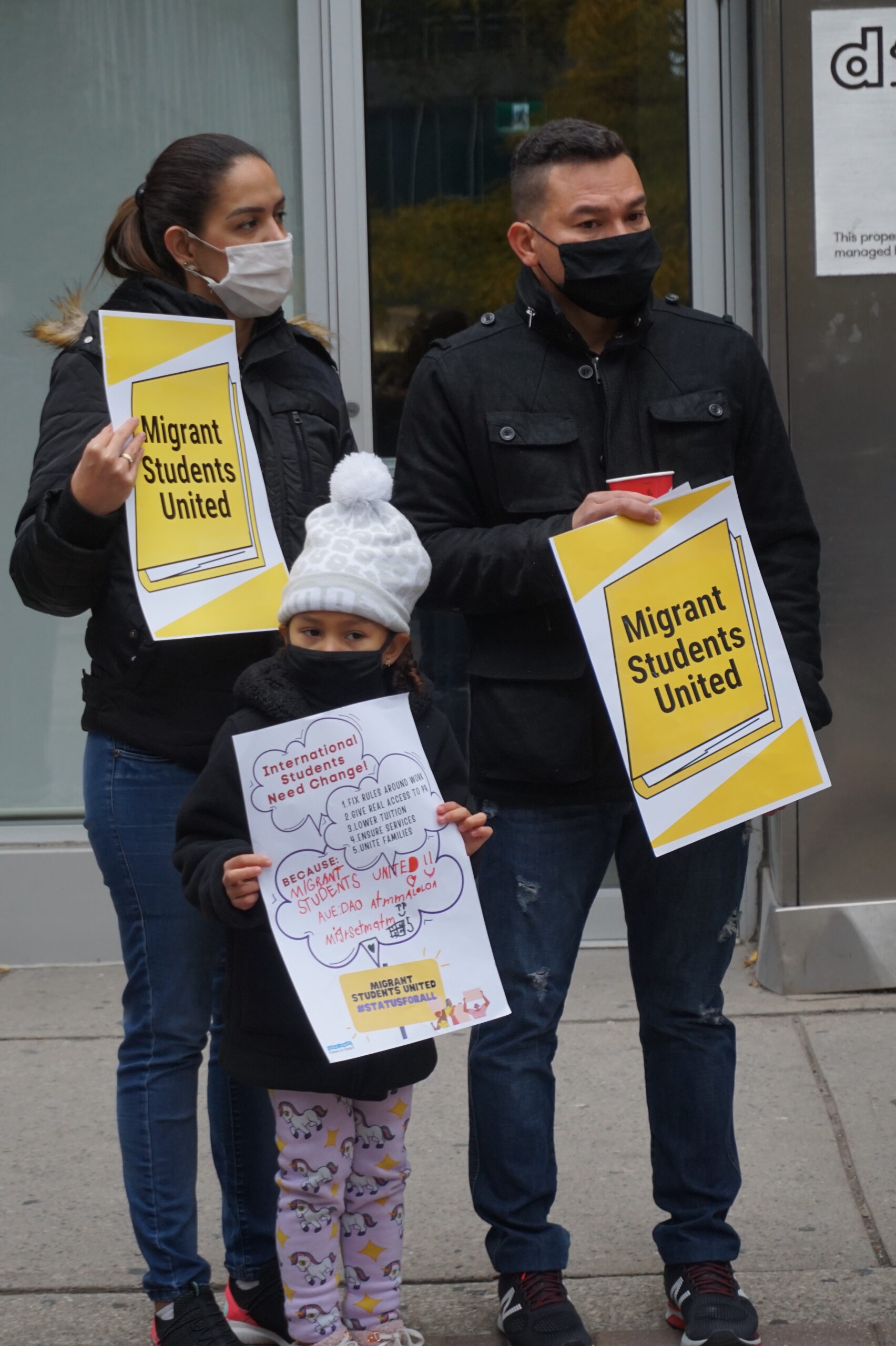 "It's a difficult time," said Valery. "Because of pandemic, [the school] deferred first semester from April to fall, but we had to pay tuition for five months in April despite all classes being online. We had to pay six months of rent in advance. It's a lot of money." 
Contribution to the economy 
International students pay up to three times more than Canadian citizens and permanent residents in tuition fees. The 524,000 international students in 2016 contributed more than $15.5 billion to the Canadian economy in tuition and other spending, such as living expenses. 
Despite high costs, Canada remains attractive to international students. According to Immigration, Refugees and Citizenship Canada (IRCC), there were 642,480 study permit holders by the end of 2019, an increase of 13 per cent from 568,130 in 2018. 
In the academic year 2017-2018, Statistics Canada said there were almost 297,000 international students in Canada's public colleges and universities, representing 14 per cent of enrolment. 
But even after investing their life savings in Canada, the future is not exactly bright for international students. 
Bumpy road to permanent residency 
Alina Przybyl from Poland recently completed her Ontario college diploma in women's social services at George Brown College. While she has a post-graduate work permit that allows her to gain work experience needed to earn the points towards permanent residency, the pandemic has posed a challenge. 
"I invested my savings and everything I have into paying my tuition fees, and the plan is to stay [in Canada]," said 30-something Przybyl.  
Achieving this plan, however, "is always very difficult for international students. We have a plan, but sometimes it doesn't work out because of the job market and points required, so it's always a risk," she added. "But now with COVID-19, it seems like it's impossible." 
"Because of COVID-19, there are no jobs, especially jobs that qualify for P.R.," said Sarom Rho, coordinator for Migrant Students United. Ordinarily, it is difficult to find these high-wage qualifying jobs, and more so during a pandemic, she added. For international graduates applying for permanent residency, some jobs in essential services, such as grocery jobs, don't earn them the points.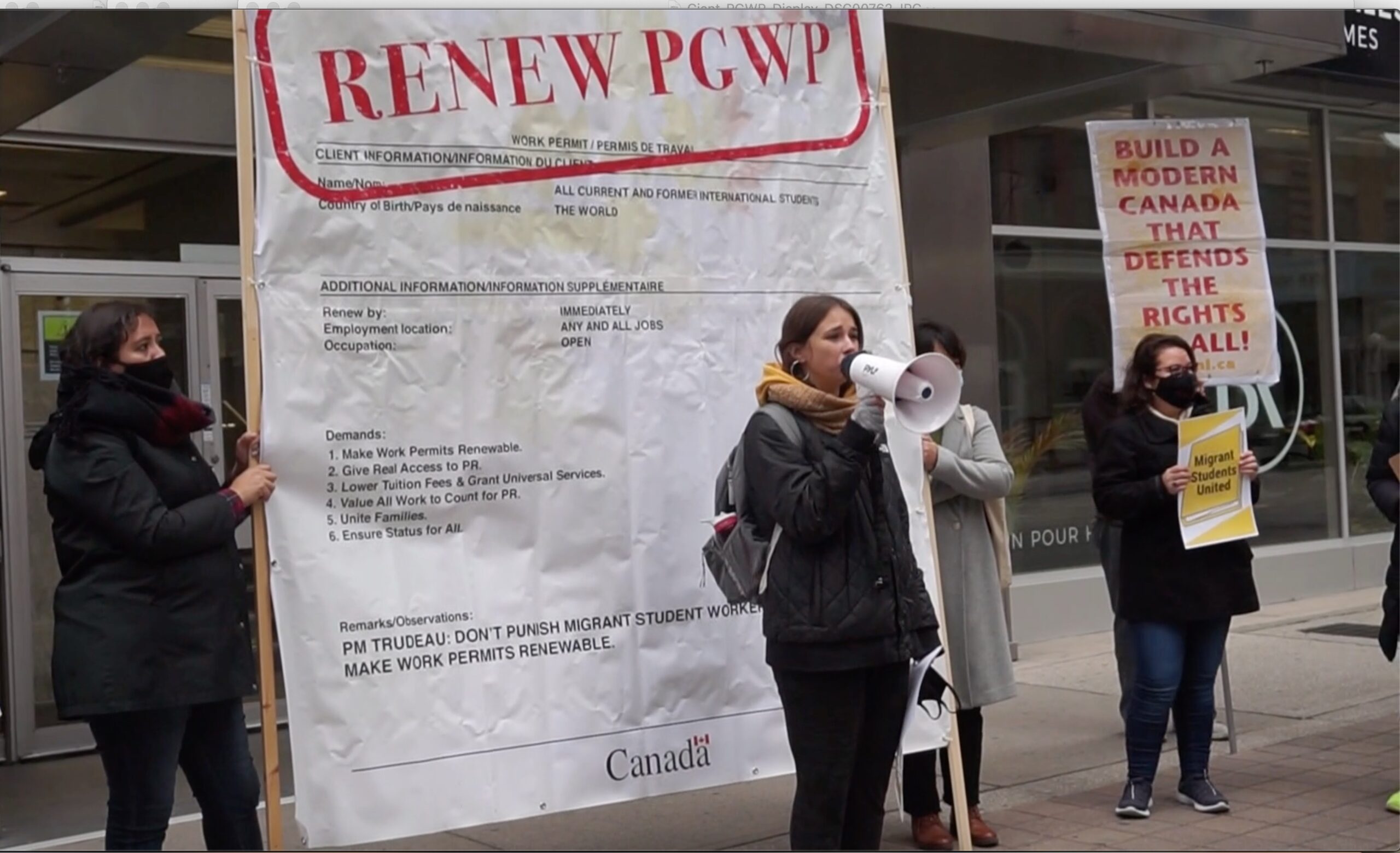 To be eligible to apply for permanent residency after completing their programs, international students need work experience in qualifying jobs in levels 0 (zero), A or B of the National Occupation Classification (NOC). These job levels are managerial, professional or in technical and skilled trades, respectively. The length of work experience required is from 12 to 24 months of full-time work or equivalent in part-time work.  
Przybyl said she has lost two jobs since March. 
"Even though I have been applying for a job, it's so difficult to find a job that meets requirements [for permanent residency]. I am required to have a highly qualified, permanent and full-time position, which is just not a reality in the job market," Przybyl said. 
She needs to find work in social services, but the field is currently underfunded, as it has also been affected by COVID-19. 
"Most of the positions that I'm seeing are shift work. I really want to work and contribute to the economy, but the government doesn't see it that way," said Przybyl. 
"Easy fix" available
"It is a very dire situation. I don't know if it makes any sense to stay. I haven't seen my family in many years. I don't know if I will be able to see them [family]. I don't know, if I leave, if I will be able to come back." 
Family reunification is another appeal of international students and migrant rights groups. In an open letter to the Canadian government, they are asking for permanent status upon arrival in Canada. 
Rho says migrant students have already built families in Canada and developed deep relationships in their communities. 
"They should not have to leave and face deportation for something that can be easily fixed. Renewing the work permit is an easy fix … It will ensure how we can survive this pandemic more fairly," said Rho at the protest on October 25.  
Despite these struggles, the Peña family, including wife Lina and elementary school-age Luciana, remain committed to their Canadian dream. 
"The idea is when I finish the college, [I get] work permit, apply for permanent residence to improve our careers and Canadian economy. The good way for a good life for us is all these things," said Valery. "For now, it's the same dream. But sometimes we find some difficulties because we don't have any benefits in health care, income or fast approval of permits." 
In 2018, nearly 54,000 former students became permanent residents in Canada, according to IRCC.  
Immigration Minister Marco Mendicino has recently indicated that retaining temporary residents would be part of Ottawa's plan to bring in over 1.2 million immigrants in the next three years, but details are missing.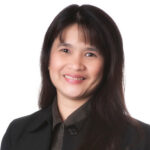 Veronica Silva Cusi is a multimedia journalist and researcher with more than two decades of experience as a reporter/writer and editor. She also taught journalism and communication courses for 14 years at the university level. Veronica also writes and edits technical reports, such as research reports and training materials, and marketing communications materials, such as brochures and newsletters. Veronica holds two master's degrees -- in communication research and journalism. She also conducted media training while a university lecturer.