The commitments by political party leaders to fight racism in Canada during the current election campaign ring hollow when they are willing to defend discriminatory laws in Quebec, say anti-racism advocates.
"It is outrageous that Mr. Trudeau (Liberal Party Leader) and Mr. O'Toole (Conservative Party Leader) would be more offended by a question on Bill 21 than the fact that this discriminatory law is driving people out of their homes and jobs," said Balpreet Singh Boparai, Legal Counsel for World Sikh Organization of Canada (WSO).
"Their tiptoeing around this issue is politics at its worst and is hurting Canada and Canadians. This position is even more troubling in light of recent attacks on Muslims, as well as Turban-wearing Sikhs."
Mustafa Farooq, chief executive officer of the National Council of Canadian Muslims, described the lost opportunity by the party leaders to unequivocally state on national television that Bill 21 is an act of systemic discrimination as "shameful."
Boparai and Farooq were commenting on the fallout from an exchange during the only English political leaders' debate where the moderator, Shachi Kurl, asked Bloc Quebecois leader Yves-François Blanchet about Bill 21, which bans some civil servants from wearing religious symbols at work, and Bill 96, which would make French the only language needed to work in the province.
Here is the question and exchange during the debate:
Shachi Kurl: "You deny that Quebec has problems with racism, yet you defend legislation such as Bills 96 and 21, which marginalize religious minorities, anglophones, and allophones. Quebec is recognized as a distinct society, but for those outside the province, please help them understand why your party also supports these discriminatory laws?"
Yves-François Blanchet: "The question seems to imply the answer you want. Those laws are not about discrimination. They are about the values of Quebec."
Kurl: "And yet, religious minorities, sir, cannot progress if they wear their religious gear."
Blanchet: "May I remind you, Quebec is not recognized as a distinct society. It's been recognized as a nation on June 16 by the Parliament — 281 votes said that Quebec is a nation, and everybody here seems to agree with that. No more distinct society, which never had any meaning anyway."
Kurl: "So, again, why the discriminatory laws and your support for it, sir?"
Blanchet: "You may repeat as many times as you want that those are discriminatory laws. We are saying that those are legitimate laws that apply on Quebec territory, and there seems to be people around here who will share this point of view, which, again, is by itself for Quebec."
Wedge Issue
The question and response has given Blanchet's Bloc Quebecois, a regional party that wants Quebec to be recognized as a nation, a much needed wedge issue to portray themselves as the protectors of the people of Quebec.
During the debate, none of the political leaders on stage addressed the protestations by Blanchet.
The next morning, fearing the loss of votes in crucial Quebec ridings, Trudeau told a media scrum that the question regarding Quebec's secularism law was "offensive."
"My position on this is known: I'm not in favour of that particular law. But it is wrong to suggest that Quebecers are racist," he said.
"As a Quebecer, I found that question really offensive. I think, yes, there is lots of work to do to continue to fight systemic racism across the country and in every part of this country. But I don't think that question was acceptable or appropriate … I had a hard time processing [it] even last night."
Veteran Vancouver journalist Charlie Smith, writing in the Georgia Straight, said of Trudeau's reaction: "It shows how desperate Trudeau is to prevent Blanchet's party, the Bloc Québécois, from exploiting the debate to seize more seats from the Liberals."
O'Toole said that he found the question "a little unfair."
"Quebecers are not racist and it's unfair to make that sweeping categorization. They've made decisions and laws passed by their national assembly," he said.
"We have to make sure that we work together and we respect one another. That's why I said I would never challenge a law passed by the National Assembly of Quebec."
Jagmeet Singh of the NDP said "systemic racism and discrimination are not isolated to one province or territory."
Green Party Leader Annamie Paul said: "With respect to Bill 21, I've always been clear in saying that I believe it to be discriminatory legislation. This is a law that is a violation of fundamental rights and freedom of expression, as well as freedom of religion, and it's not because I'm saying that I don't like Quebec."
Quebec Premier François Legault is now on the offensive during the final stretch of the campaign, insisting that Kurl owes Quebecers an apology describing the question as an "attack for sure against Quebec."
"Mr. Blanchet's melodramatic opening statement during the post-debate scrum seemed to be carefully planned to raise the ire of Francophone Quebecers and give him a wedge issue for the last 10 days of the campaign," said Fareed Khan, founder of Canadians United Against Hate. 
"However, if he doesn't want to be seen as a xenophobe and a racist, then he shouldn't support a law that is inherently xenophobic and racist," he said. 
"If he truly believed that the law would defend Quebec's secular nature, then the (Bloc Quebecois) would have opposed the inclusion of the 'notwithstanding' clause in the legislation and let it be tested in the courts," Khan added. 
Fair Question
Citing an Angus Reid Institute 2019 poll, Khan noted that anti-Muslim bigotry and Islamophobia were the backbone of the support for the legislation, "which makes Mr. Blanchet a liar when he claims that a majority of Quebecers aren't racist, because this poll proves otherwise."
The Debate Broadcast Group said Kurl's question "did not state that Quebecers are racist."
"Shachi Kurl's question regarding Quebec's provincial Bill 21 and Bill 96 was asked to give Mr. Blanchet an opportunity to explain his party's view of these bills, both of which have been widely reported on and discussed since they were introduced in the Quebec National Assembly. The question addressed these bills explicitly."
The Debate Broadcast Group is selected by the Leaders' Debates Commission to produce the leaders' debates for the federal general election in English and French. It is a partnership of 10 news organizations.
Others who have come out to defend Kurl's question include Herb Dhaliwal, a long-time federal Liberal and former senior government minister in the Chretien cabinet.
"I firmly believe those Quebec provincial statutes are not only discriminatory but a reflection of systemic racism that needs to be eradicated throughout Canada," he said.
"It is more than disappointing to witness how O'Toole, Trudeau and Singh have carefully avoided risking Quebecers' votes by choosing to dodge the truth with lame platitudes and diversionary comments instead of underscoring the validity of Ms. Kurl's probe," Dhaliwal added.
"If we permit freedom of religious expression to be sidelined from our conscious truth the way it has been in Quebec, we risk the potentially volatile and socially disturbing results of discrimination to gain a dangerous foothold, a threatening reality which cannot, and must not, be tolerated in multicultural, 21st century Canada."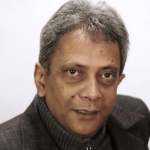 A multiple-award winning journalist, Fabian Dawson is an internationally acclaimed author, filmmaker and media expert. His work over the last four decades spans the globe and he also serves as a consultant/strategic advisor to a variety of international companies. As deputy editor-in-chief of The Province, part of the Postmedia chain, Dawson led initiatives within a special publications group to provide directed content for a variety of organisations. He was named the 2019 recipient of the Bruce Hutchison Lifetime Achievement Award at Jack Webster Awards. Dawson has been invited by the governments of India, Malaysia, Taiwan, China, Hong Kong and the United States to act as a media observer/advisor on a variety of Asian-Canada issues. Dawson, now operates FD Media, which specializes in harnessing editorial assets to revenue generating opportunities.