Dozens of scholarships are available this year for Black post-secondary students in Alberta, Saskatchewan, and Manitoba thanks to the expansion of a non-profit program. 
The Council for Advancement of African Canadians in Alberta, also known as Africa Centre, announced at a networking event in Winnipeg earlier this month that 72 scholarships, each worth $5,000, will be awarded to students from African and Caribbean communities in the prairie provinces this year. 
The scholarship program was created by the organization in 2021 when they offered a total of $52,000 — an amount that has grown sevenfold this year. 
"In 2021…I was working two full-time jobs to support myself and my family," said Halima Latamo, a disability support worker in Edmonton, who was awarded a scholarship by Africa Centre two years ago. "Seventy-five per cent of my tuition fees was covered [by the scholarship]. I cut down my work hours to focus on my studies and a weight was literally lifted off."
Latamo said she owes deep gratitude to the Africa Centre.
The same feeling of gratitude was expressed by Jennifer Ediale, another past recipient of an Africa Centre scholarship. According to her, the money "helped me to concentrate on school without worrying about having to work, paying for childcare. It relieved me, a lot, of stress and anxiety I had about my finances."
A spokesperson for the organization did not respond to New Canadian Media's questions about what criteria the Centre uses to select the beneficiaries of its scholarship program.
Speaking at the event in Winnipeg, Samuel Juru, Executive Director of the Centre, said the organization also provides funding for Black-owned businesses. 
"A lot of the challenges and issues that have led to poverty with Black people around the world, have to do with us being removed from means of production and being removed from the land," Juru said. "We need to get back into economic participation and a market share at the table. The only way that l know to end poverty is to create wealth."
Kojo Otoo, a manager within the organization who also spoke at the event, said the scholarship fund was originally established to enhance the quality of life for refugees, immigrants, and people facing systemic barriers to education and employment, who live in the greater Edmonton area. 
Established in Edmonton, the Africa Centre has grown from humble beginnings in 2005, to now attract funding and grants from federal and provincial governments, as well as many charities and foundations. Sixty-four per cent of the organization's funding comes from the Canadian government, and the Centre reported $4.5M in total funding at the end of 2022. 
The Centre also runs low cost programs for child care education, youth mentorship, seniors' groups, employment and skills training, and more.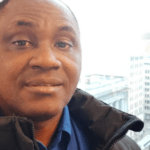 Emmanuel Nwaneri is a journalist with about 27 years of writing, travel and journalism experience in Nigeria, South Africa and Australia. He moved to Johannesburg in South Africa where he spent 10 years as a writer, journalism tutor and commentator. His time in South Africa afforded him the chance to observe the fast-changing dynamics of a country popularly-known as "a rainbow nation." He relocated to Winnipeg with his family in 2018 where he has since found interest in the Customer Service industry. He has published Once Upon A Woman and is working on a second work of fiction.