About 10,000 people gathered at Victoria Park, in downtown London, Ont., last Saturday, in a collective denunciation against anti-Black racism and police brutality.
"No justice, no peace," many chanted.
Witnessing the unity of so many Londoners against an issue like racism was inspiring. But it also focused my mind on imagining what precisely a changed world could look like.
"It's easy to fear the unknown, but the miracle of humanity is its ability to come together in times of need," said J. J. Sereday, a Brooklyn-based videographer, who, in April, shot a video of the Forest City when he and most Londoners were in lockdown due to COVID-19. (London is often referred to as the "Forest City".)
This strong show of support for #BlackLivesMatter is a great first for London. At the same time, it is an affirmation that racism is alive in Canada and that more needs to be done to reverse generations of inequality.
Need to define 'racism'
But if now is the time where Canada is going to uproot systemic and institutional racism, we first need to accurately define what we mean when we talk about 'racism'.
Because, if we can't name it, we can't change it.
Not only are opinions divided on what constitutes systemic 'racism', but some Canadians refuse to accept that we have a problem at all. Public comments made by Ontario Premier Doug Ford and RCMP Commissioner Brenda Lucki are just two examples that come to mind.
Prime Minister Justin Trudeau has vowed to bring in "significant, concrete and rapid measures." That sounds good, but any measures need to have an eye focused on the long-term if we are going to effectively dismantle the racism that runs at the very core of the Canadian identity.
What does that racism look like? Let me tell you, because I've lived it.
As an immigrant boy who easily passed for white, I tasted the bitterness of discrimination within days after landing at London International Airport. I relinquished my Middle-Eastern roots, lost my Islamic name to don a more Western-sounding one and slowly shed my identity to continue being 'one of them'.
And so long as I remained silent, it worked. But the secret of who I was weighed upon my shoulders like an Everest. During the Gulf War, I dared not speak up and disclose to my white friends that I was an Arab. When the Twin Towers collapsed on September 11, 2001, so did any hope of normalcy.
When I did finally break the silence and came out using my given name, there was always suspicion crossing borders, applying for jobs, or introducing myself to others. As a candidate knocking on doors in the 2019 federal election, some would still ask me 'whose side I was on'. One day, I returned to my car to find a note that "the terrorist should go back home."
When news of the Prime Minister's blackface controversy erupted, journalists asked me to comment.
I took this opportunity to speak as a person who had faced racism. I reminded fellow Canadians that we could use this unfortunate time as an opportunity to talk about how real racism and privilege were for many marginalized individuals in our community.
Reflect and atone
Having spent the past several months in COVID-induced social isolation at home, I didn't have to think twice about participating in last weekend's protest. I knew that I needed to stand in solidarity with people of colour. While the coronavirus has kept us in lockdown for months, racism has plagued us for a long time and has ruined more lives than COVID-19 ever will. Any measures we put in place need to be swift and long-lasting. We need more than just words.
As a nation, we need to reflect and atone. If we are going to fix our systems and practices, we need to start with a system of shared values that governs how we create and enforce laws that represent us all.
Diversity is a fact but we can choose to be inclusive. We can start by ensuring that all elected officials, police and community services, frontline and essential workers, teachers and trustees, receive ongoing education starting with unconscious bias and cultural sensitivity training.
We also need to take the conversation beyond academic realms to enable all members of our community, minorities, marginalized, immigrants and the most vulnerable and enable them to participate in the conversation as we redraw the "circle of safety" so their voices are amplified and their perspectives included.
If our actions and efforts are sincere, we can start to dismantle the racist structures that have built our nation, subjugated Indigenous communities to centuries-old colonization, and enslaved people of colour.
I'm optimistic we can right these wrongs, but the process will be a very painful and costly one. But it will be time and money well-spent. Together, we can build safer, more inclusive communities and, perhaps, the miracle of our humanity will help us find a cure for the most virulent of all viruses.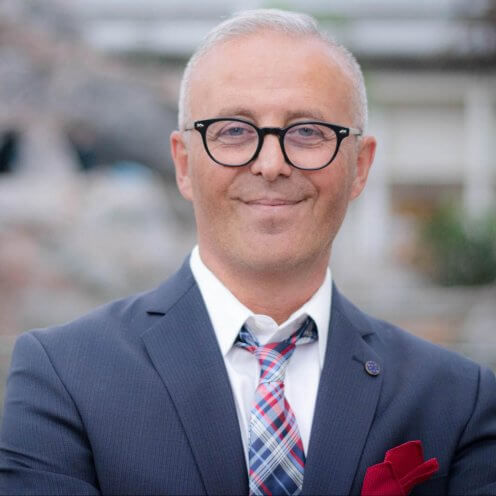 Mohamed Hammoud was a candidate for the Liberal Party of Canada for London-Fanshawe in the 2021 federal election. He is an inspiring speaker and has been involved in various public speaking engagements focusing on interfaith as well as training on leadership, diversity and inclusion. He is also an active contributor to New Canadian Media and a member of the NCM Collective.