Women's March
On Saturday, January 20, millions took to the streets to protest unjust legislative policies against women in the U.S. and Canada. Originally organized as a rally against the Trump administration in 2017, in its second year, the Women's March is quickly becoming a voice for human rights advocacy.
In Toronto, thousands of women and men alike joined forces in the march which took place at Nathan Phillips Square with "Defining our Future" as this year's theme.  Starting at noon, many speakers including former Ontario MPP Zanana Akande addressed the crowd to demonstrate support for one another.
Marginalized voices need to be heard, and what better time than now? The fact that 2018 is an election year in Ontario, the fight for gender equality and social change is at the forefront, especially with policy makers who want to keep their positions.
As a man of faith, I feel that it is important to support this movement, by speaking out and taking action. After all, remaining silent only condones the injustice.
This year, the #MeToo and #TimesUp movements reinforced the momentum behind the Women's March by exposing the widespread prevalence of sexual assault and workplace harassment. Numerous, almost daily revelations of sexual misconduct allegations have been brought into the public sphere, exposing abusive men in powerful positions. Yet, it seems as though the focus is on exposing individuals, rather than the system that enables them to abuse their power and get away with it.
Abusive systems led by tyrannical men is nothing new. History is mired with countless stories of human rights abuse and social injustice. At our home, we draw personal inspiration from strong women in history as examples. Asiya bint Muzahim, wife of the Pharaoh, denounced her husband in support of Moses. Mariam, mother of the Messiah, who, in spite of being falsely accused of adultery, remained firm in her resolve. Zainab bint Ali, granddaughter of the Prophet Muhammad, who confronted the tyrant of her time after he had commanded the murder and beheading of her brother, Hussein ibn Ali, and 72 of his companions.
After 1400, Zainab's speech still resonates today as it calls out from Karbala, a small town in central Iraq, to over 23 million visitors who flock there for the largest human gathering, the "Fortieth", to stand up against tyranny and abuse of power and call for social justice.
By highlighting these powerful women as role models, we are emboldened as sons, brothers, husbands and fathers, to ensure that we do not abuse our positions. Women's voices are heard, and they play an active role in our homes, as well as our communities.
I personally draw inspiration to vocalize from the brave women of the #MeToo movement who spoke out and started the wave of allegations against abusive men of power. Their cause is a call to action for similar offenses and radicalization. Yet, while there have been hints of rampant sexual abuse in the movie industry for almost 30 years, the topic did not receive the needed attention since.
A 2016 TED Talk from Naomi McDougall Jones hinted at the exploitation by going straight to the heart of the issue and addressing the abusive and sexist nature of Hollywood. Jones explains how "95 percent of all the films you have ever seen were directed by men. Somewhere between 80 and 90 percent of all of the leading characters that you have ever seen were men. And even if we just talk about the last five years, 55 percent of the time that you have seen a woman in a movie, she was naked or scantily clad. That affects you. That affects all of us."
It is not just the movie industry, but an entire system that typecasts woman as a commodity, radicalizes groups and labels them as criminals, drunkards or terrorists based on the colour of their skin or religious beliefs. When this system intensifies its hold on our institutions, it is enabled to establish deep roots in our society and our legislative policies. This systemic racism is further legitimized when it silences the victim and empowers the aggressor. The result: a silent discrimination that ends up robbing us of our voice, our courage and our identity, leaving us to feel nothing but shame and guilt. 
So, as we march united with these movements, we need to challenge our blind financial support of such industries. For them, #TimesUp. As Jones recommends, we need to fund alternative mechanisms that share our causes, where we are empowered and celebrated, rather than mocked and shamed to feel inferior. Only then, when we can find what makes us great again, can we define our identity and reclaim our what is rightfully ours.
---
Mohamed Hammoud has been involved in various public speaking engagements focusing on interfaith as well as training on leadership, diversity and inclusion. This piece is part of a series titled, "Ethnic Women as Active Participants in Ontario". Writers interested interested in participating are encouraged to join the NCM Collective.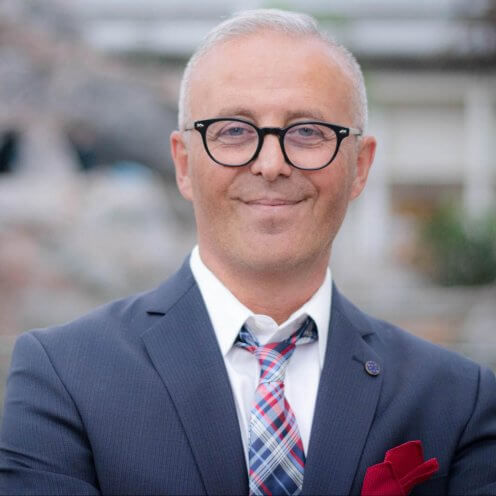 Mohamed Hammoud was a candidate for the Liberal Party of Canada for London-Fanshawe in the 2021 federal election. He is an inspiring speaker and has been involved in various public speaking engagements focusing on interfaith as well as training on leadership, diversity and inclusion. He is also an active contributor to New Canadian Media and a member of the NCM Collective.