In Canada, and around the world, the COVID-19 pandemic has clipped the wings of seniors. They are unable to step out for coffee without fear of infection, let alone look for volunteer opportunities or part-time jobs. They have a wealth of expertise that now lies locked with them in their homes.
The question is: can the country do without their expertise?
According to Statistics Canada, about 8,000 Canadian workers retire every week, taking decades of valuable skills and expertise off the market with them.
Problems associated with increasing life expectancy
The Canada Urban Futures Institute says about 425,000 Canadians will retire each year, and about 9.8 million Canadian baby boomers are close to retirement. As life expectancy increases, more seniors' retirements are lasting longer than ever planned.
Air Vice Marshal Samir K Sen, 90, a Senior Defence Research Scientist and Major General, retired at the young age of 57 in India (as the rank commanded). In 2007, he moved with his wife, Ratna Sen, 82, to join his daughter in Toronto. Despite immigrating as a retired senior, his knowledge and experience never went to waste in Canada, he says.
Premier universities, from Oxford to Harvard, invited him as a visiting lecturer.
"Life was exceptionally good," says Sen. But the pandemic has significantly curbed their enthusiasm for favourite activities, such as cooking, ballroom dancing and entertaining.
As they come to terms with the new normal, depending on their daughter for errands and groceries, the sprightly seniors now rely on Facetime calls and Facebook to beat loneliness. Although they consider themselves "super seniors" but they are unable to volunteer anymore.
Ganadev Sinha, a resident of Mississauga, Ont., knows how that feels. He's been retired for nearly 15 years but has an active volunteer in his community that welcomed him upon immigrating from India in 1989.
After a long, lucrative career with General Electric, he spent his time volunteering at Creditview Hospital and the Living Arts Centre in Mississauga when the pandemic hit. "I was absolutely unprepared for the pandemic," he said in an email. "In normal times there are numerous volunteering opportunities."
Unfortunately, it would appear that door is now closed.
Not one to stay disconnected with his family and friends, Sinha has used virtual platforms to make life easier.
"I have more time now for Zoom calls and cooking my favourite dishes," he said.
Whether he is meeting friends online for singing sessions or catching up with his grandchildren, the online world keeps him connected. Yet, for institutions that benefited from his dedicated volunteering, his absence is a loss.
Bridging Canada's 'skills gap'
As many skilled workers retire, there is a growing shortage of experienced minds in the Canadian workforce. New graduates and millennials are hired in droves to fill the gap. However, it takes years for young minds to come up to the level of the decades-experienced seniors. The shortage of high skills cannot be filled by automation alone.
Immigration is one way to grow the talent pool in Canada. An study published by RBC states that about 60 per cent of the 300,000 immigrants entering Canada each year are skilled workers. Even then, these numbers don't fill the vast gap that the annual retirement rate leaves behind. To build skills takes time and effort.
Pete William Wagner, 77, is a former electrical engineer who worked with the Electric Transit Bus field in Manitoba. Retired since 2004, he now lives in the small town of Fisher Branch, north of Winnipeg, with his wife Myiah.
Lockdown for him meant pursuing myriad interests from gardening to photography, until a conversation with his brother-in-law changed things.
His brother-in-law was active with an organization called Knackstor Global for several months. Wagner found the organization's concept of "earn-volunteer-share" appealing, as he said it feels like it allows seniors to "be productive and contribute to society."
"Seniors have accumulated great wisdom and knowledge over the years that can be shared with others to benefit them. This is similar to how "elders" are looked upon in some cultures," says Wagner, whose grandparents come from Austria and the Ukraine.
"Many seniors have resigned themselves to unfulfilling lives filled with mundane activities. Yet they have so much to offer. Knackstor provides a means for them to exercise their capabilities and supplement their income if so desire," he explains.
Pauline Gyorkos, a resident of Oakville, Ont., has, like Wagner, also had a positive experience with the online platform. But she isn't even close to retirement.
Gyorkos said she registered to be involved after learning about the platform from her husband. She said she appreciates the many different ways people can contribute.
"These services can be in areas similar to our careers, or involve expertise that we develop during the course of our careers. We are talking about subjects as diverse as tutoring elementary students, accounting services to car maintenance. The opportunities are limitless!" she believes.
Gautam Gordon Nath, an immigrant from India, is one of the founders of Knackstor. In addition to earning The Sovereign's Medal in 2018, among other high achievements, he is currently a Canadian citizenship oath presiding officer and chair of the NCM board of directors.
"I wanted to get involved in something that could make the world a better place and leave a legacy I could be proud of," Nath said.
Founded by a team of three other like-minded professionals based in the U.K., Sweden, and India, Nath said Knackstor "empowers seniors financially, emotionally and mentally."
Empowering seniors
The company was launched in North York, Canada in May 2020, with the intent to allow both seniors and corporates to work from home through the Zoom platform.
"There are zillions of social welfare organizations for seniors but none that tackle the concept of retirement by debunking it and reinstating them to their living glory. We go beyond mere transactions to a relationship-based model, combining earning, volunteering and sharing on the same platform, It has global scalability, is applicable across languages and cultures and is hence creating interest among venture capitalists."
"The pandemic has done a lot of the work for us," said Nath.
"Grandparents are calling their grandkids over Zoom; associations have gone virtual allowing seniors to connect and engage. These have removed the fear of technology."
Gyrokos agrees. "The website was relatively easy to use. I don't consider myself to be a tech expert, so that says something."
"Imagine a grandma from a small town in Nova Scotia virtually guiding a young couple in Toronto on traditional cooking, enabling the legacy of Canadian recipes to remain alive with the younger generations! Knackstor will help create a new way for economic development and preservation of legacies," Nath believes.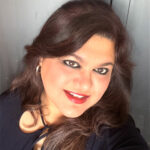 Collective Convenor & Communications Planner - Joyeeta Ray is a multimedia journalist, internationally awarded digital content specialist, and children's books author, based in Toronto. Born in India, she brings over two decades of advertising and journalism experience across seven countries to Canada. Joyeeta started her journalistic career in Jakarta, led an editorial team in Bangkok, and is a student of Multimedia Journalism from The University of Toronto. She is an enthusiastic NCM-CAJ member, actively involved in amplifying new Canadian voices as NCM's Convenor, Communications Planner, Mentor, and Reporter.