The nature of our globalized world, massive media monopolization, and deeply entrenched colonialist practices have all contributed to the systemic exclusion of diverse voices in Canadian newsrooms, which in turn has magnified journalists' biases and the way they report on racism, according to a recent panel of industry experts discussing "Best Practices on Reporting on Racism."
The discussion, organized by New Canadian Media on April 8, gave the floor to speakers from various ethnic backgrounds to discuss the ways journalists' biases have impacted the way they report on racism.
The panel tapped into the ongoing discussion and industry-wide reckoning that's happened as a result of mounting public criticism of Canadian journalism's lack of diversity and of how that impacts the marginalized communities journalists cover. 
Their discussion was framed by last year's National NewsMedia Council's (NNC) report which suggested best practices and tips for reporting on the systemic racism permeating Canadian society. Among some of the most prescient questions "needing careful reflection" raised in that report were: "how to include more diverse voices in reporting, the use of proper language and how to incorporate important historical context and nuance into news stories."
"We are analyzing how this report could be improved," Brent Jolly, managing director of the NNC and president of the Canadian Association of Journalists (CAJ), said at the event. "Because things are changing." 
Media owners and media workers
Since 1983, the Center for Research-Action on Race Relations has been engaged in public education, training, and assistance for victims of race and other forms of discrimination. That's why for Fo Niemi, its director, to speak of racism and bias within the media means to speak about the differences between those who own the media and those who work in the media gathering the news, i.e., journalists. 
For him, "media concentration" and the "ideological line" that media owners take have a direct impact on the way journalists cover racism. Depending on the way media owners "drive journalism or news information," it could either create "more division, increase bias (and) racism," or create more "backlash and misinformation." 
With the added connectivity and globalization made possible by the internet, the "global information network," as he called it, has gotten even harder to control and monitor.
"We don't know what is fake news and what is not," he said. "How do we differentiate the information that meets the basic journalism standards from some others?"
The former Donald Trump administration in the United States, which used divisive rhetoric that polarized Americans, Niemi said, only increased and worsened the level and scope of misinformation with which journalists — and by extension the public — have to contend. 
Consequently, he added, journalists today must practice their craft on high alert against what he calls "global influences," in reference to the growing amount of information manipulation and disseminated disinformation by foreign governments.
"When we talk about journalism, we have to think about those global influences," he said. "How to ensure the news information can be truly independent, objective, with high standards and accuracy."
Police should not always be the main source
For his part, Jolly questioned the media's overreliance on police press releases as the main source of information when putting together a crime-related story. 
He also criticized the practice of publishing suspects' names without following up on the cases, which he said could affect them in the future, even if charges are dismissed or they are found not guilty. 
"We know that Black, Indigenous and people of colour (BIPOC) are particularly more susceptible to being stopped by police," he said.
"The best practice is that if you report, you have to finish the story."
The 2021 NNC report suggests journalists should "avoid typical story structure that puts police or other authority voices at the top and in control of the narrative while reducing community or BIPOC voices to 'colour' and reaction."
The document also calls for more "inclusive journalism that includes diverse voices in everyday news or as experts, and presents Black, Indigenous and otherwise 'other' communities in a wider range of stories and perspectives."
Jolly further called journalists to reflect on the effects of over-valorizing police as a "supreme resource" and of failing to investigate beyond what police press releases say or further into the charges being laid.
Decolonize the Media
Kelsie Kilawna, syilx and Secwepemc storyteller and cultural editor at IndigiNews, an Indigenous news platform, said journalists who cover Indigenous stories need to educate themselves about the history of Canada's relationship with Indigenous people, the impact of residential schools, and the rampant poverty that grips many Indigenous communities. 
Through her workshop, titled "Decolonize the Media" — which has been offered inside and outside Indigenous communities and has trained around 1,200 people so far — Kilawna provides culture-based editorial support rooted in the Indigenous worldview.
The workshop blends together cultural knowledge and trauma-informed practices and ethics pertaining to media. Each training cohort implements a protocol to create space to talk about how to deal with or support each other in the newsroom or the workplace.
"We gave them real tools and practical tips on how to decolonize media, how to decolonize their mind, how to engage communities, reciprocity; how to create a good space for storytelling," said Kilawna.
As she sees it, it is possible to decolonize the media because the art of storytelling is not inherited from colonialism but is innate to Indigenous tradition.
 "You can't decolonize what is inherited colonial," she explained. "The storytelling is not inherited colonial; it is inherited Indigenous, so it is possible to decolonize the media."
Defining diversity
But while that may be possible, the panelists agreed that a consensus on the definition of "race" and "racism" is not only needed but missing, which has stood in the way of that possibility.
"One of the things that I find more difficult for people in Canada when talking about racism is struggling with the word 'race.' There is a consistent and persistent confusion about 'race' and 'ethnic' or 'ethnicity,'" said Niemi, adding as a way of solution the need for a "practical, operational and critical analysis on what we mean by 'race.'" 
He also cautioned on the use of 'diversity' – "because it can mean everything, but it can mean nothing," he said, referring to the many broad and complex nuances that come with such a diffuse but loaded term. For that reason, he suggests using more specific terms like "class diversity" and "age diversity" instead.
"We have to be very careful when we talk about diversity as systemic discrimination," he said in his concluding remarks. "We have to use the intersectional lens to make sure we don't leave anyone behind."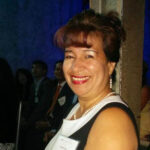 Isabel Inclan has worked as a journalist for more than 20 years, in both Mexico and Canada. She began working as a foreign correspondent in Canada in 1999 for Mexican media. She has been a New Canadian Media contributor since 2018. Her main areas of interest are politics, migration, women, community, and cultural issues. In 2015, Isabel was honoured as one of the "10 most influential Hispanic Canadians." She is a graduate of Masters in Communication and Culture at TMU-York University. She is a member of CAJ and a member of the BEMC´s Advisory Committee.