In 2003, Canada opted out of the coalition that pummeled Iraq back into the Middle Ages. Now, Canada has joined the coalition to fight the Islamic State in Iraq and the Levant (ISIL) that emerged out of the U.S.-led invasion.
In a three-part series, Firas Al-Atraqchi, a member of NCM's editorial board, frames the Iraq quagmire, traces the evolution of ISIL, and how the Islamic State has come to dominate large areas of Iraq and Syria. Before they elect a new government, Canadians need to weigh the pros and cons of taking the fight to ISIL. Here are the current party positions —
Conservatives: Committed to bombing ISIL positions from the air in Iraq and Syria and deployment of troops in a non-combat role.
NDP: End bombing campaign and pull out all military personnel from Iraq and Syria; boost aid to help refugees affected by ISIL as well as investigate and prosecute war crimes.
Liberals: End the bombing campaign but keep military trainers in Iraq; boost aid to help refugees and allow more into the country from Iraq and Syria.
Greens: Ensure responses to terrorism are consistent with international law.
Canada's active role in the U.S.-led aerial bombardment campaign against the Islamic State in Iraq and the Levant (ISIL) continues to be an important election issue.
ISIL is an immediate threat to Middle East security. It has grown and expanded into areas where political and security vacuums persist: Afghanistan, Egypt's Sinai, Libya, Syria, Yemen, and has even gained the allegiance of Boko Haram in Nigeria.
ISIL needs to be eradicated at its points of origin — Iraq and Syria. But current U.S.-led strategies will inevitably fail because ISIL's expansion came about due to political, not military, incompetence.
ISIL's expansion came about due to political, not military, incompetence.
The debate in Ottawa shouldn't only center on whether or not Canadian forces should participate in Washington's campaign against the Islamic extremists who have blitzkrieged their way through large areas of Iraq and Syria.
It should also consider where ISIL came from, what it wants to achieve and how it can be defeated. What are the socio-political factors that helped spawn and sustain ISIL? And, what does Canada's contribution really mean in the long run?
No Plan B
Ottawa's current Middle East strategy fails to plan for the possibility that ISIL won't be defeated militarily.
Ottawa's approach also fails to account for the political impasse in Baghdad, which has played right into ISIL's hands.
In the U.S., the Iraq quagmire is also an important election issue but for entirely different reasons.
Campaigning for the Republican Party nomination, former Florida Governor Jeb Bush blamed U.S. President Barack Obama and former Secretary of State Hillary Clinton for ISIL's rise and Iraq's current crisis.
The media has been critical of his position on Iraq and a number of pundits appear to blame his brother, former U.S. President George Bush, for the debacle in the Middle East.
But Jeb Bush is not entirely wrong.
While his brother is to blame for creating the conditions that would eventually help foment ISIL, the Obama administration is also to blame for walking away from Iraq without correcting those blunders.
Under Paul Bremer, George Bush's administrator in Iraq, all Baa'thists were purged from government positions in 2003. The Iraqi army was disbanded, effectively releasing hundreds of thousands of disgruntled trained men (some retaining their arms) into the clutches of Shia and Sunni militia that were willing to pay for their services.
Bremer also played a pivotal role in building the foundations of an Iraqi government that was divided along sectarian, not nationalistic, lines.
Cosmetic changes
From crisis to crisis, any changes in Baghdad's political landscape were cosmetic.
When Iraq was on the verge of a civil war in 2006, Prime Minister Ibrahim Jaafary was removed and replaced with Nouri Al Maliki.
Shortly after ISIL overran Mosul in June 2014, Maliki was replaced with Haider Abadi.
The problem here is that all three men come from the same Da'awa party. Iraqi ministers appear to be rotated through different positions. Abadi himself was Communications Minister in 2004.
When Maliki was sacked as prime minister, he was given the office of one of the three vice-presidents. Jaafary was last year made foreign minister.
The same politicians that were blamed for much of Iraq's demise in the formative years since 2003 effectively remained in positions of influence. It was only after hundreds of thousands of Iraqis took to the streets two weeks ago that Abadi abolished the three vice-presidencies and removed Maliki who has since left for Iran.
From the sidelines
The Obama administration has pretty much remained on the sidelines as Iraq's political stability in Baghdad evaporated, and the various factions squabbled over office and influence. In 2008, Obama campaigned on a platform that the Iraq war was misguided and should have never happened. However, his administration kept the status quo in place and allowed the seeds of division to grow.
Iraq is in an economic, political, security and social mess. Aerial bombardment might resolve some problems, but given that the country is on the verge of collapse, the current approach could create an even bigger mess.
Iraq is in an economic, political, security and social mess. Aerial bombardment might resolve some problems, but given that the country is on the verge of collapse, the current approach could create an even bigger mess.
More than a million Iraqis have for the past week been protesting against government corruption and mismanagement.
In Baghdad, Basra and Najaf, they have demanded that the government be held accountable for lack of basic services (such as electricity), an end to religious rule, and better security.
Abadi has responded by cutting the number of ministries in government, and promised a review of public expenditure. But the protests continue to grow.
In the meantime, ISIL continues to hold large swathes of territory in Iraq (and Syria) and has changed tactics to target Baghdad's military leadership. On Wednesday, four ISIL fighters captured U.S. Humvees, detonated their body-strapped explosives and killed two senior generals responsible for Baghdad's counter-offensive in Anbar province.
The manner by which ISIL has evolved reveals that the group's prime goal is not only to survive by adapting and mutating in the face of opposing firepower, but also to fully manipulate the divisiveness and weakness in its enemies.
---
Firas Al-Atraqchi is a Canadian journalist of Arab descent who has covered the Middle East since 1992. A former senior editor with Al Jazeera's English-language website, he currently teaches journalism at the American University of Cairo as an associate professor.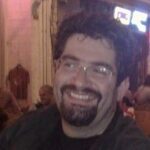 Journalism & Communication Dept Chair; Managing Co-Editor @ Cairo Review of Global Affairs, American University in Cairo