Hiring multi-language speaking staff, creating real-time interpretation apps, even launching an ethnic bank to serve primarily immigrants, Canadian banking business operators are getting fiercely competitive to woo business from immigrants.
Aiming to "become a preferred bank for the Chinese community in Canada", Wealth One Bank of Canada (WOBC) has begun operations in Vancouver and Toronto. It is the very first Chinese-founded and -invested bank in Canada, a federally chartered Schedule I Bank under the Bank Act and regulated by the Office of the Superintendent of Financial Institutions.
The man behind it, the founder and also the Vice Chair of the WOBC Board, Shenglin Xian, says from his Vancouver office that there are only 28 such foreign banks in Canada. "It is a historic moment for the Chinese community."
Shenglin Xian, who is a well-known Chinese community financial advisor, has his own company Shenglin Financial Group Inc. located in North York, Toronto. He got into financial consultancy after he immigrated to Canada in 1990.
Same language, better understanding
"Currently, we will focus on serving the Chinese Canadians from the Great Vancouver Area and the Great Toronto Area. We will hire Mandarin and Cantonese speaking employees. Our service slogan is 'same language, better understanding (translation)'," he continues, explaining what he envisions as a respect for Chinese values and culture.
"Although all five major banks in Canada provide Chinese language service, the banking system is still operated under mainstream preference. We want to favour our Chinese clients with a tailored and Asian-styled service," he continues.
"Although all five major banks in Canada provide Chinese language service, the banking system is still operated under mainstream preference. We want to favour our Chinese clients with a tailored and Asian-styled service," he continues.
Ming Gu, a senior news producer from Toronto, also a Chinese immigrant who came to Canada in early 90's like Shenglin, has worked on a couple of translation projects for one of the five major banks for their Chinese language website.
He completely agrees with the fact that providing ethnic language service is not quite the same as bridging two different banking systems: Canada's and the immigrant source country's.
"China's (banking system) is even more different. The policy and products are very much in the different zones as well. Service literally translated into Chinese language might not be helpful for immigrants to understand the meaning behind. For example, credit rating in Canada is very critical for banks to determine whether or not applicants can apply for line of credit and how much they can get. One SIN number check will bring up a very detailed credit history of the applicant. However, it doesn't really exist in China's banking system, letting along for Chinese newcomers to understand the importance of credit rating," Ming explains.
Maggie Yuan works at a public relations firm which provides multi-language translation services for corporate Canada's ethnic marketing needs in the Chinese and South Asian markets. 
"For economic reasons, mainstream companies can't afford to overlook the needs of immigrant communities. For big corporate accounts, I have been dealing with, especially in bank, insurance, public service, entertainment industry, the needs to have Chinese language translation have always been increasing. Companies strategically promote their investment in diversity to gain positive image in immigrant community. It's quite political, but it's also about business," she says.
Overcoming language, culture barriers
The major Canadian banks are also stepping up, developing faster and more convenient tools to woo immigrant clients who face a language barrier. Just last month, Royal Bank of Canada, which already has a Chinese version of its website besides the official English and French language, introduced a new app – the first of its kind in North America – that provides clients with real-time video access to qualified interpreters.
Christine Shisler, RBC's Senior Director of Cultural Markets, explains why such a language app makes business sense.
"Regardless of which RBC branch a client visits, we'll be able to offer service in the language of choice. This is critical in helping our client – especially newcomers – understand how banking works in Canada."
Shisler stresses out that RBC wants to be the bank that newcomers turn to for all of the important firsts – from first bank account to first home purchase. That means a lot of tailored service in language and cultural senses.
Going further, the bank's Beijing staff, for example, will help students and family initiate their financial transition even before they arrive in Canada, a more aggressive business approach similar to what Wealth One Bank of Canada is doing in the reverse direction.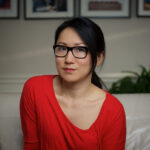 Shan is a photojournalist and event photographer based in Toronto with more than a decade of experience. From Beijing Olympic Games to The Dalai Lama in Exile, she has covered a wide range of editorial assignments.