Last week turned out to be an unplanned Asian cinema watching binge, watching four Asian films – three Chinese and one Korean.
I love Asian films as some of them have action and special effects that are better than Hollywood even if they sometimes lack in the story-plot, but over all they are spectacular visual feasts.
First up was the Super hit special-effects laden Journey To The West – Demons Attack, an action packed road movie with four characters – a Monk, powerful monkey king, a pig man and a devilish looking beast. It had out of this world fights and action even if the story was a bit off.
Next up was Korean cop buddy picture Confidential Assignment with a terrific pairing of top Korean actors who play two very different North and South Korean cops, forcefully teamed to catch a rogue North Korean general who took off with valuable US currency printing plates. It was a fun ride of comedy and action and beautifully crafted with a tight story and characters easily identifiable and likeable.
Jackie Chan's Kung Fu Yoga, a silly action adventure with top of the line production design and chop-socky action which only Jackie can execute. Even at his 60 plus age, Jackie can kick ass like a young stud. Kung Fu Yoga also features Indian characters and storyline about lost treasures from the ancient civilisations of Indo-Chinese descents.
It features the beautiful Disha Patani playing an Indian Princess and Bollywood villain Sonu Sood as you guessed it as a villain seeking to inherit or steal the riches found by Jackie and his archaeological team. Not a lot of meaningful story-plot but a lot of fun and crazy action featuring car stunts, animals and of course the classic hand to hand Kung Fu speciality of the one and only Jackie Chan.
The fourth film in my Asian cinema foray was The Great Wall, which opened in North America recently after making more than $250 million in China and overseas. The film featuring Hollywood star Matt Damon and top Chinese stars is masterfully crafted by ace Chinese filmmaker Zhang Zimou. The alien sci-fi drama is an action film with good performances and dazzling special effects. For me it had the beautiful mix of western and Chinese big tent pole action film elements with a tight story and dramatic elements that lift it above average action sci-fi films.
The Great Wall was the best among the four Asian films I saw in my Asian Cinema Week and I'm glad it came at the end of my viewing odyssey as it will remain with me for a while.
---
R. Paul Dhillon is an award-winning journalist and editor of the South Asian LINK Newspaper and founder-publisher of Desibuzzbc. Dhillon is also a prominent filmmaker with feature film credits, including the latest The Fusion Generation.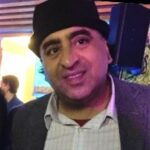 R. Paul Dhillon is an award-winning journalist, screenwriter, producer and director based in Vancouver, Canada. He holds a degree in Communications and in Film from Simon Fraser University. Dhillon's journalism background includes extensive writing, reporting and editing work with South Asian newspapers and magazines, including being the editor-founder of DESIBUZZCanada/DESIBUZZbc and co-founder and editor of Aaj Magazine as well as editor of South Asian LINK Newspaper and Indo-Canadian VOICE newspaper along with many others. He has also done freelance writing for mainstream publications like The Vancouver Sun and Georgia Straight newspaper, where he was a film critic, writing reviews of Hollywood, Bollywood and Punjabi films.