Vancouver resident Raj Gnanasekaran is a Tamil movie buff and already has a ticket for opening day of the new movie, Jailer, starring Rajnikanth.
But he won't be watching the film in Vancouver on Aug. 9 — he is driving to Bellingham, Wash. to see it at Regal Cinemas.
He did the same drive to watch the recent box office hit, Ponniyin Selvan: 2. Gnanasekaran would rather cross the border so he can watch films in high-quality theatres such as Cinemark, Regal and AMC, which he says provide superior movie-watching experiences.
"I am a Tamil movie enthusiast and I refuse to settle for subpar cinemas in B.C.," he said. There is a Cineplex located a five-minute drive from his home, and a Landmark Cinema 15 minutes away, "but they refuse to play my favourite movies."
In his search for alternatives closer to home, Gnanasekaran looked for venues such as the Rio Theatre, Hollywood White Rock and Hollywood Pitt Meadows. But these options — all within a 30-minute drive, fell short of his expectations.
Poor quality
According to Gnanasekaran, the theatres showing South Indian movies in Vancouver have outdated screens that are smaller in size, resulting in a hazy picture. The sound quality from the speakers can be excessively loud, which negatively impacts his overall enjoyment. And the seating is particularly bad, causing discomfort for him and his family during movies that typically last two to three hours.
The pricing at these venues is another deterrent, Gnanasekaran said. With tickets ranging in price between $20 and $25, they cost more than Landmark and Cineplex in Canada which sell tickets for about $15.
He said he prefers to travel 200 kilometres — about three hours each way — to see his favourite films.
"It is a one-day plan for me to watch my favourite movie," Gnanasekaran said. "I would any day prefer watching locally in a good cinema like Cineplex and Landmark instead of poor-quality (theatres) and exorbitantly priced tickets."
Landmark and Cineplex, two of the biggest multiplex chains in Canada, declined to comment on the issue. Similarly, an email directed to York Cinemas, the movie distributors for Jailer and, according to media reports, the owner of a handful of theatres in Ontario, received no response. The theatres run by York Cinemas are owned by Yalini Manoharan.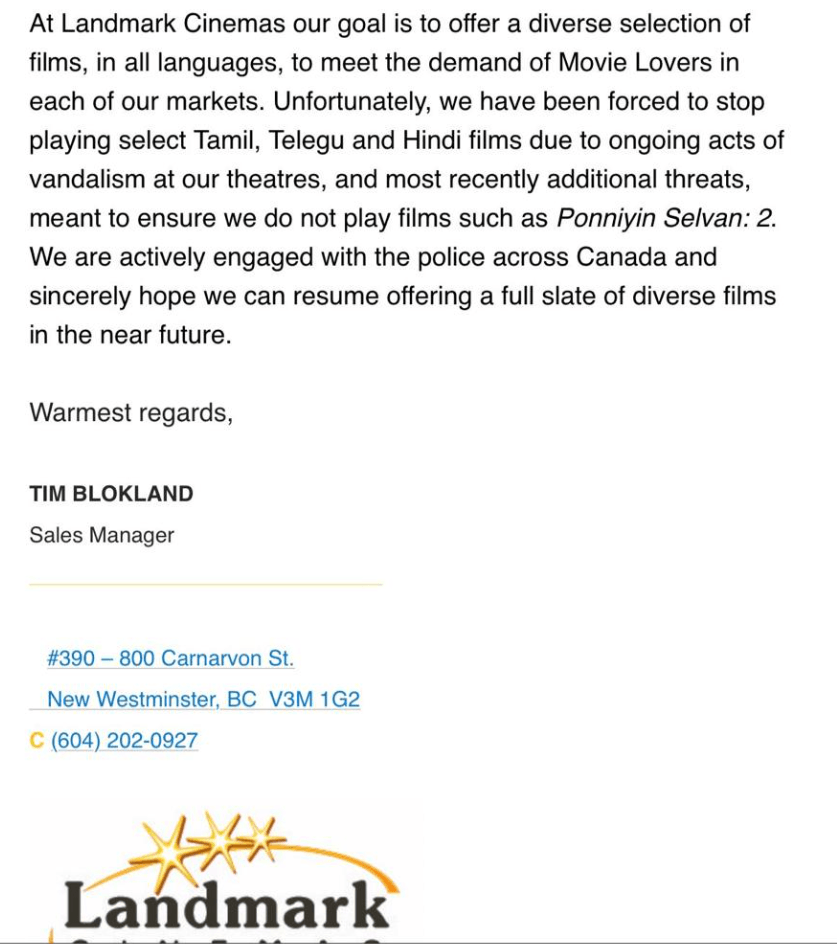 Not all South Indian movie fans have the same options as Gnanasekaran. Until recently, Toronto resident Vigneshvar Subramanian, another Tamil movie enthusiast, had to make a long journey by public transit to watch films. The four cinemas that screened South Indian movies were located in the suburbs outside the city.
Toronto has the largest Tamil community outside of South Asia; Canada is home to about 200,000 Tamil-speaking residents.
A recent deal between York Cinemas and Imagine Cinemas has introduced a new theatre, Imagine Carlton, to Toronto which will greatly reduce the travel time for Subramanian and other moviegoers.
Katherine Matthews is a Canadian-born South Indian movie fan who is frustrated with what she thinks is an "ongoing tussle between the distributors." The Guelph, Ont. woman said she started watching South Indian movies on streaming websites during the pandemic and her love for the genre grew with each film she watched.
She isn't excited about Jailer because she doesn't enjoy "mass hero films, though it's always fun to see Rajnikanth on screen."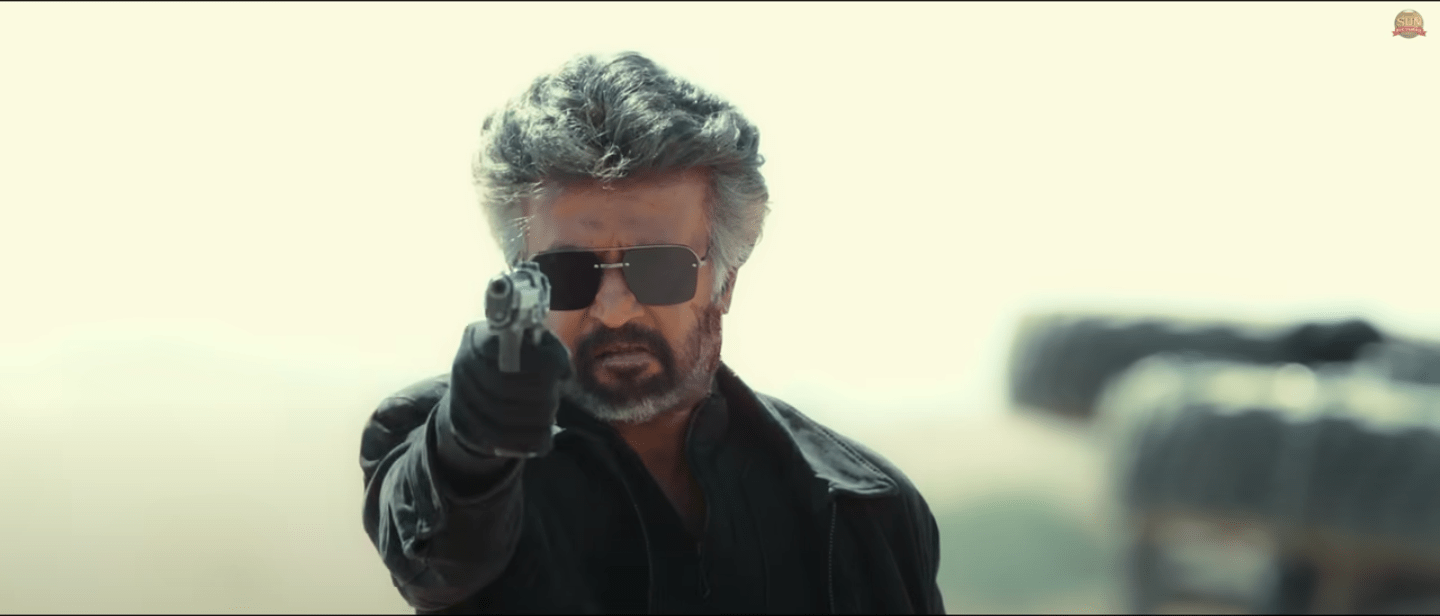 "But if my local chain cinema were to programme it – I know they won't, but just for the sake of saying it – and I could go, say, Saturday or Sunday or even a weekday at noon to watch it – I'd be much more likely to go see the film in a theatre."
One of the challenges for theatres is incidents of vandalism where South Indian language films are screened. This has escalated into a suspected turf war in a number of cities across the country. The vandals reportedly target theatres showing these films, leading major cinema chains to reject the movies citing safety concerns.
The incidents have increased over the last seven years, beginning with vandalism at theatres that screened the movie, Kabali, making it challenging for distributors to find cinemas willing to show certain films, and demanding hefty deposits and added security. Earlier this year, moviegoers attending a Sri Lankan movie, Gajaman, in Surrey, B.C. were pepper-sprayed. The motives behind the crimes remain unclear, and despite recent arrests, the attacks continue.
Indian movies cater to South Asian audiences but there are rare exceptions, such as the film RRR, which attracted people from other backgrounds.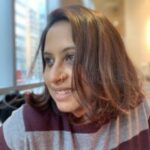 Shilpashree Jagannathan is a journalist from India. She now lives in Toronto and has worked as a business reporter for leading newspapers in India. She has tracked telecom, infrastructure, and real estate news developments and has produced podcast series. She currently focuses on human rights, feminist movements, and other related issues in Canada and India. Her weekends are spent bird watching in one of the Toronto birding hotspots; she loves trails, biking, and a lot of sun.