My wife, Fiona Anderson, and I recently bicycled across the southern United States, from the Atlantic in northern Florida to the Pacific at San Diego.
The ride was the most ­challenging thing I've done in my life. Not because of the ­physicality of cycling some 4,500 kilometres, but the stress of dealing with dangerous ­drivers, rude people, incredible poverty and the immense divides between rich and poor, and city and country.
There was also the incredible hypocrisy of American immigration policy, the inflated rhetoric of politicians who I believe trade in hyperbole and hysteria, and then the school shooting at Uvalde, Texas.
We had cycled to Uvalde a week or so before the shooting. We were warned there by a kind passerby that we should be very, very careful about high-speed chases on the highway we were going to be riding on.
The governor of Texas had declared a state of disaster in counties bordering Mexico, in an attempt to stop the flow of ­illegal immigrants.
What this did was essentially turn Uvalde into something like an armed camp, with many, many border patrol agents and other police maintaining a very high profile.
We stayed at a nearby hotel, about a day's bicycle ride away, where there were literally dozens of state troopers who would patrol the border all night long.
It's difficult to describe the level of militarization in the area. The governor had dispatched thousands of National Guard soldiers to the region. Soldiers were patrolling the bluffs.
Border Patrol agents raced along the highway or were positioned in their trucks, binoculars on the border. Aircraft flew and a surveillance blimp with high-tech radar was aloft some miles down the road.
Throughout the south, there are signs that warn anyone foolish enough to trespass that they will be shot. Some of these signs are incredibly graphic. Others are rude. Some are meant to be funny, but in reality, they are tragic.
Help wanted signs
On one day we saw what I thought were three field ­workers spring out of the mesquite and walk along the highway, heads down. I waved and later realized that those unarmed men, dusty and parched, were likely illegal immigrants, looking for a better life in labour-starved America, where help-wanted signs dot nearly every open business.
Along the way at another roadside hotel we met a couple of well-groomed older men ­riding expensive Harleys, each packing 9mm Glocks. As they shared their whisky with me, they described why they were armed.
It was to protect themselves from criminals and bad guys, and to protect their families and homes, particularly if an "invader" — an illegal immigrant — tried to trespass.
Seeing the United States from coast to coast at 15 kilometres an hour allows you to witness in slow motion the incredible decay of rural America.
Many houses and businesses remain destroyed from past hurricanes, tornadoes and other storms. The poverty is mind-boggling. The state of some people's health is appalling.
The roadside filth in some cases is the worst I've seen ­anywhere in the world.
There are literally thousands of anti-Biden signs, thousands of Trump-Pence 2020 signs, and church after church after church, with some parishioners displaying on their lawns the darkest, most dire apocalyptic Bible verses that the good book has to offer.
Thousands upon thousands of courteous drivers did their best to make our ride safe. But then there were the hundreds of drivers who blasted their horns, tossed stuff at us, or passed so closely that we were run off the road. Some would slow down, and then push their accelerators to the floor in an attempt to cover us in black smoke. A few even did U-turns so they could do it more than once.
Then there were the dogs. Hundreds of them rushing at their fences, howling in fury as we pedalled by.
In the midst of all of this anger, all of this callous ­disregard for civility, 19 school children and two teachers in Uvalde were shot and killed. In some cases, the victims were mutilated so badly that DNA had to be used to identify them.
It was shocking, for I knew this place, and the school that we had cycled near.
It was shocking to learn that those police, those law ­enforcement officers had waited for more than an hour while children pleaded for their lives over 911.
It was shocking to witness all of this anger, where hate is commodified and gleefully ­trafficked in by opportunist ­politicians, racists and gun nuts.
Yet America is like a canary in a coal mine.
The politics of division are getting stronger and stronger in Canada.
We in North America must improve our public discourse. We must begin to value civility and education again.
And we must as a society, above everything else, re-learn how to be kind and tolerant.
If we don't, we risk devolving into a dystopic, American-style nightmare, where division and conflict reign supreme.
__________________________________________________________
This comment was originally posted on Times Colonist and republished with the author's permission.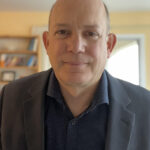 Paul Bucci is an award-winning journalist and editor who has worked in senior management positions in some of Canada's largest media companies, including Postmedia, Black Press Media and Brunswick News. Accomplishments at Postmedia included establishing Tai Yang Bao, a Chinese-language online news publication and Vancouver Desi, a publication for South Asian audiences.
A former legislature journalist with reporting stints in Somalia and Bosnia, Bucci has been an editor and strategist with New Canadian Media since 2022.