Going through Toronto Pearson International Airport in the time of coronavirus is as novel an experience as the virus itself.
The staff, from Customs officers to porters and gate keepers, were extremely vigilant when talking to passengers, all wearing protective gear including masks and gloves, and keeping a safe distance.
I didn't see any passengers violating the strict protocol, while arriving at Pearson recently. I truly hope this high level of adherence to government instructions is kept up everywhere, not only at the airport.
Taking advantage of mobility assistance
Among the staff were mobility assistance workers with whom I had an interesting chat, keeping at least a two-meter distance, and on occasion having to raise my voice to make myself heard while wearing a high-quality, almost voice-muting mask. The virus is not a joke, dear readers!
I met one of them who was apparently taking a short break. She told me stories of passengers miraculously jumping off the wheelchair right after crossing the customs counters, or getting government-funded accommodation during these challenging times to self-isolate for 14 days because they had no home where they could stay; they apparently don't consider Canada to be their home any more!
"It's almost always a long queue of wheelchair service passengers from different countries," she told me. "Mobility assistance at the airport is a service provided by the airlines, and that's why we don't question their eligibility to get the service. … The passengers, mostly elderly but could be in different age groups, arrange for assistance by contacting their travel agents or the airlines directly, prior to the travel date," she explained. 
"There are definitely genuine cases of passengers who really need the service," she continued. "However, on some flights, around 60-70 per cent of those utilizing mobility assistance just jump off the wheelchair soon after crossing the Customs counters! It's amazing! And these 'miracles' keep happening, time after time. They apparently want to be looked at compassionately so as to avoid being asked too many questions about goods they have brought with them from abroad."
She narrated the story of a passenger on that day's almost 15-hour flight, who, after completing the Customs declaration process, was wheelchaired to the baggage reclaim area, then stood up near the carousel, took control of the baggage trolley and walked towards the exit gate. Others, however, keep sitting in the wheelchair till they reach the meeters-and-greeters area at the curb. 
"Frankly speaking, I was not surprised; it was neither the first nor would it be the last time I met a passenger like that," the mobility assistance worker told me. "However, I am shocked that these people fly during the COVID-19 pandemic (and during a purported second wave). I am aware people have rights, but there must be a way to prevent them from abusing the system."
Pearson's COVID-19 guidelines
To help limit the spread of COVID-19 and as part of the new normal at Toronto Pearson, only airport workers and passengers with a same-day ticket are allowed inside the airport. "Meeters and greeters," as well as those dropping off friends and loved ones at the airport, are not permitted to enter the terminals. 
Passengers are encouraged to keep a two-metre distance from others whenever possible. All are required to wear masks, except travellers under two years old or those who have trouble breathing. Friends or family members of someone who requires mobility assistance, or those accompanying a minor travelling alone, are allowed access to the public spaces of terminal buildings. 
The mobility assistance worker said one wheelchaired passenger, upon arriving at the airport, couldn't speak a word of English or French, so the airport staff had to get an interpreter. The passenger, who apparently lived for some time in Canada, didn't have a home or a permanent address in the country and was to stay with distant relatives or friends. 
The passenger was granted free accommodation at a quarantine facility to spend 14 days in isolation as a precautionary measure against the spread of COVID-19. 
"I am just an employee here and it's not my role to ask these passengers questions. But this is tax-payers' money being spent unnecessarily at the end of the day. I don't mind them taking advantage of the mobility assistance service paid by airlines, from which mobility assistance workers are making a living," another mobility assistance worker said, worried about what it costs government. 
The crowd at the airport was splendidly managed; even at Customs points, passengers stood in a line, keeping safe distance, and officers asked the usual questions with the same level of serious attentiveness that I was accustomed to in pre-COVID-19 times. 
Safety precautions for the recently arrived
As I was reflecting on the stories I heard from the workers, I was directed to a COVID-19 Travel Study Center set up at the airport by McMaster HealthLabs, as I volunteered to get tested for the virus. I self-administered the test near the exit gate. I will conduct another test (I have the kits) on day 7 and a third one on day 14. Samples will be collected by a courier company and results sent to me by email. The result of the first test was negative; however, every passenger arriving in Canada will remain in quarantine for 14 days. 
And as part of the precautions, I also had to provide personal information through the ArriveCAN app (there is a web app too). Traveller information is required at entry into Canada to fulfil the requirements under the Quarantine Act. 
It's serious business, dear readers: government official called me by phone to ensure government instructions are carried out, to the letter. I also received an email. I am sure they will call and send emails again during the fortnight of self-isolation! I salute our health care workers, our first line of defence against COVID-19.
Photo by Shan Qiao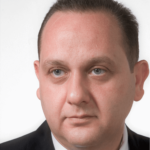 Hakam Kherallah is a veteran Toronto-based Arab Canadian journalist of Syrian descent. He is a member of the NCM Collective.