A triumphant Syrian President Bashar al-Assad's call to his country's émigrés to return to the "lap of the homeland" has few takers even as the UN refugee agency continues its global campaign to find new homes for those who've been fleeing ever since the Arab Spring erupted eight years ago. 
Instead, the émigrés are seeking refuge in other lands, including Canada, largely out of fear of a regime on the rebound that has scores to settle. Having beaten the odds with the help of the Russians and the Iranians, al-Assad now expects loyalty from his population and may be even less tolerant of dissenting opinions, according to analysts in the region. 
The diaspora that fled is left with three options: stay where they are, knock at the UN refugee agency, UNHCR's door for resettlement, or return, willingly or grudgingly, to al-Assad's embrace. However, the relative calm in the capital, Damascus, and many other cities and villages now regained by Syrian government troops is not reason enough for millions of Syrians who left the country since early 2011 to return home.
Canada remains one of the most desired destinations for the Syrian diaspora, partly based on the good reports coming from the 58,000 Syrians who've resettled in Canada since 2015. But not everybody is seeking refugee status and the route to Canadian immigration is strewn with pitfalls like language proficiency that cast a dark shadow over such dreams.
Language a Bottleneck
The queue was not long last week at a non-descript villa in Abu Dhabi (the capital of the United Arab Emirates), used as a UNHCR centre to receive asylum seekers' applications. The UN refugee agency had begun accepting applications again from Syrians who are resident in the U.A E. a few weeks ago, but this didn't trigger a lot of interest. Canada is among the countries that accept Syrian refugees.
"It is not because we don't want to go. It is because it's too good to believe," said W. Aboedaar, a former correspondent of a London-based pan-Arab newspaper in Damascus. 
"I have applied for Canada immigration through a proper channel, with the help of a Toronto-based lawyer. However, there are many obstacles, the most difficult of which is the IELTS (International English Language Testing System), and here in the U.A.E., the IELTS centres are making it a trade by failing applicants repeatedly," claimed Aboedaar. He said he would continue with his lawyer-led route and would not apply for refugee status through the UN agency. 
Aboedaar, a Syrian from an ethnic minority who was detained at one of Damascus' most notorious prisons for more than a week in the early days of the Arab Spring, pointed out that applying for asylum would automatically bar him from visiting Syria again. "Now the tensions are no more in many areas, I want to visit my country to see my dying father. I will ask a friend to get me clearance from the security apparatus so that I don't get arrested upon arrival," said Aboedaar. 
"To me, the government and the opposition are the same in their betrayal of the people. The word 'Mukhabarat' (security apparatus) still sends a chill down my spine, but I cannot live without seeing my elderly parents," he added.
Refuge in Canada
For another Syrian family, Canada is the perfect option. Mostapha S. and his family are among those who have lived in the U.A.E. as expatriates for many years and have submitted their application to the UN agency. He was told his application would take at least three months to process. 
Mostapha and his family are among the unlucky folks. Rich Syrians living in the U.A.E. and other Gulf states have already secured citizenships from different countries for amounts as much as US$100,000 per person (or around US$250,000 per family). The nationality of choice  in the U.A.E. is the Dominican Republic, but there are similar investment-linked visa programs offered by a handful of countries including Australia, the U.K., Turkey, and even Canada, but the majority of Syrians cannot afford them.
"This (UNHCR) is now the only way to get refugee status in countries which accept us. Luckily, many of us are highly educated, fairly educated or have professions that are in demand, in addition to the accepted fact that we generally integrate into host societies, easily in most cases," Mostapha said. 
Asylum seekers from Syria say they don't only fear the wrath of the government when they return home, but also the aggressiveness of government supporters. They say they will be persecuted upon their return, although the Syrian government has launched a media campaign calling upon Syrians to come back home now that most of the country has been taken back from opposition forces. 
Home Away from Home
A third category of émigrés is staying put. Fifty-one-year-old Abu Ausama is among the 300,000 Syrians who have refuge in the U.A.E. as long as they hold jobs there. He came to the emirate of Ras Al Khaimah with his family when he was 6 or 7 years old. He could not make ends meet as a result of spiraling costs of living and the current downturn of the Gulf economies. He recently took his family to Syria, but returned alone within eight weeks.
"Life there (in Syria) is unbearable. The U.S. dollar is more than 760 Syrian pounds, the lowest rate in history. The cost of living (in Syria) is too high. Crime is rampant, moral disintegration is visible and the nouveau riche of the war are everywhere," he said.
There is another reason why Aboedaar doesn't apply for asylum. The U.A.E. remains a good home for those with decent salaries, despite the economic hardships. The U.A.E. is not a signatory to the 1951 Refugee Convention and is not legally bound to accept refugees. However, in 2017, the government pledged to take in 15,000 Syrian refugees over five years, joining the 300,000 Syrians who already call the Gulf nation home.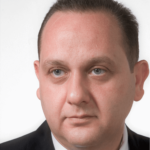 Hakam Kherallah is a veteran Toronto-based Arab Canadian journalist of Syrian descent. He is a member of the NCM Collective.