Raman Brar, 27, has lived in Canada for five years, spent $40,000 to study at Ontario colleges for three and worked for the last two. 
Brar is one of potentially hundreds of international students facing deportation after being scammed by an immigration consultant in India. She now works as a restaurant manager, having spent the pandemic apart from her family in order to build a career in Canada. 
"We want justice," Brar told New Canadian Media on Monday, June 5 at a protest encampment in front of Canada Border Services Agency (CBSA) offices in Mississauga. "We are victims. We are not the culprits, and they know that." 
Mattresses have lined the sidewalk at the corner of Airport and Derry Roads since Tuesday, May 30, where international students and advocates have set up camp to protest for the past 10 days. 
Hundreds have shown up to pray, eat, and listen to the students protesting in the adjacent parking lot. On a typical day, spectators are ushered onto large foil mats that are rolled out at 7 p.m. for Langar — a Sikh meal offered to the community. Then the evening rush starts at 9 p.m., with performances, discussions about Canadian politics, and speeches from affected students. Dinner is served and the crowds are left to mingle.
Brar's story is similar to dozens of other cases in front of the Immigration and Refugee Board. After years of living and working in Canada, she was informed by the CBSA that her original admission letter used to obtain a study permit in 2017 was fake, and so she could be removed from the country.
By the time  Brar received this CBSA notice, she had graduated from two different colleges and been approved for a two-year work permit.
'We are victims of fraud'
Karamjit Kaur, 29, has studied and worked in Canada for nearly six years, but was told she faces deportation after having used the same immigration consultant, Brijesh Mishra, in India. 
Documentation from CBSA shows Kaur's case had been investigated in 2021 after which she was approved for a two-year work permit. 
In May 2022,  Kaur walked into border services in Brampton to apply for her permanent residency in person, and said CBSA officers found nothing amiss at that point. Despite taking a close look at Kaur's files, the authorities issued her a two-year work permit
Both Brar and Kaur were scammed by Mishra the same way: after the students arrived in Canada, their immigration consultant convinced them their seat at the college was no longer available and that they would have to transfer to a different private college. 
Like dozens of other students, neither was aware that their original admission letters had been fake until years later when applying for permanent residency. 
Brar and Kaur have secured lawyers to represent their cases before the Immigration and Refugee Board, and have joined the larger group of students in similar situations permanently camped out in front of the CBSA offices in Mississauga to protest their removal orders. 
"If they're blaming us, they should blame the CBSA and the immigration officers too," Brar said. 
"We want a political solution, not a legal one," said Sarom Rho from the Migrant Workers Alliance for Change (MWAC) standing in solidarity with the students since the news of their removal orders dropped in March this year. 
At a political level, Conservative and NDP  MPs have been calling on the Liberals to stop the deportations of potentially hundreds of international students facing deportation because of bogus offer letters from "bad actors," like Mishra. 
Most students who were scammed are either awaiting their IRB hearings or have already received deportation orders. In one known case, a petition for more time has been successful. 
Karamjeet Kaur, an Edmonton resident and one of four initial signatories of MWAC's petition to stop the deportations, was supposed to be deported in May but the order was stayed three days before she was expected to leave. The IRB will be reassessing her claims of being defrauded. 
Another international student with a similar case, Lovepreet Singh, is scheduled to be deported in less than a week and has not received a stay to his removal orders. 
At the protests, students have been calling attention to their role as frontline workers during the COVID-19 pandemic, as well as their sacrifices in moving to Canada. Their position is highlighted in a letter to CBSA officers. 
"During COVID, we played an essential role in ensuring that the workforce was available in [Canada] and earned the fees and other necessary expenses by working hard," reads the letter. "We are not criminals or a threat to national security. We are victims of fraud."
Brar and Kaur led the march on Saturday, June 2 to deliver their letters to border security demanding to stay in Canada. 
Another rally took place on Thursday, June 8 with protestors marching to the office of federal public safety minister Marco Mendicino to bring him their cause. 
Mendicino has yet to respond.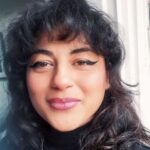 Keitlyn (they/them) is a multi-media journalist residing in Scarborough, Ont. They are interested in long-form journalism that highlights the visibility of BIPOC expression. True to millennial form, they are a small business owner, carpenter and freelance photographer. They were interested in NCM as it understands the "big picture." Journalists are dedicated to truth and democracy. Our communities have not always had access to these privileges. NCM is filling in a large gap that North American media has long neglected.