At the age of 60, quitting a well-paying job to refinance her townhouse and start an entrepreneurial venture was the last thing Helen Poon's friends thought she would do. But Helen did just that, setting out to build a healthy eating and living co-op so she could hire people who would be compensated by becoming healthy.
According to a 2017 study, over three ­quarters of Canadians aren't meeting the recommendations of Canada's Food Guide for fruit and vegetable consumption, this results in an estimated economic burden to society of $4.39 billion annually. While dietary recommendations are made annually by the Canadian government, Poon recognized that a more hands-on approach would be necessary in order to affect more immediate change. The result, the Sprouts Co-Op in Toronto which focuses on specific neighborhoods across the GTA.
The thought of building a community-based healthy food and living co-op had been brewing in her mind for a couple of years, well before Poon decided to quit her job. "You are what you eat," she continues. Hence the 2017 co-op which is steered by Poon but also receives support from a handful of people that have drawn influence from her. 
"I want to create diverse and connected communities that recognize, practice, and advocate for equitable and sustainable food and health systems." -Helen Poon
Poon has never been one to shy from a challenge, so when she learned of the difference sugar alternatives like honey could make, she immersed herself in the subject. Canadians consume an average of 26 teaspoons of it every day, which amounts to 21% of their total daily caloric intake, playing a huge role in many diseases and conditions that have become more prevalent in recent years. Despite her lack of experience in the subject, she has been able to incorporate the ingredient in several recipes without sacrificing taste in any way. 
"Helen was my supervisor at our previous organization we both worked for. At the end of last year, she told me she wanted to start a food and health co-op and hire people with disabilities," says Daphne Au-Young who holds a Master's degree in Clinical Psychology and joined Sprouts as a board member. 
"I thought it's a great initiative to provide affordable healthy food for the community and meaningful employment for individuals with disabilities. I admire Helen's determination to start an organization at the age of 60. It shows that one is never too old to turn a dream into a reality," Au-Young explains. 
As an immigrant woman who came to this country after China's 1989 political turmoil, Au-Young said her parents sacrificed their high paying jobs in Hong Kong for stability and freedom in Canada. The version of Sprouts' "meaningful employment" makes her very happy to see clients moving past their traumas and living a normal life again. 
A major influence within the Asian community, Poon is also a mentor to young men like Dave Tran. A descendant of Vietnamese immigrants and high school English teacher, Tran is currently the Vice-Chair of Sprouts and considers Poon an inspiration. 
"There have been several important people in my life recently, demonstrating amazing leadership over the years, helping to build a greater diverse community for all. Helen is one of those people. She is quite an inspirational person who is a work horse; she always gives her 100% into anything she does and it can become infectious—in the best way," he explains. 
Rui Ping Chen came to Canada 10 years ago as a young girl who also met Helen in her previous job. After learning of Sprouts, she was intrigued. "What kind of dream was big enough for her to leave a management position? She talked to me about Sprouts with so much passion and wisdom that I immediately understood why she did what she did."
"I believe in what Sprouts is trying to promote 'we are what we eat'," says Ping, behind a makeshift reception table that collects people's membership fees and registration forms at Sprouts' first product launch event in Markham last November. That night, Sprouts successfully attracted more than three dozen people to join as members, after a year-long endeavor by Helen and the people influenced by her.
As the Sprouts Co-op continues its steady growth, Poon hopes to extend her reach to an even more diverse range of members. And while the Co-op's Toronto base has limited its current operations to the GTA, it will be interesting to see what the future holds for this ambitious startup.
---
This piece is part of a series titled, "Ethnic Women as Active Participants in Ontario". Writers interested interested in participating are encouraged to join the NCM Collective for an opportunity.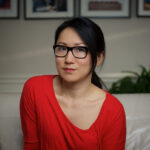 Shan is a photojournalist and event photographer based in Toronto with more than a decade of experience. From Beijing Olympic Games to The Dalai Lama in Exile, she has covered a wide range of editorial assignments.