With pink hats, defiant banners and loud voices thousands of women took to Toronto streets this Saturday to commemorate the International Women´s Day and to protest against inequality, discrimination, sexual harassment, lack of status and illegal detentions.
Organized by Women Working with Immigrant Women and IWD Toronto Organizing Committee, the rally at the Ontario Institute for Studies in Education (OISE) brought together women immigrants from Sri Lanka, Iran, Philippines, Latin America and the Caribbean, as well as other Canadians who expressed solidarity with girls and women who face injustice.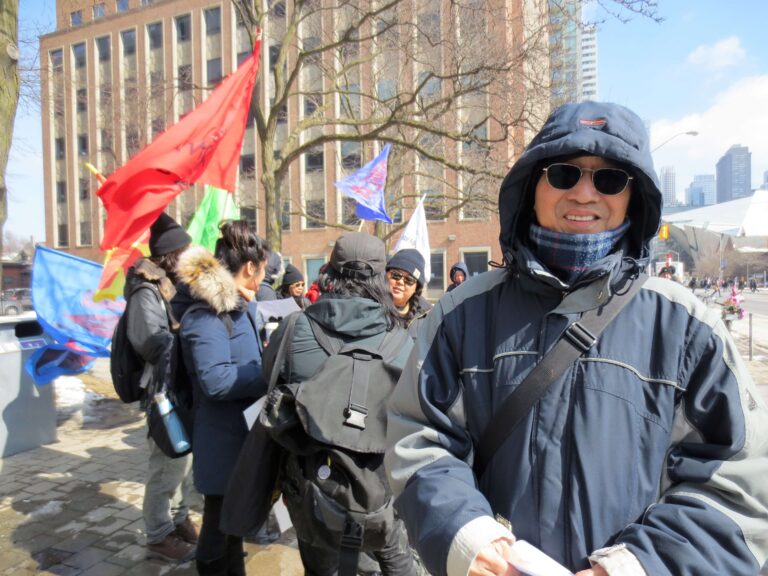 "We are here to defend Filipino women from different sectors, such as caregivers, house workers, factory workers," said Rick Esguerra (pictured), from Migrante Canada, an organization that defends the rights and welfare of Filipino migrants.
The organization Gabriela Ontario, honours Gabriela Silang, one of the Filipino fighters against Spanish colonization in the 18th century, and is focused on better immigration and labour rights for Filipino women in Canada. Its representative, Mithi Esguerra, explained that since 2010 Gabriela Ontario has been helping migrant Filipino women to fight gender discrimination, as well as their struggle as caregivers in Canada.
At 1 p.m., hundreds of women and men started walking and shouting headed for downtown Toronto. At the front, Indigenous women were defiant with a unique voice: "We are fearless." Women from different communities denounced injustice against women around the world. When they passed in front of the Royal Ontario Museum and well-known multinational brands, they shouted: "Tamil women in Sri Lanka still in tears. Want justice! We are fighting for our future"; "Women and men detained in Sudan´s prisons are victims of sexual violence"; "Down with the Islamic Regime of Iran!"
An old woman was standing with a banner to support Tamil mothers whose children disappeared in Sri Lanka.
Some organization or individual brought their pamphlets and banners against the Ontario Premier, Doug Ford. They accused him of racism and governing in favour of the private sector.
The Latin American and Caribbean Solidarity Network brought the green kerchief that signifies international support for a woman´s right to suspend their pregnancy. "In countries like El Salvador, the women who have even involuntary abortions are incarcerated. In Honduras, abortion is not legal. In Chile, it is permitted just under three conditions: rape, the health of the mother is at risk, and unfeasible fetus," said Chilean-born Magdalena Díaz, who also raised her voice in favour of women that support Venezuela´s president, Nicolás Maduro: "We are asking for peace in Venezuela and urging Canada to get its hands off that country."
Even though Canada is third – after Norway and Sweden – in highest quality of life for women… the Toronto IWD´s rally showed that there is still much to do to ensure women in Canada reach their full potential
In this long march, one that took 30 minutes to pass any given spot, the FCJ Refugee Centre showed that "women change the world not when they whisper, but when they roar."
A new generation of boys and girls joined the march with messages like "careers have no gender, and "women´s rights are human rights".
This year IWD's theme was #InnovateForChange
Landed Status Now demanded equal pay and a rise in the minimum wage to $15.00 per hour. This increase was approved by former Premier Kathleen Wynne, but stopped by the current Ontario premier.
This year IWD's theme was #InnovateForChange, removing barriers for women to succeed as entrepreneurs, trade specialists, and in the STEM fields (science, technology, engineering, and mathematics).
In his message, Prime Minister Justin Trudeau recognized: "When women have the tools and opportunities they need to thrive in the careers of their choice, everyone benefits." He confirmed that advancing gender equality "is a top priority" for his government. Trudeau recalled that Canada, under its presidency of the Group of Seven (G7), created the Gender Equality Advisory Council to steer the commitment for gender equality and help more women and girls achieve their goals.
At the G7 Summit in Charlevoix, Quebec, Canada and its partners announced $3.8 billion to support quality education for women and girls in crisis and conflict situations. Canada will host the Women Deliver 2019 Conference in Vancouver this summer, bringing together global leaders in the fight for gender equality.
However, a recent Nanos survey shows that as Canadian women are getting older, they feel less equal than men. Canadian women are six times more likely to say they feel less than equal to their male counterparts than equal. Women 18 to 34 are the least likely to say they feel equal (48%; 35-54: 58%; 55 plus: 59%). More than six in ten Canadian women report they became aware of gender inequality before the age of 25.
Even though Canada is third – after Norway and Sweden – in offering the highest quality of life for women, according to Nestpick´s women´s liveability index, at the World Economic Forum´s Global Gender Gap Report 2018, Canada ranked 16: quite far from countries like Nicaragua (5) and Philippines (8), out of a total of 149 countries. The Toronto IWD rally showed that there is still much to do to ensure women in Canada reach their full potential. "The future is female!", women and men shouted on Toronto's streets during IWD; this future requires much work to be realized.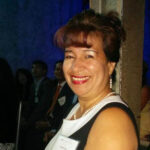 Isabel Inclan has worked as a journalist for more than 20 years, in both Mexico and Canada. She began working as a foreign correspondent in Canada in 1999 for Mexican media. She has been a New Canadian Media contributor since 2018. Her main areas of interest are politics, migration, women, community, and cultural issues. In 2015, Isabel was honoured as one of the "10 most influential Hispanic Canadians." She is a graduate of Masters in Communication and Culture at TMU-York University. She is a member of CAJ and a member of the BEMC´s Advisory Committee.