For the second consecutive federal election, Justin Trudeau's Liberals won every riding in the Greater Toronto Area en route to victory. New Canadian Media reached out to members of various communities across the GTA to find out why the Liberals won their vote. This article is part of a four-part series exploring the question: why the GTA went red? Read part III here.
The Latino community in the Greater Toronto Area (GTA) voted strategically in 2019, opting largely for the Liberals.
Francisco Reyes, immigrant from Dominican Republic summed up many attitudes across the group.
"Even though I was upset with the Prime Minister Justin Trudeau for wanting to intervene in favour of the SNC-Lavalin company, I supported the Liberal Party," said Reyes. "It is the political organization that best represents and defends the principles of liberal democracy of Canada."
Some voters, such as Sara Acosta, a 28-year-old Mexican immigrant, changed their usual party of choice.
"In previous years I've voted New Democratic Party (NDP)," explained Acosta. "However, this year I voted Liberal…mainly due to their stance regarding education, the environment, minimum wage increase, climate change, and medical assistance."
Strategic voting
Latino voters understood the need to vote strategically, particularly in these elections.
Alejandro Morales, a 76-year-old immigrant community worker, radio show host and columnist from Chile is a perfect example.
"I have always voted for the NDP because I agree with its socialist agenda," stated Morales. However, in these past elections, "I had to exercise a strategic vote because I saw that the NDP candidate in my district, Parkdale-High Park, was not going to have much chance of winning. So, I voted for the re-election of Arif Virani."
This is not to say that the Liberal party did not have its strong base of usual backers. Ana Ramirez, an 81-year-old immigrant from Colombia voted Liberal at the Northern Toronto riding of Willowdale. Here, Muslim MP Ali Ehsassi was re-elected. A long-time supporter, Ramirez's husband was appointed by Pierre Trudeau as one of Canada's representatives to the United Nations.
"I have always voted for the Liberal Party," said Ramirez. "I like the philosophy of the Liberal Party. It is more humanitarian than the Conservatives and covers a much wider field of society. Pierre Trudeau was the one who opened the doors to migration."
Ramirez did not consider the NDP. "With the exception of Jack Layton, it has not had good leaders. I don't like NDP candidates very much."
Youth at the polls
The Liberals were also able to appeal to Latino youth such as Pamela Alamilla, an 18-year-old first generation daughter of Mexican immigrants. Alamilla was born in Calgary and moved to Toronto when she was six. She voted for the first time at the Etobicoke Centre riding that was won by Yvan Baker.
"As a first-time voter in Toronto, I voted for the Liberal Party because I want Canada to continue to be a global leader in social reform and the march towards equality," said Alamilla. "And, though he has surely made mistakes in his political and personal life, Justin Trudeau's cabinet models inclusivity and diversity, two things which I value greatly."
Alamilla was candid about the appeal of other parties to youth such as herself.
"It's true that the NDP and the Green Party are gaining popularity, particularly amongst people of my age," she noted. "Under different circumstances, I might have voted for the NDP because their beliefs and values closely reflect my own. However, I didn't believe that either party would have enough support to win. I wanted my vote to count and specially to prevent the Conservative Party from wrecking havoc on our education and social programs."
Anything but the Conservatives
Alamilla is not alone in not wanting the Conservative party to win in Canada. Memories of Harper's reign of terror are fresh in the minds of many.
"Conservatives are very elitist," explained staunch Liberal Ramirez, "Like Donald Trump and Doug Ford, who favour the richest."
Morales explained this thought further.
"Any political party is better than the Conservative Party," he said. "After seeing what Premier Doug Ford has done in Ontario, cutting social services, I had to take a strategic vote in support of the Liberals to avoid having a Conservative prime minister like Andrew Scheer."
The issues at play
Environmental and social issues played centre stage in this strategic voting.
"The Liberal Party proposes a plan to plant trees as well as phase out coal power by 2030 as well as protect Canada's natural land and ocean habitats, emphasized Acosta. "The hand gun regulations and restrictions implemented by the Liberal Party, I believe, are important."
Of course immigration was another central issue, and one the Liberals have been known to be far better in comparison to the Conservatives.
"The Liberal Party is also the one that propitiated the policy of open doors to immigration in the 1960s," said Reyes, "And today we enjoy the benefits of that welcoming."
---
This is part II of a IV-part series on why the GTA voted Liberal. Part III in our series looks at why the African diaspora in the GTA voted for Justin Trudeau's Liberals.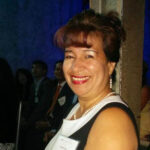 Isabel Inclan has worked as a journalist for more than 20 years, in both Mexico and Canada. She began working as a foreign correspondent in Canada in 1999 for Mexican media. She has been a New Canadian Media contributor since 2018. Her main areas of interest are politics, migration, women, community, and cultural issues. In 2015, Isabel was honoured as one of the "10 most influential Hispanic Canadians." She is a graduate of Masters in Communication and Culture at TMU-York University. She is a member of CAJ and a member of the BEMC´s Advisory Committee.