How possible is it for immigrant and amateur event organizers to set up Toronto's largest dragon lantern on Nathan Phillips Square, and present a variety show with 2,000 performers in a 3-day street festival?
"Quite impossible, but we made it," said Susan Xu, one of the co-organizers of the 2019 Toronto Dragon Festival. The festival competed with the Toronto International Film Festival and dozens of other major events during the first weekend of September.
This is the second year for the TDF at Nathan Phillips Square – a venue not preferred by the majority of Chinese participants who are more comfortable to everything north of the city. For Xu and other organizers, hosting a Chinese street festival here makes it hard to get Chinese festival-goers. The venue is far and has traffic. It is too expensive due to metered parking. Also City Hall is out of the way when there are numerous street festivals with more food at arm's length in Metro Square, Splendid China, and many other popular Chinese areas.
The Organizing Team
Xu's team is made up of her husband Jian Zhang, the President of the Canadian Association of Chinese Performing Arts, the show director David Zhang and event co-ordinator Kitty Chan. All of them have a daytime jobs and spare half a year volunteering to put the show together.
"After years of hard work, we have established in Canada. We enjoy our lives here, and we truly like the people on this land," explained Xu. "Organizing festivals is a way for us to give back to the community. But more important, we want to bring different communities together through arts and cultural exchanges."
They did quite well this year. From Guinness record-holding acrobat and Quebec native Dominic Lacasse, to Toronto's Indian Classical Odissi dancer Shreya Chakraborty; from Polish-Canadian soprano Karoline Podolak, to world music multi-instrumentalist Romulo Delgado – Canada's talented artists triumphed at the dragon's playground during the celebration of arts, food, and friendliness, says Xu.
People gawked at beating drums and dragon and lion dances. Shouts echoed amongst Kong Fu practitioners. Music changed from modern Jazz to Indian dance.
After working closely for several smaller Chinese events within the community, the team gradually developed a clear vision. They wanted to bring the Chinese show to the heart of Toronto. This meant that Chinese performers and audiences would have to travel out of their comfort zones. Also, more artists from other cultures were invited.
A typical quiet and serious-looking Chinese middle-aged man and mastermind Jian Zhang is not shy to share his format for the Festival.
"By celebrating Chinese traditions in culture, arts, and music, we have created a platform for all cultures and communities," he said. "Our goal is for all people to participate, to share, to experience and to interact."
That was especially true for Kelly and Haley Hof as they took a big step toward their dream broadcasting careers. The two bubbly sisters are of Chinese and Dutch descent, working as junior reporters, interviewing Festival exhibitors and goers.
At the ages of 11 and 9, the girls are already veterans in hosting children's events, featured on Markham's multilingual radio station FM105.9.
Proud mother Maggie Li came to Canada twenty years ago but never left her cultural heritage behind. Sending the girls to Chinese events is one of many ways she makes her kids learn more Chinese language and traditions.
Although looking predominately Caucasian, Kelly and Haley do not hide their love of the big dragon lantern.
"Mommy said we are the new generations of 'dragon,'" said Kelly, adding that the mouth-watering street food and live craft-making help them understand parts of their heritage.
For Toronto retiree and former IMAX movie technician Greg Blair, coming to the Dragon Festival feels nostalgic. One of his career highlights was working in China in the early 2000s to help build the first IMAX movie theatres. He stayed in China for months and was invited back for ceremonies as an honoured guest.
"I know they referred me as 'Bai Qiu En,'" Blair joked in Chinese, with big pride on his face, referring to Canadian physician Norman Bethune who served and died in China during the Sino-Japanese War. Bethune is considered the most beloved Canadian figure by generations of Chinese people.
Blair joined the Festival as one of the Tai Chi practitioners. Soon after he is off the stage, he takes out his camera and snaps thousands of photos.
"I consider myself as the Festival's volunteer photographer, although I'm not asked to, said Blair with enthusiasm. "Look how I position the dragon lantern above the 'Toronto' sign, making a perfect and harmonious balance between the Chinese culture and the City."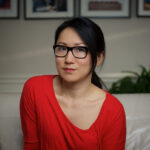 Shan is a photojournalist and event photographer based in Toronto with more than a decade of experience. From Beijing Olympic Games to The Dalai Lama in Exile, she has covered a wide range of editorial assignments.