Canadians from the Atlantic to the Pacific are suddenly aware that their world-famous model of multiculturalism is not working as well as it should.
People in the so-called "mainstream" want immigrants to do more to fit in – perhaps by abandoning customs and "back home" traditional mores that don't jive with the rest of Canada.
While it is hard to pin down what exactly folks who belong to the "mainstream" would want us to do, this disconnect is evident in other ways. Take Canada's media scene, for instance.
Mainstream media are losing ground, while ethnic media continue to thrive – with new outlets opening in new markets, adding new foreign languages to an already-saturated landscape.
Redefined by immigration
This disconnect was at the heart of a presentation I made in Surrey last week, organized as part of the Walrus Talks series, and titled "Cities of Migration". Surrey was surely a great location to hold this event; a laboratory of sorts.
Like a handful of cities across Canada, Surrey is being redefined by immigration. Its demographics are startling: the latest census data shows that 41 per cent are immigrants, 14 per cent have arrived since 2001. There has been strong growth in recent years from India and the Philippines.
Markham, Richmond, Brampton and York are in the same league. This is where the Canada of tomorrow is being born.
While in Surrey, I ran into three folks who seem to understand that they are participants in a social experiment that may well determine if Canada will survive as a cohesive society. It is in places like this that we will know if multiculturalism is actually working in practice.
The first was a well-spoken cab driver, Amarinder Singh Dhillon, who's been at the wheel over three decades. But, his source of pride is being "the only Rotarian to drive a taxi". "Only in Canada," he exclaims. I agreed.
Stephen Dooley, executive director of Simon Fraser University's Surrey campus, also gets it. He saw that this city was going to be a haven for refugees from Syria – home to half of all B.C. arrivals from that war-torn Middle East nation – and hence led a study that will inform settlement strategies. However, what struck me was not the study itself, but the fact that Prof. Dooley hired seven recent refugees from Myanmar, Somalia, Iraq and El Salvador as research assistants.
That to me suggests empathy.
The last true believer I ran into was Michael Heeney, principal at Bing Thom Architects, who spoke of creating a "third space" while conceiving the edifice that houses SFU's Surrey campus. The architects ended up redeveloping a declining shopping centre, opening up the roof to overlay the university and integrating an office tower on it.
The local Wal-Mart and university have a shared roof.
Intersecting spaces
Dhillon, Dooley and Heeney are doing what Surrey needs to succeed: creating shared spaces, fostering conversations and melding the old with the new. I suspect they are not fans of "asymmetric" integration which holds that the onus is on immigrants to fit in.
My good friend and an authority on multiculturalism Andrew Griffith wrote this in Policy Options last month: "The integration process is asymmetric: it is more important for immigrants and new Canadians to adapt to Canadian laws, norms and values than it is for the host society to adjust to them. The meeting point is not 'somewhere in the middle' between the host society and the newcomers, but much closer to the host society (80/20 percent, in my view)."
My time in Canada (14 years) tells me that the meeting point is indeed in the middle. The host society must do all it can to make newcomers feel at home, while immigrants must make an equal effort to reach out.
The mainstream cannot adopt the sort of "benign neglect" that no less a Canadian than a former Governor General Adrienne Clarkson referred to in her book, Room for All of Us. [Video courtesy: Stephen Hui/Georgia Straight]
A New Conversation
My talk in Surrey dealt with creating a new Canadian conversation, beginning in the media. The two solitudes of "ethnic" and "mainstream" are as far apart as Gander and Coal Harbour.
We need to find common ground and ways to work together.
Paul Dhillon and Krystele Chavez are perhaps representative of a new breed of immigrant journalists who feel vested in Surrey's future.
"Bringing innovative ideas and entrepreneurial spirit to the economy, it is because of immigrants that we have kept our city demographically young and culturally enriched, therefore enhancing our influence in the nation," says Chavez, who comes from Saipan in the Northern Mariana Islands, and writes for Surrey604.
Dhillon has a longer horizon. "Surrey was largely an agricultural backwater until the Indo-Canadian builders and developers built it into subdivisions and strip malls. The impact of immigrants has been immense on the city's development and its current diversity is proof that its future will also be drastically shaped by a truly multicultural and metropolitan population," says the editor-in-chief of the South Asian Link newspaper.
Theirs are new voices that need to be heard.
George Abraham is founder and publishing director of New Canadian Media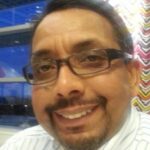 George brings 30 years of writing and newsroom management experience to New Canadian Media. He began his journalism career with The Times of India in Mumbai (formerly Bombay), followed by stints at the Khaleej Times in Dubai and as managing editor of The Peninsula in Qatar. A journalist with high ethical standards, George won the prestigious Nieman scholarship at Harvard University (1994-95), and more recently, pursued a Master's in Journalism at Carleton University (2004).