More than 20 years after Jassi Sidhu was murdered for defying her family and marrying for love, filmmakers have harnessed the young woman's story to explore the case and the "honour-based" violence that persists in Canada.
Sidhu, a 25-year-old Maple Ridge woman was murdered in Punjab, India, on June 8, 2000. Her uncle, Surjit Badesha and her mother, Malkiat Kaur Sidhu — both Canadian citizens — were the main architects of the crime and were extradited to India in 2019 to face charges.
"It's been 23-plus years since the murder happened…I wanted to make this film for years, ever since I heard about the audio clip which clearly mentioned how Jassi's mother instructed her murderers to do whatever they want to with Jassi's body," said Tarsem Singh Dhandwar, whose film, Dear Jassi, premiered at the 2023 Toronto International Film Festival last month. 
"That apathy shown by her mother moved me so much." 
The film is also being screened at the film festival in London, England this week.
The story of Jassi Singh's murder was followed for years by Vancouver journalist Fabian Dawson. He wrote extensively about the case and made several documentaries and a made-for-TV movie. He also wrote Justice for Jassi, which was published in 2012. 
Dawson consulted on Dhandwar's film, which is based on Jassi and her husband Mithu Singh Sidhu's love story.
Although the story has been told many times, the film's subject is as fresh as ever as honour-based violence is still prevalent among Canada's South Asian diaspora.
Two of the most recent cases are 43-year-old Davinder Kaur, a mother of four children, who died last May in a Brampton, Ont. park after she was stabbed — allegedly by her estranged husband. 
In December 2022, 21-year-old Pawanpreet Kaur, a former student at Ontario's Sheridan College, was fatally shot outside a Mississauga gas station. Police issued a Canada-wide arrest warrant to locate Dharam Singh Dhaliwal, Pawanpreet's former lover.The man's 25-year-old brother and 50-year-old mother have been charged in the murder.
Canadian activist, Preet Parmar, founder of The Kaur Movement told New Canadian Media that the organization receives email from people who are in strict family situations where they are being controlled.
The Canadian nonprofit helps sexual and domestic abuse victims across the country. Parmar said  if these women escape from their marriages, they leave with a perpetual fear for their lives, whether it's the ex-husband, father-in-law, mother-in-law or someone else who might hurt them.
"I feel laws need to be more strict around honour-based violence and hopefully that would act as a deterrent for perpetrators," Parmar said. "Do the police check, recheck on victims who have reached out and then backed out of their complaint? 
"These are some factors that should be considered by the police, because from our observations, women back away because of fear and the control the families have on them. Most honour killings are defended by religion."
She said authorities don't understand the role religion plays in these cases and they may not take a complaint about a strict family home seriously. 
The RCMP states that honour-based violence is a "complex issue that needs greater awareness." A police report, written by Chief Supt. Shahin Mehdizadeh, defines honour-based violence as a common yet largely invisible crime in Canada. 
Mehdizadeh's report states there are a wide range of reasons why members of certain cultural groups may not be inclined to make reports to the police. "Under-reporting of crimes against persons pose a significant challenge to the law enforcement community as it doesn't allow them or other partner agencies to provide adequate protection for the victims."
B.C. RCMP officer Harbeen Kaur has firsthand knowledge of intimate partner violence.
"I personally experienced domestic violence and watched my mother become a victim of it while growing up," Kaur said. "One of the reasons I became a police officer is to help women in our communities step up and have a voice against violence.
"One of the major things that holds men and women from speaking up against the crime would be societal pressure. I wish I could say we have evolved, but in my opinion we haven't made much progress. Women tend to stay in violent and abusive marriages/relationships for the sake of their children and the fear of shame and reputation.''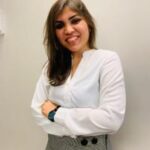 Media Professional with over 5 years of versatile experience in corporate communications, content creation, community engagement, report writing, story promotion and effective editing skills. Presenter and writer with a reputation for offering prompt creative initiatives, drafting detailed reports with over 300+ published bylines in national publications. Adept at researching online/offline prospects to actively garner audience's attention on brand, both offline and online.