I arrived in Toronto from Dhaka, Bangladesh on March 21, 10 days after the World Health Organization declared a pandemic. Grateful my immigration process wasn't delayed, I left my country filled with optimism about the adventure ahead.
During the journey, a quote from the film Parasite kept repeating itself in my head becoming my mantra:
"You know what kind of plan never fails? No plan. No plan at all." 
Just stay alive. Do not get sick. That was my only plan. I was well aware of the struggle, heartbreaks, identity crisis, dilemmas, and other difficulties that were awaiting me in Canada. But I was not prepared for COVID-19 to change everything in this world.
This is the third time I traveled to Canada in the last year. I was lucky enough to have a good job back home and a father happy to pay for the tickets. My husband, Iqbal, came here as a student and never went back. We got permanent residency in June, 2019. 
An eerie journey
Going from Dhaka to Toronto is a gruelling and tedious journey that involves transiting through Hong Kong International Airport. It was jarring to see one of the world's busiest airports eerily empty. There were no line ups. All of the duty free shops were closed.
I met Moon on the first leg of my flight. She was a Bangladeshi woman heading to Canada for the first time to see her husband. After waiting six years for her application to be approved, she was finally able to get a visa.
But as we boarded the plane that would take us to Toronto, Moon was pulled out of the queue. Canada had closed its borders and was only allowing citizens and permanent residents to return. Moon had not yet activated her status as a permanent resident and could be deported once we landed. Imagine the heartbreak of struggling through years of living apart from her husband, overcoming endless paperwork, only to be turned away mid-journey in a foreign country.  
When my flight arrived in Toronto, there was no one to greet me. No husband, no cousins, no friends. They all stayed away to avoid the risk of infection. I struggled by myself to get my two 25 kilogram suitcases, and carry-on luggage, to a place where an Uber driver spotted me.
'I got this,' he said softly as he put my luggage in the trunk of his car. I cannot explain how comforting those simple words were for me at that time. I was dreading the one hour drive to Iqbal's apartment more than the flight itself. I realized this was an example of the new normal – that caring for each other continues, but only while minding physical distances. 
A life without a destination
My new life in Canada began with two weeks in self-isolation in my husband's tiny basement unit. We have access to a small yard, which has kept us from going stir crazy. 
I think understanding the transport system is very important to settling in a new city. But in Toronto, I haven't yet figured out how GO Transit operates. I'm still working to memorize the night schedule for buses and trains that can get me home. I get lost in stations; hop on the wrong trains. And I can't even practice.
My husband is worried about my mental health. I am outgoing and social by nature. I wanted to do so much over the summer. My sleep cycle is totally messed up. My eating habits have changed. I do not feel like working out at all. I do not feel motivated to learn something new. 
No matter how positive we try to stay, sometimes I get anxious, lose my temper and worry about our future. We both had good incomes back home, now we are both unemployed and our job prospects look bleak. In Bangladesh, I worked in non-profit communication and Iqbal was studying film production. Both sectors are heavily affected by the pandemic and no one seems to know when things will start to improve. 
Survive or thrive?
Meanwhile, news from home is weighing on me. My own family is still safe, but the novel coronavirus is infecting people I know. People I know from work and school, and their loved ones, are becoming part of the country's COVID-19 statistics. When I left in March there were only three cases in Bangladesh, now there are 29,000 confirmed cases.
A friend of mine who lives in Toronto recently posted on Facebook that she had tested positive for the virus. It made me feel helpless. I cannot go to the hospital, I cannot bring food, I cannot even talk to her. How can I show her that I am with her?
There has been some good news. I found out Moon made it to Canada. It's comforting to know someone else whose life mirrors mine.
In the past week, I have started revamping my resume and committed to brushing up on my writing skills.
I realized not having a plan can mean not having enough appreciation for life. 
I do have enough money saved to buy a return ticket to Bangladesh. I can always go back if I do not like living here. But that contingency plan makes me question my own integrity. It feels like it's holding me back.
The numbers of deaths and new cases will drop eventually. We will adapt to this new reality. Do I want to just survive or thrive? I will choose the latter and move forward.
This story has been produced under NCM's mentoring program. Mentor: Judy Trinh.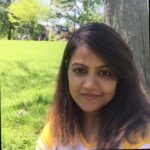 Ruhina Taskin has worked in both communications and journalism for more than five years. She has a Master's degree in Human Rights from Goldsmiths, University of London and is now based in Toronto.