After pledging to take in 25,000 Syrian refugees over several months, Ottawa waived off the repayment of initial immigration loans, which cover health screenings and transportation to Canada for the new arrivals. Experts are now advising that they sustain this policy in the future for everyone seeking refuge, regardless of country of origin.
The loan is thought by many to be a hurdle in the refugee resettlement process in Canada. Debbie Douglas, executive director of the Ontario Council of Agencies Serving Immigrants (OCASI), is one such critic who feels that waiving it is an important move forward.
"By not having the loan program, it actually assists refugees in their successful settlement in Canada," she says.
Immigration Minister John McCallum said in November 2015 that the federal government was "certainly considering changing" elements of the Immigration Loan Program (ILP) but nothing has been announced yet.
A thorough Evaluation of the ILP by Citizenship and Immigration Canada (CIC), now known as Immigration, Refugees and Citizenship Canada (IRCC), earlier in the year contained no recommendations for discontinuing the ILP either.
Refugees burdened with repayment
The ILP has existed since 1951. It's provides privately sponsored or government-sponsored refugees with loans to cover the cost of the medical assessments done overseas before they arrive as well as the cost of travelling to Canada.
The prerequisites of the loan program require refugees to pay it back in monthly instalments to the government, beginning 30 days after landing in Canada.
According to the CIC's report, loan repayment schedules vary depending on the size of the loan. When added up, it can total more than $10,000 per family.
"By not having the loan program, it actually assists refugees in their successful settlement in Canada."
After an initial interest-free period of 12 to 36 months, interest is charged. In 2015, the interest rate stood at 1.38 per cent and it ranged from 1.26 to 4.24 per cent between 2002 and 2012.
Settlement organizations have long criticized Canadian authorities for these loans. The review in September found that the department's policy of forcing recipients to start paying back the loans within 30 days of landing was not consistent with standard practices of helping and supporting refugees.
Douglas insisted that this loan program is problematic during the process of resettlement in Canada because it prevents refugees from properly settling in the country.
"Having to pay the loan means that it will take refugees a longer time to settle economically because they start off in debt," she says.
Dissolving the ILP is good policy
When asked if current policies discriminate against refugees arriving from other war zones, Alexandra Kotyk, project manager of Lifeline Syria, says she's optimistic that the Liberals are simply trying to help refugees arriving from Syria.
Still, she hopes to see the government give the same courtesy they've extended to Syrians to other refugees. "[They] may be piloting on Syrian refugees and extend it beyond that," she speculates.
Settlement organizations have long criticized Canadian authorities for these loans.
"I assume that if they are reviewing the program at this moment, it is because they are checking to see how they can change their program based on their experience helping 25,000 Syrians," Kotyk adds.
Douglas explains that the problem right now is that the exemption facilitating Syrian refugees only applies to those who entered the country after November 5, 2015. At the same time, there are refugees arriving from other countries who have to pay back the ILP.
"The decision for Syrian refugees not to pay back [the] loan is good policy. The policy will even be better if they extend it to all refugees, including making it retroactive for refugees having to pay it back," she says.
Government's capacity to absorb the cost
The federal government lent an average of $13 million to refugees each year over the last decade.
However, according to CIC's report, approximately $700,000 of this is written-off each year because a provision exists that, at any time, loan recipients facing difficulties in repaying their loan can contact the CIC and make alternative arrangements.
These might include deferring payments or decreasing the size of the monthly payment for a period of time.
The government is currently absorbing this lapse of $700,000 each year. Resettlement experts believe that the Canadian government has the capacity to cover all the costs of transportation and medical screenings, even if they repeal the program all together.
"The cost is negligible in the longer scheme of it," says Douglas. "We are not always going to bring 25,000 refugees from Syria."
"The cost is negligible in the longer scheme of it."
Even with the Canadian economy currently struggling and the loonie facing a downward trend, Douglas does not believe that waiving the ILP will negatively affect Canadian taxpayers.
"I am not trying to pretend that we are not facing some economic crunches," she says. "I do not think that among the many we are speaking about is so much that it will have a detrimental effect on our tax base."
Kotyk hopes that the government can find a way forward to help all refugees begin their lives in Canada unfettered.
"It's the government's decision to decide if they can absorb that cost. Hopefully they can find a way," she concludes.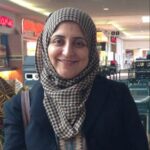 Tazeen is based in Mississauga and is a reporter with the New Canadian Media. Back in Pakistan where she comes from, she was a senior producer and editorial head in reputable news channels. She holds a master's degree in Media and Communication and a certificate in TV program production from Radio Netherlands Training Center. She is also the recipient of NCM's Top Story of 2022 award for her story a "A victim of torture, blogger continues fight for human rights in Pakistan"