The  College of Immigration and Citizenship Consultants has launched a global digital campaign to combat immigration fraud by educating  the public on the dangers of using unauthorized practitioners to assist with their immigration applications. 
Whether domestically or abroad, all immigration consultants who provide Canadian immigration and citizenship services must be licensed by the College.
"This is why we have engaged an influencer and launched a global digital media ad campaign, so that our message can reach those outside of Canada, who may not otherwise know what the College is or does," Stan Belevici, the College's chair of the board of directors said in a statement.
The campaign comes on the heels of Minister of Immigration, Refugees and Citizenship Canada (IRCC) Sean Fraser's comments suggesting fraud continues to be a common and serious crime in Canada.
"Canada's immigration system can be complex and navigating it alone can be daunting. Unfortunately, many unlicensed consultants are eager to exploit inexperience and anxiety for their own gain," he said in a statement on Tuesday to mark Fraud Prevention Month.
"Canada  has also taken decisive action by investing  $51.9 million  to improve oversight, strengthen enforcement, and increase accountability to protect the public from dishonest consultants who take advantage of vulnerable newcomers," said Fraser.
Earlier in the month, Fraser also announced Canada aims to attract about 1.3 million new immigrants over the next three years to help fill critical labour shortages and fuel post-pandemic growth.
The new targets come as the government struggles to clear a backlog of nearly two million visa, citizenship and other applications in queue exacerbated by pandemic-induced delays.
Sophisticated smuggling networks
India is one of the countries where immigration fraud is rampant, according to an internal memo by the Canadian Border Service Agency.
"Once (pandemic-related) travel restrictions begin to lift, more Indian nationals are expected to look for employment opportunities in wealthier countries such as Canada and will likely use the resources of sophisticated smuggling networks to do so," according to the report, which listed India as a top source country for illegal immigrants and immigration fraud.
The Indian Consulate in Toronto has also issued an advisory this month on immigration fraud involving applications to come to Canada.
"We have seen some disturbing instances of Indian nationals becoming victims of immigration fraud in Canada. The recent incident in Manitoba, which resulted in the death of four victims while attempting an illegal crossing of the international border, has shown that immigration fraud can have fatal consequences," it said.
Citing a recent report in OutlookIndia.com, professor Amarjiva Lochan, an expert at the India Centre for Migration (ICM), said only 30 per cent of the total students who go abroad get admission in established universities.
"The remaining 70 per cent either deliberately take admission in substandard universities as they want citizenship by way of education, or are duped by education counsellors in the name of offering good education," he said.
According to IRCC data, 156,171 study permits were given to students from India last year, almost double the number from 2020.
Canadian foreign missions
As part of efforts to combat fraud, the College of Immigration and Citizenship Consultants said it is expanding its outreach with Canadian foreign missions.
"We have developed a great partnership with the High Commission of Canada in India and continue to expand our outreach with other foreign missions. This has resulted in increased awareness of the College at a ground level," said John Murray, president & CEO of the College.
"It can be a challenge to get our message to communities in foreign jurisdictions, so we are pleased to have this relationship with the High Commission. It is important that we reach audiences that really need to hear our message so that they can take steps to protect themselves against fraudulent actors."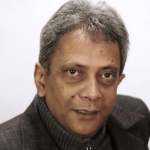 A multiple-award winning journalist, Fabian Dawson is an internationally acclaimed author, filmmaker and media expert. His work over the last four decades spans the globe and he also serves as a consultant/strategic advisor to a variety of international companies. As deputy editor-in-chief of The Province, part of the Postmedia chain, Dawson led initiatives within a special publications group to provide directed content for a variety of organisations. He was named the 2019 recipient of the Bruce Hutchison Lifetime Achievement Award at Jack Webster Awards. Dawson has been invited by the governments of India, Malaysia, Taiwan, China, Hong Kong and the United States to act as a media observer/advisor on a variety of Asian-Canada issues. Dawson, now operates FD Media, which specializes in harnessing editorial assets to revenue generating opportunities.