Dozens of Canadians of Indian origin are lining up to apply for a form of permanent residency status in India so they can visit their families after the country suspended visa services in Canada last month.
India's Ministry of External Affairs announced the suspension of visa services because of what they said are "growing anti-Indian activities, politically condoned hate crimes and criminal violence in Canada."
BLS International Canada Services Inc. is a service partner that manages visa, passport, Overseas Citizenship of India (OCI) and other consular applications for the Government of India. Considering the recent diplomatic row between India and Canada, and no sense of when the suspension of visa services will be lifted, many Indo-Canadians are instead applying for OCI, which will give them life-long entry to the country apart from the rights to live and work there.
Ashutosh Jain and his family are scheduled to travel to India in seven weeks to attend his sister's wedding. It will also be his first trip back to his home country after becoming a Canadian citizen. He needs a visa to travel because India's constitution does not allow dual citizenship.
"I was planning to get an e-visa for the travel," Jain said. "But with the current scenario, I had to apply for OCI. If we don't get approved on time, I will have to cancel the tickets and miss the wedding."
Jain drove to the parking lot outside the BLS International office in Brampton, Ont. at 11 p.m. on Oct. 1 only to find 15 people in line ahead of him for a walk-in visit.
"I'm pretty sure there were 30-plus people who waited all night with us, and the queue became much longer after 3 a.m.," he said. "Close to 100 people were already waiting when the office opened at 8 a.m."
BLS centre in Brampton, Canada opens at 8 am.

People have lined up at 4:30am for making OCI applications.. pic.twitter.com/YUZxVw39Jn

— Shilpa (@shilpa_cn) September 27, 2023
Jain was able to submit his application on Oct. 2 after waiting more than nine hours outdoors on a chilly night. He said using bathrooms were tricky for people waiting through the night, and the nearest café — eight minutes walk away — opens at 5 a.m.
He said he talked to people in the line who had driven as far as London, Ont., nearly 200 km away.
On social media NCM found requests for help to stand in the queue at the Brampton office for $45 per hour.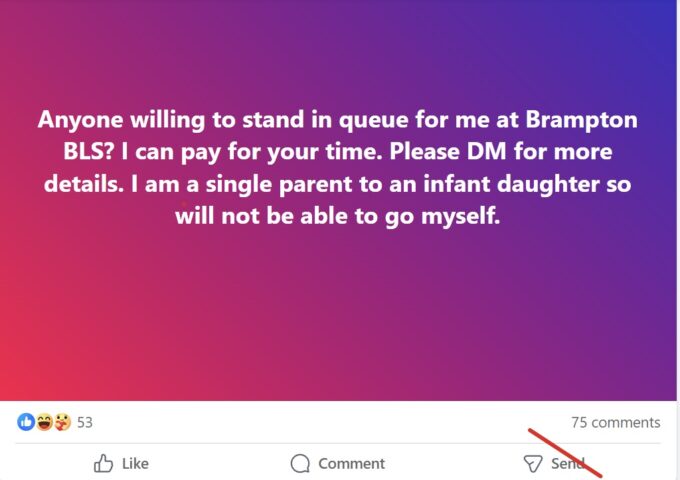 Sheetanshu Tiwari posted his experience trying to walk into the Brampton office on his YouTube channel. He said when he arrived at 4 a.m. on Sept. 26, 45 people were already waiting outside. His video shows empty chairs and groups of people waiting — some seniors wrapped up in shawls to keep themselves warm and resting, while others chatted.
When the office opened, Tiwari said he learned he had a slim chance of submitting his application that day because the office accepts a limited number of walk-ins per day.
"Many left, and others kept waiting," he said. "At 10 a.m., BLS security staff told us about additional spots opening up for appointments online on the BLS website. I acted quickly and found one for Oct. 2."
Applicants are hesitant to use the mail-in option to send applications because it's slower. As well, if there are any errors or modifications needed to the application, they can be addressed during in-person meetings at the centre.
Tiwari, the YouTube and video blogger, noticed similar queues for walk-ins when he went to the office for the second time on Oct. 2. He said the first person in line had been waiting for nearly 11 hours.
Tiwari said he considers himself fortunate to have secured an appointment, which is rare. Most Indo-Canadians, including Jain and Tiwari, told NCM that finding appointment slots for OCI applications are "limited and taken within minutes."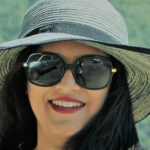 Amrita is an NCM-CAJ Collective Member, journalist and content writer, with nearly a decade of experience in content development and journalism in three countries. She started her career as a journalist with a leading daily, The Statesman, in India. She has also led content and editorial teams for several web content management firms. Amrita served as a Communications and Content specialist for some non-profit organizations like the American Red Cross after her move to the U.S. Based out of Toronto, she continues to follow her passion by reporting on human rights violations, education, crimes, inequality and community engagement. Amrita holds a Post Graduate Diploma in Print Journalism from Chennai, India.