Chinese people said goodbye to the Year of the Horse, welcoming the Year of the Sheep.
In the Chinese media this week, the housing market; our spiritual home; ties between Canada and China; and our Chinese representatives in the government were the main focus.
North York Town Home Owners Fight Against Toronto Catholic District School Board's Offer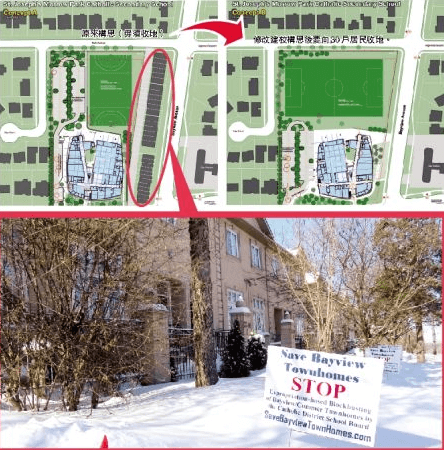 The housing market in Toronto has never been this hot and it seems that any given location listed is receiving bidding wars.
That's not the case for the town homes at Bayview and Cummer Ave. The Toronto Catholic District School Board (TCDSB) wants to buy the land and expropriate all 30 town homes on it to build a high school. Their offer is $800,000 but the homeowners want at least $1.2M, according to Ming Pao Daily News.
When the homeowners were approached by TCDSB in 2013, most of them (one-third are Chinese) declined TCDSB's offer.
Today, a dozen white lawn signs with "Stop" written in red capital letters show the fight between the two sides, with homeowners claiming they're under threat of "Expropriation-based blockbusting" by the board.

Ming Pao Daily has interviewed several Chinese homeowners and realtors, indicating the market price is not $800,000 as the TCDSB offered. Realtor Shusheng Wu said that one unit was listed for $888,000 in 2013. A nearby new development unit at Finch Ave. and Leslie St. was recently listed for over $1 million. The report said there were homeowners asking for $1.2 million with no offer from the board.
Homeowner Mrs. Auyoung said it was not fair for people like her who have been living in the area for more than a dozen years. With familiar neighbours living closely and easy access to public transit, not to mention the freehold property and double garage, many of them feel it's very hard to find any equivalent property in the area. 
Mrs. Lee, another resident, argued that paying only $800,000 to each homeowner will cost the board a total of $24 million, enough to build a new school without even counting the cost of a lengthy expropriation procedure and paperwork. The board's insistence to get this land is another example of wasting taxpayer's money.
Chinese-Canadians Ask Chinese Government to Issue 10-Year Visa
With more Chinese immigrating to Canada and becoming Canadians, going back to their home country easily is not always an option. Chinese foreign policy doesn't grant duel citizenship, hence Chinese immigrants who have become Canadian will have to apply for visas to go back like other foreigners. Currently, the Chinese government only offers single or multiple entries from three months to one year, while the community is asking for a convenient 10-year multiple entry visitor visa that is equivalent to Canada's 10-year "Super Visa." 
The concerning topic affects almost every Chinese person now or in the future. An online petition has been launched by a Toronto-based popular Chinese website www.51.ca and two dozen local Chinese associations, urging China to address their needs.
Major Chinese media organizations have covered the story. According to Sing Tao Daily Newspaper, more than sixty overseas Chinese associations joined the petition from the west coast. The petition has been sent to MP for Vancouver-South Wai Young's office. The NDP's Don Davies, MP for Vancouver Kingsway, in the meantime, has tabled a motion asking Beijing to allow 10-year, multi-entry visas for frequent travelers between Canada and China.
The good news is that the Chinese government is seriously considering this, according to Liu Fei, the Consulate General of the People's Republic of China in Vancouver during a recent interview at a dinner gala. She said the 10-year Chinese super visa for visitors, business people and tourists will soon be available in the near future.
Chamshan Temple's Peterborough Project Derailed After Paying $20 Million To Alleged Unqualified Developer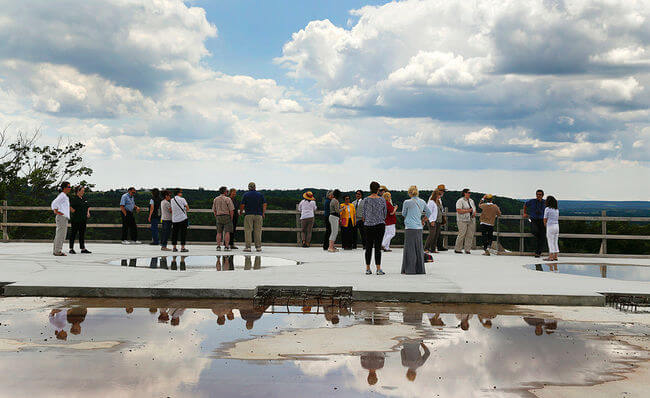 A prominent Buddhist Temple in North America, Chamshan Temple, has expanded to 11 locations in Ontario during the past several decades. It is the biggest Buddhist association in the country and has recently invested $40 million to build the "Wu Taishan Buddhist Garden" in Peterborough. The construction work started in 2011, with more than 20 construction companies participating in Canada and from China. However, the Chinese company Golden Luban, which is responsible for the Mahavira Hall's wooden structure, is involved in a lawsuit that is jeopardizing the project.
The news first broke out by Chamshan Temple's sudden news conference, alleging Golden Luban has no qualification to carry on the work; hence, Chamshan Temple terminated their contract unilaterally. The bad news is that the Temple has already paid $20 million to the company with little chance to get it all back.
The construction company's legal representative, Guo Yongrao, claimed that the company has more than three decades experience in the industry. There is no definition of what kind of qualifications the Temple requires in the contract that the two parties have signed. He also argued that the Temple has overlooked if there was such a requirement by international or Canadian laws and that the company has no legal obligation to return the deposit, according to Singtao Daily News.
No announcement has been made after the two parties' heated media war in January. Chamshan Temple said they tried to minimize the damage and push the construction back on track.
Asked about why the Temple chose Guo's Chinese company without thorough examination on its credentials, Dayi Master, spokesperson for the Temple sighed and said: "Our Buddhists are so naïve to believe Guo, a so-called sincere Buddhist follower, and his company," according to Singtao Daily News.
Did MP C.S. Leung Offend the Iranian Community by Asking "Why Do You Come to Canada?"
Conservative MP for Willowdale C.S. Leung attended a town hall meeting last month in his riding where many Iranian immigrants live. According to 51 Weekly, Leung confronted Iranians when they complained about Canada and complimented Iran. Leung was caught on camera arguing, "Let me ask you, if you like Iran so much, then why do you come to Canada?"
The question immediately angered the participants with even one firing back, saying "And I can tell you, go back to China." Leung is a Taiwan-born Canadian businessman who was elected in 2011. 
Leung has since released an open letter, saying, "I uncharacteristically responded in a way that was not professional. Although I felt attacked by some in the audience, I should not have responded in the way that I did."
51 Weekly columnist Xinfeng praised Leung's courage to step forward and take responsibility to defend Canada. He argued that those Iranians who immigrated to Canada inconveniently forgot their own country's dark side. With UN sanctions and Canada cutting ties to Iran, difficulties such as Iranian passport renewal or money transfers between the two countries should be expected. Yet, Xinfeng also said that out of the approximately 120,000 Iranians living in Canada, he believes only a handful of people complain about Canada. 
A YouTube video of Conservative MP Chungsen Leung's heated debate with Iranian-Canadians.
How Difficult is it for a Chinese Academic to Become a Professor in Canada?
51 Weekly wrote a feature exploring a lingering pain for Chinese academics: How difficult it is to become a professor in Canada?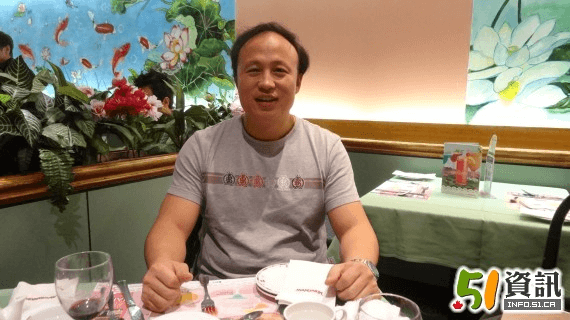 Zhenzhong Ma, Professor at the University of Windsor and Chair of the Odette School of Business, shared his own example in the feature article. He said it takes about six years to progress from assistant professor to associate professor with a yearly evaluation. Being a tenure means a professor's contract with the university is permanent and secured. That explains why it is not easy to get a job opportunity if there is no vacancy.
The feature also claimed that based on statistics, "white" professors make up about 87% of professors in Canadian universities and those of Chinese background only make up four per cent.
Charlie Huang, a university lecturer, expressed his stress while on his long way of seeking tenure. He said he finds it is very difficult to apply for research funds, not necessarily because of his language and cultural background or even social skills. He has been a lecturer for five years, yet the pressure of talking in English properly was stressful during his first two years. He also hired a local language trainer to help him understand his students' different accents and improve his English listening skills.
---
Shan Qiao is a Toronto-based photojournalist who used to work as a daily newspaper reporter. She currently runs her own company, Shan Qiao Photography, specialized in corporate event, editorial photos for news distribution and photo stories. She is also a feature writer for different corporate publications. See her work: www.qshan.com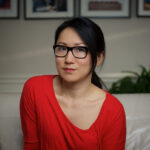 Shan is a photojournalist and event photographer based in Toronto with more than a decade of experience. From Beijing Olympic Games to The Dalai Lama in Exile, she has covered a wide range of editorial assignments.