Prince Edward Island resident Sufrian Chowdhury made military history earlier this year when the 28-year-old became just the second Permanent Resident to enroll in the Canadian Armed Forces.
And if the sheer number of applications are any indication, Chowdhury could soon be serving with hundreds, if not thousands, of other permanent residents.
The Charlottetown resident, originally from Bangladesh, made the military record books in March when he enrolled and became the second Permanent Resident in this country's Armed Forces, HMCS Queen Charlotte spokesperson Lt. (Navy) Spencer Lee confirmed.
"This is a very proud moment for me, because I never thought I would be one of the members of the Canadian Armed Forces," Chowdhury, who is now serving in the Naval Reserve Division, said in an interview. "That's historic [and] I believe it will be a good booster for other candidates who are interested."
Chowdhury, assigned to HMCS Queen Charlotte, a stone frigate or land-based naval training facility located in Charlottetown, said joining seemed like the right thing to do.
"I said, 'why not?' From my childhood, I grew up in boarding school," Chowdhury said. "My father wanted me to go to the army in Bangladesh. The boarding schools were run by ex-military. That was, actually, my motive when I was a kid, but when I moved here and the Canadian Armed Forces opened the door to permanent residents I thought: 'Why not? I'll try that and see how far I can go.'"
Permanent residents in Canada are not Canadian citizens, but they are allowed to live, work, and study in Canada on a permanent basis. They are entitled to most of the same benefits as Canadian citizens, such as access to healthcare services and social benefits. 
Department of National Defence spokesperson Jessica Lamirande said as of May 17, the Forces had received approximately 11,000 applications from permanent residents. The military announced in December that such individuals are welcome to apply.
"The CAF is encouraged that permanent residents are giving serious consideration to a military career in Canada," Lamirande said in an email.
The first permanent resident enrolled was in Vancouver, Lamirande added.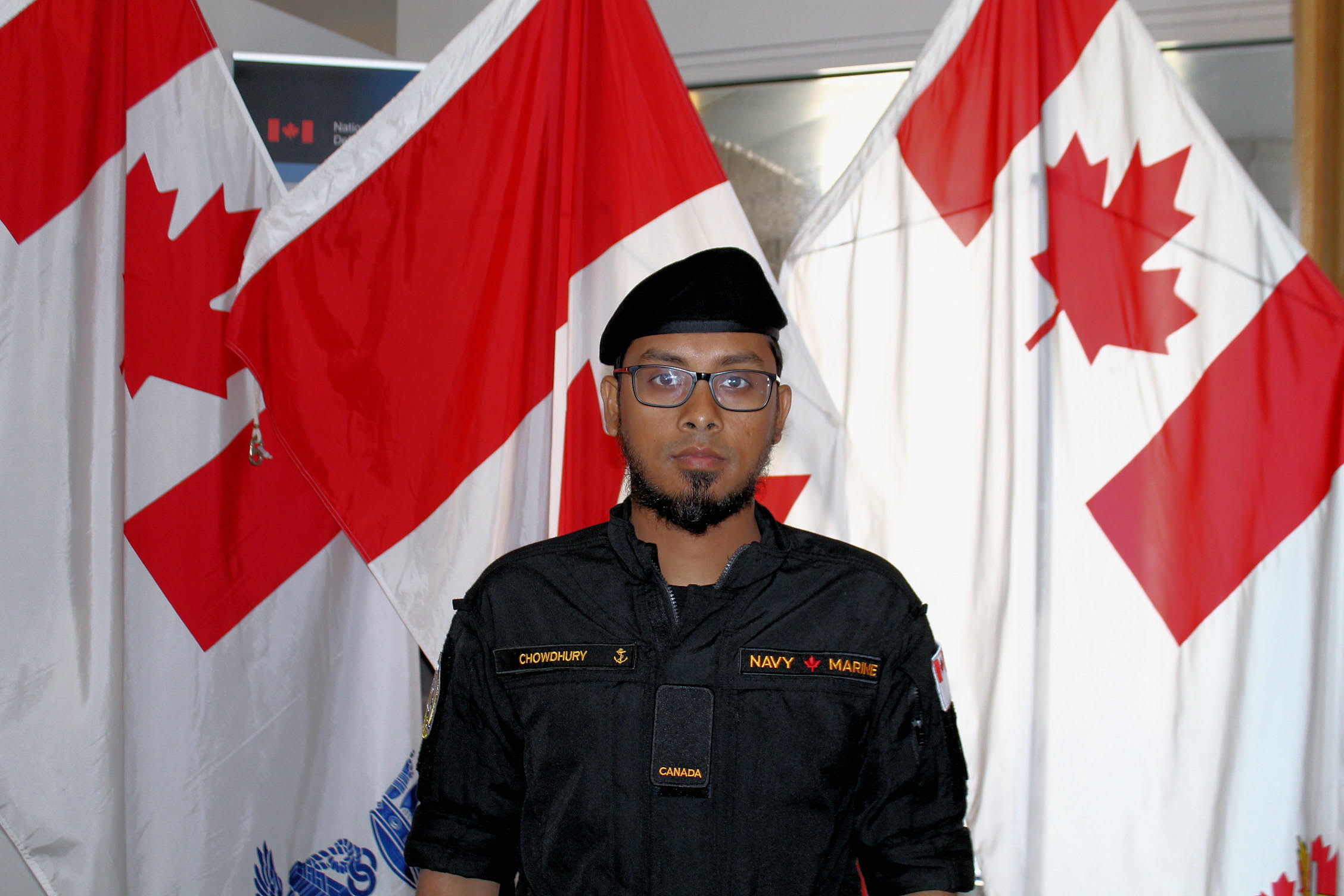 Chowdhury moved to Canada from Bangladesh in 2013 to study electronics engineering in Toronto and has been in Prince Edward Island with his wife since 2018. His mother and father are still in Bangladesh.
Chowdhury said choosing the Navy over the Army or Air Force was an easy choice.
"[It was because] of the nice dress and good food," Chowdhury said with a chuckle. "Everywhere you go, you see the Navy people and they always have very nice suits, white headdresses. The other side of that  … is the connection of the Maritime environment and … the strong belief in teamwork."
Chowdhury, a Muslim, said he prays at sunset, which happens to coincide with the Navy's traditional sunset ceremony, where flags are lowered and ceremonial music is often played.
"That also kind of resonated with me and attracted me to it."
Chowdhury, currently involved in his basic military training, said he's surprised at how  welcoming fellow sailors have been.
"[They] respected my culture, respected my beliefs. They were very open to it," Chowdhury said. "As an immigrant here, I, of course, had a lot of barriers till I came here – my language, my culture. But, right now, once you are looking to get into the military, I would say there is no other barrier because the Canadian Armed Forces has opened the door to permanent residency, so that is a very good and broad step for getting into the military."
Lee said the military is transforming itself.
"The enrollment of Sailor 3rd Class Chowdhury speaks to [the] result of changes to the Canadian Armed Forces in fostering inclusive and safe workspaces, as well as attracting applicants representative of our diverse communities, bringing with them their unique experiences." 
Lee said the recruiting process can vary in length due to the availability of applicants to submit requested documents or attend appointments. 
"However, what we saw in this case, was that the process to enroll Sailor 3rd Class Chowdhury took about the same amount of time as it would a citizen."
Chowdhury said his family in Bangladesh was surprised by his decision.
"I didn't tell them until I got enrolled because I did not know if I got enrolled or not," Chowdhury said. "My wife knew and she was always supportive. The week before my enrolment, I told [my family] and they [wanted] to know how it happened. They are very happy to see me in the Navy and with my decision."
He said he looks forward to becoming a regular force member.
Chowdhury, meanwhile, said he has more than one reason to be happy these days.
Two months after becoming the second Permanent Resident to join the Forces, he took his citizenship oath.
"I can say proudly that I am a Canadian."
_______________________________________________________
– Michael Staples is a  New Canadian Media correspondent based in Fredericton, New Brunswick. This story and photo are part of a partnership between SaltWire and New Canadian Media.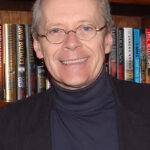 Michael Staples is a retired daily newspaper reporter from New Brunswick with more than 30 years experience. He has travelled extensively with Canada's military and has reported from Croatia, Bosnia-Herzegovina, Kosovo and Macedonia during the Balkans War and from Haiti in 2004 following a three-week bloody rebellion that saw then-president Jean-Bertrand Aristide flee the country. He has also written extensively about Canada's involvement in the Afghanistan War. Michael has considerable experience covering crime, justice and immigration issues. In 1999 he was the lead journalist reporting on the airlift of hundreds of refugees from Kosovo to Canadian Forces Base Gagetown. He has been nominated twice for Atlantic Journalism Awards.