Not all of these parents are new immigrants. Some are born in Canada, others were raised here, or moved at a later stage to study or work. But no matter where they come from, or how long they have been in the country, their plans are in the same vein: to ensure their children are as connected to their culture as they are.
Hear it from them.
"The upside of the COVID 19 pandemic is the amount of time we get to spend with our children," says Kristina Covello-Garcia. She believes that her children have a good understanding of their Italian-Portuguese roots, but being housebound has allowed them to spend more time sharing and explaining. "We integrate who we are into what we do," she says.
Patrizia Vagnoni Amendola agrees. She has been spending more time baking Biscotti with her 15-year-old son. Matthew Liberatore, an Italian-Canadian with a Polish wife, feels the same way. "We are always introducing our kids to traditional foods and experiences. The time together has just intensified our approach."
For Chinese-Canadian families like Eileen Leung and Esther Wong, this is the opportunity to teach Cantonese and Mandarin to their little ones with renewed vigour. Piya Das encourages her sons to pursue their passions in Indian music and dance, passing down her talents to the next generation.  
Kristina Covello-Garcia's family is from Southern Italy (
Calabria
). Her husband Nelson is Canadian-Portuguese. Both work in the automotive industry and live in
Vaughan
,
Ont., with their two children, Luca, 6, and Tessa, 4. Like everyone elsewhere, social distancing through the war with the virus has been challenging for the family.
"Both my kids are outgoing and miss their family, friends and playing in the park. It is difficult to keep them disciplined and learning in the home environment," she says. "We have been emulating Master Chef Junior, getting them to cook traditional dishes. They understand the severity of today's situation, with limited groceries in the house, so they are forced to eat what is served. Parents win!" she says in jest.
Outdoor activities such as dance has moved to online classes for Tessa. For Luca, basketball is limited to the driveway. "Both Luca and Tessa are very close to my parents, their Nonna and Nonno. My mother speaks to them in Italian and plays Italian music in the house to help them pick up the language." 
Her husband's Portuguese side is interwoven in their lives, too, thanks to Luca's love of soccer. "Luca wants to be the next Ronaldo. We keep a soccer ball in the family room for impromptu scrimmages when we can get outside so Luca can keep practicing and the family can keep their Italian-Portuguese rivalry alive," says the enthusiastic mom.
Italian-Canadian Patrizia Vagnoni Amendola, and her husband Domenic, live in
Richmond Hill, Ont.,
with their three children, Eraldo, 23, Fausto, 22, and Piero, 15. Being together under one roof over the last few weeks has had its challenges for them, too, especially for Piero, who is always on the computer. 
"I try to help him balance work with fun. We cook Italian dishes like Pasta al Forno or bake Biscotti together. We have even prepared our traditional Easter cakes ahead of time," she says.
Patrizia's children have a strong connection with their Italian roots. "My children have spent many summer holidays in Italy with their grandparents and cousins. They adore everything there, from the language to the food, art and the landscape. Speaking the language has helped them develop a strong sense of identity and appreciation for the Italian culture," she explains.
Matthew Liberatore is a Canadian-Italian lawyer born, raised and based in
Toronto
. His wife Ksymena Liberatore moved to Canada from Lublin, Poland, in 1989.  Mathew feels that connecting his children, Max, 5, and Leo, 2, to their roots from a young age keeps the memories of the past alive, maintaining a sense of family for the next generation. 
"Studies suggest that the concept of a larger family clan leads to happier lifestyles," he explains. His children have grown up with a large support system that he believes had wonderful effects on them. "They enjoy their cousins, aunts, uncles and grandparents who are a true source of getting to know exactly where we all came from. This helps them gain an identity in Canada." 
"Our cultures are inherent in our lives. As a home with a family business in food and wine (Continental Noodles Ltd. and Allied Wine Group) we are at the centre of the Italo-Canadian and Canadian Polish dialogue between the two great cultures. My sons love spending time with their Nonno and Nonna and make pasta at Continental Noodles. This is a good time for them to learn more about their Polish-Italian heritage," he believes.
Eileen Leung has
created a learning schedule using online resources and activities to help
her kids, Sydney, 7, and Jamie, 3, keep busy. 
"They used to learn Cantonese and Mandarin in school. Since the closure, I've incorporated some of that into their home schedule. I try to make it fun by playing simple games in Chinese. We also watch drama and travel shows in Cantonese and Mandarin at home together, hoping they will pick up both languages," she says.
Eileen, a project manager with a Canadian bank, was born and raised in the Ontario cities of Scarborough and Markham. Her husband Ben, an insurance adjuster, moved at the age of 10 from Hong Kong to settle in Windsor. Since she was born in Canada, English is her first language, but she speaks Cantonese at home thanks to her grandmother, who took care of her when her parents worked. She feels it's much harder for her kids to speak the language as both she and Ben are more conversant in English. But they celebrate Chinese festivals together. 
"I explain the deeper meaning of the traditions so they understand their cultural background and remain proud to be Chinese in a Canadian environment," she reasons.
William Wong is a social worker, while his wife Esther is a recreation manager for Geriatric Care. It's been challenging to keep their tiny tots Keenan, 2, and Selene (10 months) away from the fresh air outdoors, but indoor activities keep them busy. 
She reads out stories and teaches Chinese and English characters through workbooks, throwing in activities like building the Great Wall of China with blocks and practicing Kung Fu moves like Mulan to add some fun. 
She hopes that learning about his Chinese heritage will help him "learn that he is from a different background and accept others for theirs," she says.
Piya, an immigrant from India ,and her husband, Yasar Masood, who grew up in Pakistan and Dubai, moved to
Mississauga, Ont.,
from the U.S. in 2010. Their two sons Sahil (Om) Khan, 11, and Reyhan (Rudra) Khan, 8, miss school, their friends in the community, and playtime. A strict curriculum is followed at home that includes indoor games, creative pursuits and sharing responsibilities like cooking together.
"Sahil loves to play the piano. I have bought him two notebooks on Tagore's songs. My younger son loves Bollywood dance and cooking. He has been cooking with me," she says.
Why should Canadian children be connected to their heritage?
Piya Das – "That's a great question! Canada is multicultural. Schools give children the opportunity to showcase their talents and culture. However, my kids need to learn who we are and where we are from just the way I learned to connect with the Canadian culture that they are brought up on. My sons have participated in every Bengali production I have directed."
Patrizia: "The lesson to teach our kids is simple: life is changing all over the planet. It's important to appreciate what you have, your home, your family and be grateful for living in Canada – a country that, like Italy, has a national health service that does not discriminate."
Eileen: "Canada does a great job in providing resources to help kids learn about their cultures. Festivals like the Chinese New Year are well known to the general public. The public school board offers weekend classes in our language free of charge. But families have to support the government to encourage children to be proud of their heritage." 
Esther: "Conversations in the classroom about different cultures are important to help our children appreciate cultural differences. But it is also our responsibility to join community activities to expose our children to cultural celebrations."
Matthew: "The Canadian cultural mosaic embraces all cultures. There are wonderful experiences to be gained from mutual sharing. We are a very Italian and Polish family unit, yet when you ask my 5-year-old son what is his favourite food he says Korean BBQ. This is the wonderful result of the inclusive policies of our great Canadian Nation."
Kristina: "We are proud of our roots and encourage our children to be educated in their culture and heritage because it broadens their views. Our children should understand what their ancestors endured to pave the way for a better future for us and value their traditions so that history is not forgotten. Knowledge is power. My role is to prepare them to the best of my ability."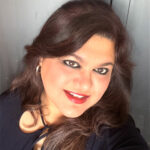 Collective Convenor & Communications Planner - Joyeeta Ray is a multimedia journalist, internationally awarded digital content specialist, and children's books author, based in Toronto. Born in India, she brings over two decades of advertising and journalism experience across seven countries to Canada. Joyeeta started her journalistic career in Jakarta, led an editorial team in Bangkok, and is a student of Multimedia Journalism from The University of Toronto. She is an enthusiastic NCM-CAJ member, actively involved in amplifying new Canadian voices as NCM's Convenor, Communications Planner, Mentor, and Reporter.