For many immigrants arriving in Canada, quality education for their children is top of mind when they get here.
Although high school education is free in Canada, post-secondary education is quite expensive.
In order to help alleviate some of the cost for parents, the Canadian government has an opportunity many newcomers may not be aware of: the Registered Education Savings Plans (RESP).
RESPs are tax-sheltered savings accounts that help you save for your children's education. Under this program, the federal government contributes an additional 20 per cent of the annual contribution you make to an RESP up to an annual maximum of $500 for each beneficiary and a lifetime limit of $7,200.
"We can't expect any such fund in Pakistan where not only elementary and secondary, even pre-school fees for a child, suck a major part of [our] monthly salary," says Masood Khan.
Although high school education is free in Canada, post-secondary education is quite expensive.
Khan migrated to Canada with his wife and toddler 15 years ago after finishing his engineering degree in information technology from Nadirshaw Eduljee Dinshaw University in Pakistan.
"My parents spent a huge amount of their earnings on my education since childhood and I was lucky enough that they could afford boarding fees too for one of the best schools in Pakistan," Khan recalls. "But in Canada while struggling for our own future, it is vital that we plan for our children's education much ahead of time."
With his eldest son about to step into post-secondary and two more children to follow suit in the next five years, Khan is grateful for the RESP.
"No matter what, it is a saving. Even in a worst situation, if none of my children uses [an] RESP, it will be returned to me in my retirement fund," he says.
Education of utmost importance
For the average Pakistani family, attaining higher education is one of life's most important goals. In fact, a person's education is often weighed as a deciding criterion when selecting a bride or groom.
Opportunities like the RESP can help with Pakistanis' pursuit of education in Canada.
Mohammad Khalid, who moved to Canada from Pakistan just couple of years ago, was not aware of the RESP until he applied for a mortgage to buy a house. The banker tempted him with the benefits the bank provided for opening an RESP.
"I wanted to take advantage of the best I can get for my children's education."
"I have no experience about the mutual funds or other types of investment they do with the money, so I am happy that they will manage my fund with a minimum payment of $12 annually," Khalid says.
Khalid's 13-year-old daughter will be starting high school next year, so he still has four years to invest in the fund.
Although the road to settling in Canada has just started for Khalid's family and he's not sure what the future holds, he knows he wants an education plan for his children.
"I paid an excessive amount to catch-up on [what] I missed," he shares, explaining that he missed out on a number of years to contribute to the fund and had to pay more than normal now as a result. "I wanted to take advantage of the best I can get for my children's education."
Challenges with RESP
Research shows many low and middle income families are missing out on RESP opportunities.
Rakhshana Sultan, who once worked at a financial institution as a salesperson and worked with RESPs, says this is because of these families having "a lack of funds with them to be deposited every month."
Newcomer families may fall into this predicament due to a variety of reasons, including difficulty finding employment. In addition, Sultan said that most parents are confused about the available options for RESP.
Research shows many low and middle income families are missing out on RESP opportunities.
Another issue many of her past clients had with the RESP was the impact of rising tuition fees. Many clients often suggested that the government contribution should be raised to 40 per cent instead of the 20 per cent it has been for the last 15 years.
This could help alleviate pressures caused by the looming student debt crisis, Sultan concluded.
Making the most of an RESP
Nikki Ahad, a Pakistani Canadian mother with two sons already in university, initiated RESPs early on for her children. She has several suggestions for other parents so they too can enjoy the maximum benefits of opening an RESP.
She says parents should stay active and re-evaluate the account regularly. They should assess their capability to add more money, as even an extra $5 per month is worth it.
To ensure that they are on track to achieving their goals for their children's post-secondary education, parents should be vigilant regarding the investment options. They should choose options that are stable, growth-oriented and less fluctuated.
Parents should also select an RESP with no costs in the form of fees and enrolment charges.
One of the most important points, according to Ahad, is not to start saving too late. If parents are unable to afford an RESP when their child is born, then they should try to begin one when their child finishes kindergarten at the age of five or six years old.
---
Journalist Priya Ramanujam mentored the writer of this article, through the New Canadian Media mentorship program.
This is the second in a five-part education series on New Canadian Media looking at the experiences of different families with saving for education in Canada. November is Financial Literacy month across Canada and November 15 – 21 is Education Savings Week.
Visit SmartSAVER.org to learn more about Registered Education Savings Plans (RESP) and to start an RESP with your choice of six major banks and credit unions. RESP information is available in 16 languages. Apply online between Nov. 1 and Dec. 31, 2015 and you will automatically be entered to win one of nine $1,000 weekly prizes! Learn more here.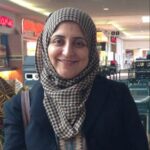 Tazeen is based in Mississauga and is a reporter with the New Canadian Media. Back in Pakistan where she comes from, she was a senior producer and editorial head in reputable news channels. She holds a master's degree in Media and Communication and a certificate in TV program production from Radio Netherlands Training Center. She is also the recipient of NCM's Top Story of 2022 award for her story a "A victim of torture, blogger continues fight for human rights in Pakistan"