This year's winners of the Canadian Ethnic Media Association (CEMA) Awards spoke to New Canadian Media about the importance of building relationships and being able to tell important stories through a multicultural lens.
CEMA's 42nd Annual Awards for Journalistic Excellence which was held online in November last year was broadcasted as a 90-minute special television presentation by the TLN Media Group on Saturday in celebration of the achievements of professionals in the multicultural media industry. 
Model minority myth
Joanna Chiu of the Toronto Star is based in Vancouver. Her personal commentary entitled Confessions of a 'model minority': How I'm learning to confront my own biases, won in the print category. She writes about her experience growing up as a Chinese immigrant in Canada. 
Chiu shared that as a child she was told to keep working hard and she would be able to overcome racism and succeed. She had previously thought this way until an increase in anti-Asian hate crimes rocked Vancouver amid the COVID-19 pandemic. 
"This kind of came crashing down for me personally, and maybe for others when, you know, you kept your head down, you kept working hard, but nevertheless, you know, 92-year-old Asian men were being attacked in a convenience store," said Chiu. 
Chiu said she learned that the model minority myth was a coping mechanism that would not be successful in fighting against racism and also explored the damage it could cause in dividing different ethnic groups. 
"Asians kind of set themselves apart from other groups saying that we work harder. So we're kind of, you know, superior, that's kind of what it implies and that also undermines efforts to build a more broad and inclusive anti-racism movement," she said. 
One of the main messages she wants people to take away from her article is that there is no way of out-hustling racism and discrimination.
"What would work is to try to understand why there is racism against all sorts of different minority groups in Canada and try to understand it more holistically and listen to experiences of different ethnic minority groups and not try to silo ourselves and try to justify racism against different groups."
The Black community speaks
The Dr. Vibe Show was awarded in the podcast category for the episode titled R U LISTENING? THE BLACK COMMUNITY SPEAKS! POLITICIANS LISTEN! In the episode, the host Dr. Vibe moderates a panel of members from the Black Canadian community. The topics explored in the discussion include recognizing and respecting the culture and history of people of African descent, Black Canadian essential workers and the progress since the adoption of the UNDPAD coalition.
"For that specific broadcast, to have it recognized, that the voices of Black Canada are being recognized and listened to and have it be realized as a significant conversation, out of many conversations, but certainly on a national scope…That was very important, not only that, but to continue the conversation to have that recognized by more than just the people who listen to it, but other peers in the broadcasting industry and in Canadian society," said Dr. Vibe. 
Dr. Vibe, who is a two-time CEMA award winner, stated that it was humbling to have the episode be recognized by CEMA and was happy to have produced this piece with a team of people. 
Dr. Vibe shared that the broadcast not only had an impact on the participants and audience but also on the politicians who listened, adding that he hopes listeners continue to be open to learning. 
"Whatever they know, they need to know more. I am a firm believer that the more you know, the more you need to know. And one of the words I do not like using, I don't use it—assumptions, very dangerous. So I think it eliminated or cleared up some assumptions, past, present and future and also [we] wanted people to know more and to realize that there are voices out there…that have not even been heard before," said Dr. Vibe. 
Ukrainian and Indigenous culture
A film titled Dancing on Eggshells was awarded in the documentary category. The piece explored the making of the performance Ancestors & Elders created by the Shumka Dancers and the Running Thunder Dancers. 
Les Sereda, who directed the production, said that Shumka continues to create work that is relevant to being Canadian and the story captured in the performance and the documentary tells a story that hasn't been told before. The performance shows the relationship between Ukrainian immigrants and the Indigenous people they encountered early on in Canadian history. 
"We started to recognize through the conversations that were being had, that there was a deeper story that was going on here, beyond the work that was gonna take place on the stage was how these two communities, were coming together and having discussions and building relationships," said Sereda. 
The title, Dancing on Eggshells, came from the difficult but necessary conversations that were had while developing the documentary and performance. 
"There was a lot of cultural baggage that needed to be worked through. There was a lot of trust that needed to be built before any actual work could happen and it was a difficult conversation…And at one point in one meeting, someone said, 'It just feels like we're all walking on eggshells,'" said Sereda. "I think it was Darka Tarnawsky, who is executive director and she was a producer on the film said 'Hey went about dancing on eggshells?' And you know light bulbs went off…It was a phrase that represented the work that was going on, on the stage, as well as the work that was going on behind the scenes."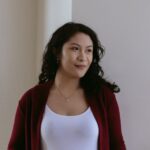 Rhea Lisondra is a Carleton Journalism and Humanities graduate and is based in Trenton, Ontario. She reports for New Canadian Media and is a co-host on the podcast AZN Connection.