Shahzad Shamim recently settled in Canada with his family – three school-aged children, a wife and a mother – after emigrating from the United Arab Emirates. Instead of renting an apartment or a condo, though, he bought a house in the Greater Toronto Area (GTA).
With interest rates at an all time low, this is the best time to buy a property in Canada, explains Shamim.
"Why should I pay for someone else's mortgage by renting a property, instead of paying my own?" asks Shamim, adding that he believes once his family is settled he will be better able to search for work.
It's widely believed that low interest rates make Canada's housing market attractive for immigrants who bring with them a significant amount of capital when they arrive.
This in turn translates into an optimistic trend when it comes to prices, explains Adnan Bashir, vice president of Cityscape Real Estate agency. "Demand is escalating; it's not taking a roller coaster ride, but it is there," he says.
Demand is created by the growing influx of immigrants, but Shamim insists that low-interest rates don't mean unlimited purchasing power for new Canadians. "If the interest rates are low, that doesn't mean I am saving a lot [or buying] a luxury house. It only compels me to afford a reasonable house within my budget."
The perceived threat of foreign investors
As stated in a CIBC World Market Report released in June 2015, under the heading "The Many Faces of the Canadian Housing Market", Canada's housing market is multi-dimensional and cannot be characterized with a blanket statement.
CIBC's report estimated that roughly 70 per cent of pre-sales and 50 per cent of final sales go to investors. However, the share of foreign investors in this total activity is much smaller than perceived.
This segment of the market is relatively safe from foreign investors.
"The more significant portion is coming from a situation in which the money is coming from abroad, but the family lives in Canada," indicates the report. "Now the question arises if this is foreign or domestic investment?"
Whatever it is classified as, this kind of activity requires a much larger down payment and the family often lives in the house after purchasing, suggesting a much higher level of commitment than a typical foreign investor does.
Therefore, in terms of risk, this segment of the market is relatively safe from foreign investors driving up housing prices, the report adds.
Today's average immigrant buyer
Gurinder Sandhu, the Executive Vice President and Regional Director of Remax, says today's immigrant buyer is quite different from that of years past.
"People are not buying houses for investment or renting them out and are [not living in Canada]," he says. "Now immigrants are buying to live in those [houses] and they buy for their families."
Sandhu says this is a result of the world recession. In other parts of the world, buyers are unable to grow their equity and their investments are deemed unsafe because of factors including corruption, poor economy, oil prices and war.
For over two and a half years, the global economy has been on the verge of uncertainty, whereas "Canada's stable financial institutions and prudent fiscal policy have kept the housing market well intact," Sandhu adds.
"Now immigrants are buying to live in those [houses] and they buy for their families."
Canada is also viewed as one of the best places to raise families, making it a preferred destination for immigrants.
Sandhu predicts the urban market across Canada will show a healthy single-digit annual ascent, with prices growing less than 10 per cent from the previous year.
Bashir added that this growth will be most significant in areas outside of the GTA. "We will see an increased growth in suburban markets like Hamilton, Pickering and others due to new development and affordability."
Shamim is one such new immigrant who preferred the Hamilton area, as his eldest child will most likely opt to attend McMaster University after completing high school.
"It's a nice neighbourhood with plazas, clinics and community centres within a close vicinity," he says.
Rising prices and interest rates
Bashir says he believes that the biggest challenge faced by today's immigrants is "money management", which results in constant demand for smaller down payments.
This is reflective of a market in which housing prices in provinces like Alberta, British Columbia and Ontario – where many immigrants have traditionally settled – are increasing to the point where homes are unaffordable to the working class.
The Bank of Canada indicates that rising home prices have increased household debt levels, but steps taken by regulators to tighten mortgage-lending rules have helped manage the associated risks.
The risk of becoming "house poor" – a situation that describes a person who spends a large proportion of his or her total income on home ownership including mortgage, property taxes, maintenance and utilities – is relatively high, Bashir says.
"The real test will come when interest rates start to rise."
However, Sandhu indicates that the demand for luxury houses among immigrants is not diminishing either.
"A detached or semi-detached house might not be the first house of an immigrant, but it could be the real dream house. The investors are using their first buy (condo or town house) as a source of equity built up," he comments.
For the wider market, the CIBC report warns that "the real test will come when interest rates start to rise, whenever that may be."
Sandhu predicts this will happen, but not in the short term. "Rates may move up slowly, but not in [the] near future," he says.
He cautions, though, "Constant political and financial upheaval outside Canada reduces the interest rate stability." However, like Sandhu he says there are no foreseen changes in the interest rates anytime soon.
---
Journalist Priya Ramanujam mentored the writer of this article, through the New Canadian Media mentorship program.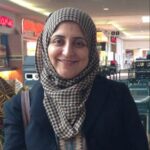 Tazeen is based in Mississauga and is a reporter with the New Canadian Media. Back in Pakistan where she comes from, she was a senior producer and editorial head in reputable news channels. She holds a master's degree in Media and Communication and a certificate in TV program production from Radio Netherlands Training Center. She is also the recipient of NCM's Top Story of 2022 award for her story a "A victim of torture, blogger continues fight for human rights in Pakistan"