Migrant workers' advocates are calling on the federal government to adopt a holistic approach to address human trafficking that encompasses prevention, social protections, accountability, and labour mobility.
Migrant groups said existing government programs and policies fail to protect some migrant workers who are most susceptible to labour trafficking.
"The current pandemic crisis only amplifies their precarity," said the Canadian Council for Refugees (CCR), Sisters of St. Joseph (London, Ont.), Migrant Workers Centre (Vancouver, B.C.), FCJ Refugee Centre (Toronto, Ont.), and Mouvement contre le viol et l'inceste (Montreal, Que.) in a media advisory released prior to public education event on June 10.
Some of the conditions that facilitate the abuse of migrant workers includes: lack of government inspection on recruiters' operations, work contracts specific to one employer, and insufficient information provided to temporary workers.
Precarious work leads to exploitation
A young Filipino woman named only 'Maria' spoke at the event and shared the harrowing experience that brought her to Canada.
In 2017, she arrived with an employer-family on the false promise of a two-month vacation in Vancouver. A week later, Maria's employers informed her that they will be staying permanently in Canada and confiscated her passport.
"I worked as a live-in caregiver for more than 12 hours per day, six days a week," said Maria.
"They paid me $600 a month. I didn't know I was a victim of human trafficking. I was afraid to lose my job because I am the only support of my family. I suffered emotional and physical abuse from my employer. I was traumatized until the Migrant Workers Centre found a place for me."
Natalie Drolet, executive director and staff lawyer at the Migrant Workers Centre, pointed to the need for "consistency" to support migrant workers. In Maria's case, her application for a temporary residence permit (TRP) was refused, and the appeal to the Federal Court of Canada took a year and a half until it was finally granted, she explained.
Rico Angustia, 47, is another migrant worker from the Philippines, who came to Canada in 2012.
"I was recruited by a Canadian agency that promised me a job and permanent residence. I paid $4,000 to a lawyer to complete my application. I don't have a work permit. I have been living and working precariously because of my immigration status."
Angustia tried to find a job through a temporary employment agency in Toronto that "took advantage of my situation by taking an illegal deduction from my salary for two years. I knew through the news that my employer was charged with human trafficking. I have spent in total $42,000 trying to fix my situation in Canada during the last eight years."
He has been a client of the FCJ Refugee Centre for one year. He is currently an undocumented worker but has applied for permanent residence based on humanitarian and compassionate grounds with the help of FCJ.
Angustia's is a clear case of exploitation, deception and coercion, said Luis Alberto Mata, project co-ordinator of the Anti–Human Trafficking Project of FCJ.
"During the COVID-19 pandemic, Angustia's situation became worse. Due to his precarious migration status, he can't apply for the Canada Emergency Response Benefit (CERB)," said Mata of FCJ Refugee Centre.
To be eligible for CERB, the federal government's economic relief program to combat the effects of COVID-19, applicants must be residents of Canada and have stopped working due to the pandemic – or are eligible for Employment Insurance or sickness benefits.
The advocacy organizations urged the federal government to set human rights and social justice at the centre of immigration policies and programs that currently make people vulnerable to exploitation and trafficking.
Canada should offer temporary residence permits
In their calls of action, the coalition have demanded the government make the TPR accessible to trafficked persons in a way that reflects how people are coerced and exploited in Canada.
"This grounded understanding of international trafficking in Canada needs to be consistently applied across all provinces," said Shelley Gilbert, co-chair of the CCR Anti-Trafficking Committee.
They suggest the government collaborate with front-line workers who have an expert understanding of how recruitment, deception, fraud, coercion are means to exploit people in Canada.
Gilbert, who also serves co-coordinator of Social Work Services of Legal Assistance for the City of Windsor, detailed the advocacy priorities that include: recognize and address systemic inequalities that are the causes and consequences of trafficking; protect the rights of trafficked persons and those at risk; implement legislative changes to ensure there is a permanent pathway to protection; and access to justice and services.
The CCR Anti-Trafficking Committee´s ongoing campaign Protecting Trafficked Persons in Canada with the hashtag '#BecauseIamHuman' seeks to create awareness of labour exploitation and to encourage protection and justice for trafficked persons.
"It is so important to society to have an understanding of labour trafficking because due to this more people become more vulnerable to becoming victims of this crime. I would like to address this issue about labour trafficking to bring awareness to the people about this, especially [for] government to open their eyes and take action immediately," said the migrant worker "Maria."
On June 14, advocate groups affiliated with Migrant Rights Network organized a mass digital rally calling for full immigration status for all. "Status for all" means that migrants coming into Canada through the Temporary Foreign Workers Program, Caregiver Program, Seasonal Agricultural Workers Program and other programs with work authorization permits, as well as refugees and individuals on study permits, should be able to have permanent resident status upon arrival.
"The global COVID-19 pandemic has proven that migrants are essential to our communities, but are exploited and excluded. Together, migrants from across Canada will raise our voice for healthcare, decent work, family unity and equal rights for all. We demand full immigration status," MRN said.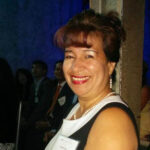 Isabel Inclan has worked as a journalist for more than 20 years, in both Mexico and Canada. She began working as a foreign correspondent in Canada in 1999 for Mexican media. She has been a New Canadian Media contributor since 2018. Her main areas of interest are politics, migration, women, community, and cultural issues. In 2015, Isabel was honoured as one of the "10 most influential Hispanic Canadians." She is a graduate of Masters in Communication and Culture at TMU-York University. She is a member of CAJ and a member of the BEMC´s Advisory Committee.