The Indian visa agent charged in Canada for allegedly providing fraudulent college admissions letters to international students to study in the country appeared in Vancouver provincial court on Aug. 8. 
Brijesh Mishra, 37, remains in custody until his next court date on Aug. 25. 
In March, New Canadian Media first reported on potentially hundreds of scammed international students facing deportation after spending years, and thousands of dollars, to study and work in Canada. 
Crowds in the hundreds joined about a dozen international students for more than two weeks in May,– parked in a permanent protest against being deported – in front of Canada Border Services Agency offices in Ontario. 
Sean Fraser, who was the federal immigration minister at the time, said on June 16, that the defrauded students would be allowed to stay in Canada. 
Mishra is accused of allegedly misrepresenting himself as a licensed immigration consultant and offering advice to international students. According to detention review transcripts obtained by NCM, he entered the country in October 2022 until his visa expired on April 16, 2023. 
His inadmissibility was officially reported four days later, the Immigration and Refugee Board (IRB) immigration division document says.
In May, an immigration warrant for Mishra was issued, and six weeks later Canada Border Services Agency officers arrested him in B.C. Two days later he appeared before the IRB. 
Immigration division member Heidi Worsfold concluded the detention review on June 16 with the possibility of releasing Mishra, but he was told to come back in one week to determine his conditions. 
The CBSA issued a warrant for his arrest and Mishra appeared in Vancouver provincial court on the same day he was scheduled to return to the IRB to review the conditions of his release from immigration detention.
Court documents list five criminal charges from the CBSA under the Immigration and Refugee Protection Act – four in Jalandhar, India between 2016 and 2020, and one in Surrey, B.C. when Mishra's visa would have expired.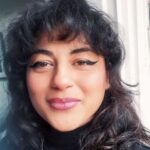 Keitlyn (they/them) is a multi-media journalist residing in Scarborough, Ont. They are interested in long-form journalism that highlights the visibility of BIPOC expression. True to millennial form, they are a small business owner, carpenter and freelance photographer. They were interested in NCM as it understands the "big picture." Journalists are dedicated to truth and democracy. Our communities have not always had access to these privileges. NCM is filling in a large gap that North American media has long neglected.