Two Ontario women from Latin-American backgrounds running for the New Democratic Party in this upcoming federal election are fighting to prioritize immigrant concerns in their respective ridings.
Alejandra Bravo, originally from Chile, is fighting from the riding of Davenport, while Alejandra Ruiz Vargas, born in Colombia, is a candidate in Beaches-East York. Both are running on promises to expand universal pharma-care, affordable housing and a better distribution of wealth.
From a dictatorship to Canadian Politics
Born in the South American country of Chile — which was under military dictatorship rule for 16 years — Bravo has been a community organizer in Davenport for 25 years.
In 2003, and again in 2006, she ran a tight race in Toronto's municipal elections, losing by only 780 and 280 votes each time, respectively.
A mother of three with a doctoral degree from the University of Toronto, Bravo, who speaks Spanish, English, French, and Portuguese, seeks to defeat incumbent Liberal Julie Dzerowicz, who has represented that multicultural district since 2015.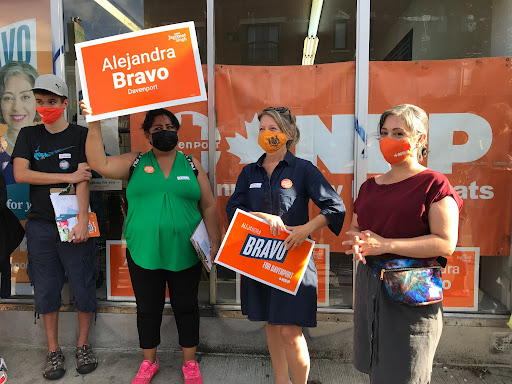 "The community not only wants someone to communicate the government's messages, but it also needs a strong voice, rooted in Davenport," said Bravo in an interview with NCM, adding that she considered the Liberal Party has done "an insufficient job" in this district. 
As Chair of the St. Clair West Village Residents' Association, she fought for affordable housing solutions for all. Now, as an NDP candidate, she offers to work as an MP for universal pharma-care, affordable housing and better distribution of wealth.
"We propose that those who have to give more are the people with the greatest individual wealth, the corporations that have earned millions of dollars during this pandemic and do not fairly contribute to taxes," she said.
Bravo looks to have a high chance of winning because some voters have expressed their distrust of the Liberal government. She is also well known in the riding's community organizations. Also in her favour is the fact that in the last two federal elections, the incumbent Liberal MP won by a small margin (just three percent of the votes).
In Davenport, where Bravo has lived since 2000, "there is a large base of people who support the NDP," she said, in addition to a "support base in the north."
"There are many progressive people in Davenport who supported me in my municipal campaigns, and that is something that other candidates have not had. There are people excited about having a Latina representative," Bravo said.
"The big difference between the NDP and the Liberals is that we are concerned and focused on how we are going to get out of the pandemic and the economic situation. The national debt has doubled. This speaks of the possibility of a future government that wants to make cuts. That is not acceptable to the NDP."
Poverty Due to Lack of Opportunities
The Colombian immigrant Alejandra Ruiz Vargas, recognized for her advocacy in housing rights, is the NDP candidate for the riding of Beaches, in East Toronto. Drawing from her own experience as a separated immigrant mother, she's focused on reducing poverty and inequality.
Ruiz Vargas came to Canada from the Colombian capital of Bogota in 2005. After separating, she lived in a shelter for almost a year. She received Ontario Works for a few months until she found a job as a service community worker. For the last eight years, she has been the East York chapter's president of the not-for-profit housing organization ACORN.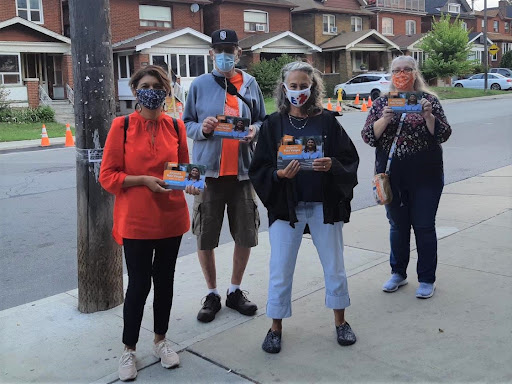 Ruiz argues that she got her job in part because she has experienced what living in poverty is. She thinks that she was successful in becoming an NDP candidate because of her advocacy on housing for all.
"People believe that the poor are lazy, but this is not true. Poverty is coming from lack of opportunities," said the mother of a 15-year-old daughter.
"I, as a social worker looking for better housing policies, have always been supported by the NDP that accompanied ACORN to present questions at Ontario Queen's Park. Liberals answered us, but nothing happened. Conservatives never answer."
In her opinion, the current neoliberal system in Canada doesn't help poor people escape poverty, because it doesn't tackle the root of poverty. 
"There is not a mathematical formula for everybody. You need to attend case-by-case. We can't stay with this government for four more years. We need a change. Otherwise, it will be people that won't survive," Ruiz alerts.
In terms of housing policy, she argues that Canada has the worst policy among rich countries because there is no real control on rents. 
"In 2017, I could find a one-room apartment for my clients for $600 or a bachelor's for $800 or $950, but now, one of my clients pays $900 for one room without a kitchen or living room. In the Toronto housing market, there is a waiting list of 100,000 people," she said.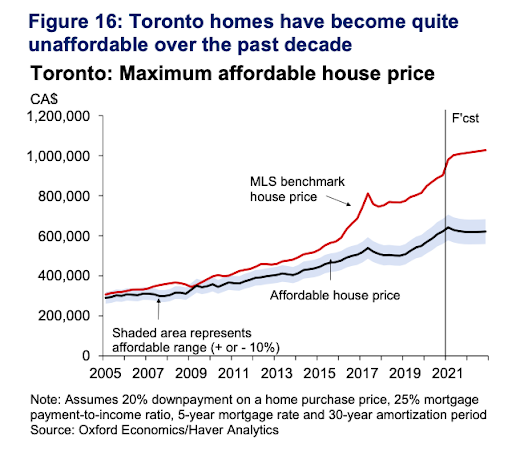 On September 20, Ruiz will try to replace the Liberal Nathaniel Erskine-Smith's seat in Parliament, who has been the MP for that riding since 2015. 
"This is the time where vulnerable people need to raise their voice," says the Latina candidate as she highlighted the NDP's plan to build 500,000 units of affordable housing units in five years to tackle the current housing crisis in Canada.
There have been a few notable Latin American MPs in recent previous elections, such as Liberal Chilean-Canadian Soraya Martinez Ferrada (Hochelaga, Quebec), who was appointed Parliamentary Secretary to the Ministry of Immigration, Refugees and Citizenship Canada (IRCC). 
Colombian Andrea Vasquez-Jimenez and Salvadorian Sandra Lozano have ran as provincial candidates in Ontario in 2018 and 2019, respectively, but were not successful.
In Canada, even though many public policies support gender equality, in the House of Commons only 29.6 percent are women, according to Global Data on National Parliament. Globally, Canada ranks 52nd in terms of women in parliaments, placing it below countries like Mexico (48.2 percent), New Zealand (48.3 percent), Nicaragua (48.4 percent), United Arab Emirates (50 percent), Cuba (53.4 percent), and Rwanda (61.3 percent).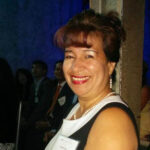 Isabel Inclan has worked as a journalist for more than 20 years, in both Mexico and Canada. She began working as a foreign correspondent in Canada in 1999 for Mexican media. She has been a New Canadian Media contributor since 2018. Her main areas of interest are politics, migration, women, community, and cultural issues. In 2015, Isabel was honoured as one of the "10 most influential Hispanic Canadians." She is a graduate of Masters in Communication and Culture at TMU-York University. She is a member of CAJ and a member of the BEMC´s Advisory Committee.