Since Damanpreet Singh moved from India to Cape Breton for his studies two years ago, he has seen his daily expenses nearly double. The Punjab native moved to Sydney, Nova Scotia in 2021 to pursue his post-baccalaureate degree in Supply Chain Management. Now a new graduate, the financial reality of living long-term in Canada has shifted significantly for him.
"When I came to Canada in 2021, with it still being COVID, there were fewer students and I could find a house easily," says Singh, who is the Canadian Federation of Students' representative for international students. Upon arrival, he found a room in a shared apartment for $350 per month. But since his lease expired last year, he had to move into a new place he describes as sub-par that cost him $500 per month. The same goes for his groceries: "I used to pay $150 per month for groceries on average. Now, I pay $250 for the same amount."
International students are currently required to show proof $10,000 in their bank accounts when they arrive in Canada – the amount estimated by the federal government to cover their living expenses. That's on top of the $30,000 to $50,000 they have to pay for tuition each year. But some students and advocates say this minimum Guaranteed Income Certificate (GIC) is misleading given the current costs of living.
While Singh, who is currently on a work permit, would love to stay long-term in Cape Breton, the costly reality of living in Canada due to rising inflation, including exploding rental prices, has thrown that dream into doubt.
For many, securing a Canadian student visa has long been seen as a stepping stone towards permanent residency and eventually, citizenship. But the cost-of-living crisis in Canada is making the decision to stay on after graduation tougher.
The number of international students coming to study in Canada has reached record highs in recent years, but a new study shows that a sizeable proportion may no longer want to stay around after they graduate. A Leger study commissioned by the Institute of Canadian Citizenship published in March this year found that 25 percent of international students surveyed plan to leave the country in the next 18 to 24 months.
The high cost of living was cited as a top concern by the survey respondents, with students growing increasingly put off by rising rents and dwindling housing options.
Canada's inflation rate hit a 30-year high last year at 6.7 percent. But foreign students already feeling the financial pressure also had to grapple with steep tuition fees, often paying up to five times what Canadian students pay.
Zeba Munira, a student from Bangladesh pursuing her bachelor's degree in commerce at Carleton University, says she and her family feel the pressure of paying rent and living expenses. Her family, who live in Qatar, has had to take on extra work to pay for her tuition, while she works part-time in Canada just to cover other basic living expenses. All the while, her tuition fees went from about $27,000 to $37,000 between her first and second years of school.
Those financial realities have complicated her plan to stay in Canada after graduation. "I do see a future here in Canada, but the way universities are treating international students feels unfair," she says. "If I had known that [the cost of living here] was going to be this high, I wouldn't have come."
Sandeep Singh, a marketing director and director of Intake Abroad, for Brampton Immigration Consultancy, says that he's noticed that many international student clients of his are struggling to find housing and afford groceries. He says the amount of money that students are supposed to have in their bank account when they come to Canada is no longer sufficient to cover the expenses they incur.
"A couple weeks ago, I wrote a press note telling the government that the Guaranteed Income Certificate amount needs to be increased to $20,000," he says. "Ten thousand dollars was good enough when GIC started and you used to get rooms for $400. Now you're not going to get a room for $400, especially in the Brampton and Greater Toronto Area. The Canadian government should increase that amount so when students are coming to Canada, even if they don't have a job, they won't struggle."
The federal government has not updated its cost-of-living figure for international students since 2015.
Singh, the new graduate based in Sydney, echoes this sentiment: "It's very difficult to survive because the whole GIC amount is going towards rent and groceries…That's not to mention books, cell phone bills and more."
Losing international students could have significant impacts on Canada's labour market. College-educated students from overseas have long been seen by policy-makers as key to filling labour shortages in Canada. And with colleges now accepting 40 percent of Canada's post-secondary international students, compared to 24 percent in 2010, advocates say there is great incentive to keep them around.
For now though, international students say their decision to stay around after graduation and pursue permanent residency will ultimately hinge on securing a job that can sustain them financially in Canada's costly economy.
Singh says he loves Cape Breton and would love to stay there, but he is not sure about the long term. "I want to stay in Canada. I think everyone would love to stay. But the government needs to improve some of their policies to control inflation and make strategies so they can help students who need more money."
Munira says she is similarly motivated about staying in Canada. While her parents wanted her to stay in Qatar, she was keen to settle here. "I am very passionate about staying in Canada, but the cost of living is making it difficult for me to live here long term…At this point, I'm not sure."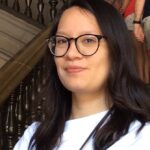 Katrya Bolger is a Thai-Canadian journalist. She writes about how national politics and policy impact Canada's immigrant communities. Since starting her career as a sub-editor for the Bangkok Post, she has spent over seven years writing and editing for various newspapers, magazines and non-profit organizations in Canada and abroad. Her written work has appeared in publications such as The Globe and Mail, Montreal Gazette and The Walrus.