The Colombian immigrant Gil Penalosa is one of 30 candidates running to replace John Tory as Toronto's mayor after an eight-year run. He is not an impromptu candidate. He is an urban planner with extensive experience in the design of cities and parks. His active and even aggressive campaign in person, but more on Twitter, has attracted mainstream media attention. "Are you better than 8 years ago? If not say #SorryTory and #VoteGil4Mayor," he posted on social media.
After living in Toronto for 23 years, the urban consultant argues that in Toronto there is great inequality.
"Where the rich live there are excellent parks, public spaces and safety on the streets, there are more trees which in the summer lowers the temperature," Penalosa said. "However, in the poorest areas, it is the opposite. That is why I am running for mayor because I think these issues are at the city level and they are not being addressed."
The urbanist has worked in more than 350 cities. He is the first Ambassador of World Urban Parks, the international representative body for city parks. Two years ago, he received the World Urban Parks Annual Distinguished Individual Award in Australia.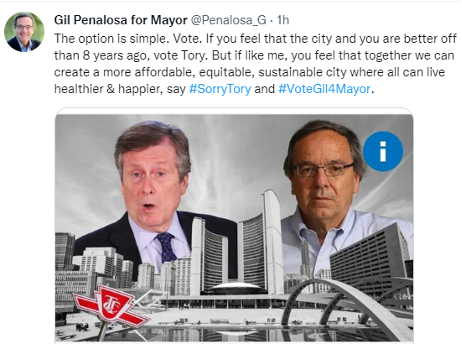 Over the last eight  years, Toronto has become "less equitable, less sustainable, and it has lost its sense of unity,"Penalosa said. "The city is falling apart, and leadership is standing by and watching. We cannot continue in this direction. We are at a critical time for change. The combination of climate change and the pandemic has shown that we must live differently; we must build a Toronto that is affordable, equitable, and sustainable."
More than half of Toronto's population was born outside the city, he points out. 
"We immigrants arrived here leaving behind families and friends, but we face a lot of barriers, such as bureaucracy or lack of recognition of foreign credentials. We need nurses but they are working in restaurants. We need professors, but they are cleaning floors. This is bad for the city because it wastes and underuses its assets."
Five times candidate
The departure of the deputy mayor Ana Bailão leaves a free path for Ward 9-Davenport candidate Alejandra Bravo, who in the 2021 federal election lost this district by only 76 votes to liberal incumbent Julie Dzerowicz. The Chilean immigrant has the support of NDP leader, Jagmeet Singh, and MPP Marit Stiles, as well as many community organizations.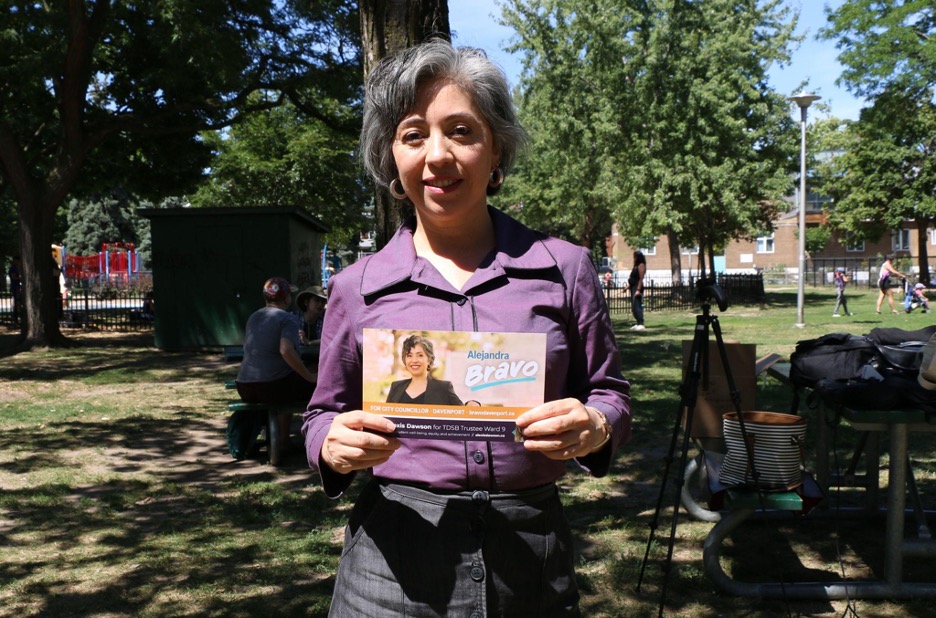 Fluent in Spanish, English, Portuguese and Italian, Bravo, who fled Chile in the '80s when Chile was under the dictatorship of Augusto Pinochet, has been a four-time councillor candidate. 
Twenty years ago, the Ecuadorian Cesar Palacio was the first and only Latino city councillor, winning a seat in 2003 which he held for 15 years. At one point during this period, Bravo and Palacio were two Latinos running for the same seat.
For Bravo, a mother of three, the only city development is collective welfare. She pointed out that Latin American immigrants have many skills to contribute to this multicultural city. 
"That experience of social work and struggle in our countries of origin is something that has to be experienced in Canada. The Canadian community is going to be much stronger if Latinos can contribute in terms of leadership," she said.  
She has based her campaign on what is better for people who are facing housing, work and health challenges. 
"Housing is a human right," she posted on her Twitter account which shows photos of supporters from different communities. 
Let people of all colours flourish
Walter Alvarez was born in Guatemala and he lived in what he calls "the darkness of tyranny" during a brutal war, where his brother was killed and his father was wrongfully incarcerated for his fight for human rights and workers' rights. His philosophy is that "darkness can be overcome with the light of democracy". To put this in practice, Alvarez ran in the last Ontario elections where he came in second behind the triumphant MPP Caroline Mulroney, daughter of former prime minister Brian Mulroney. He is now the candidate for Ward 16-Don Valley East.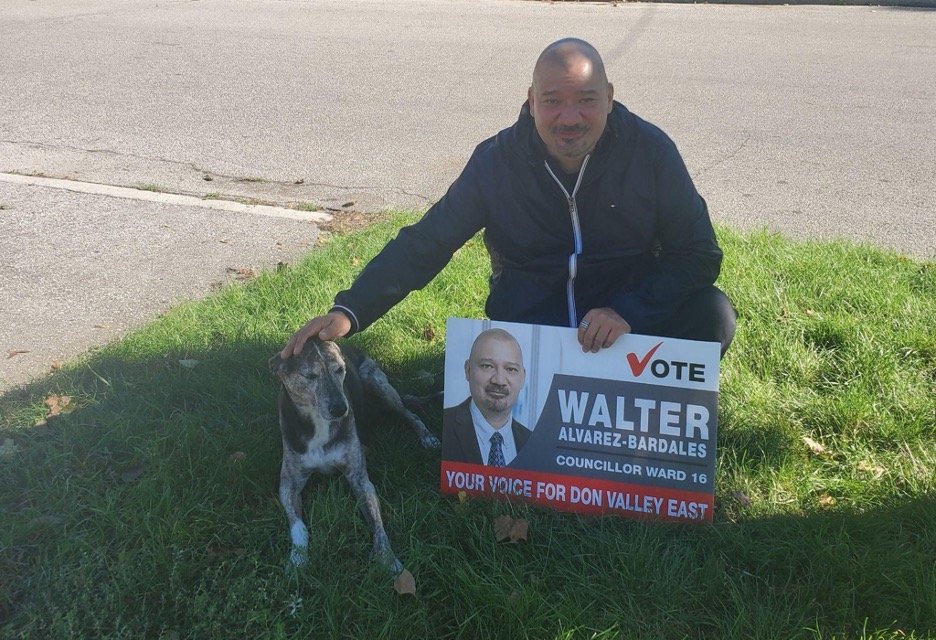 "I want to be the voice for those who may feel disenfranchised, such as immigrants and racialized Canadians," said Alvarez who has an MBA and is taking a Social Science doctorate at Royal Roads University. 
"As I went from homeless to Doctoral candidate, this success was a labour of love by the community who supported me," he said. "My improbable journey is a testament to the greatness of this city, province, and country. 
"I aspire to inspire others. We can create positive policy change and our voice matters," added Alvarez who founded the YouTube channel Democracy Matters! one year ago which has reached almost 1500  subscribers. 
Seeking to tackle school dropout
Among the trustee candidates in the GTA, there are at least two Latino candidates:. The Ecuadorian Monique Forster, who is running for her third term in Durham, and the Uruguayan Matias de Dovitiis, who is the third-time candidate in Humber River Black Creek.
De Dovitiis was born in Montevideo and arrived in Canada when he was 11 years old.  
"I am running for school trustee because we need better schools," said the political activist who works as Chief of Staff  for City Councillor Anthony Perruzza.
De Dovitiis accused the Doug Ford government of reducing $800 spending per child since 2018. 
"We need to restore our public education system and give the next generation of students better opportunities." 
Looking for "more equitable opportunities for youth" in his area, De Dovitiis said that he has supervised placements for more than 100 youth. 
"I have created youth programs for hundreds of youths. I have created multiple organizations that have then gone on to create opportunities for an untold number of youths. I have created events where kids have received free bikes, laptops, backpacks and more."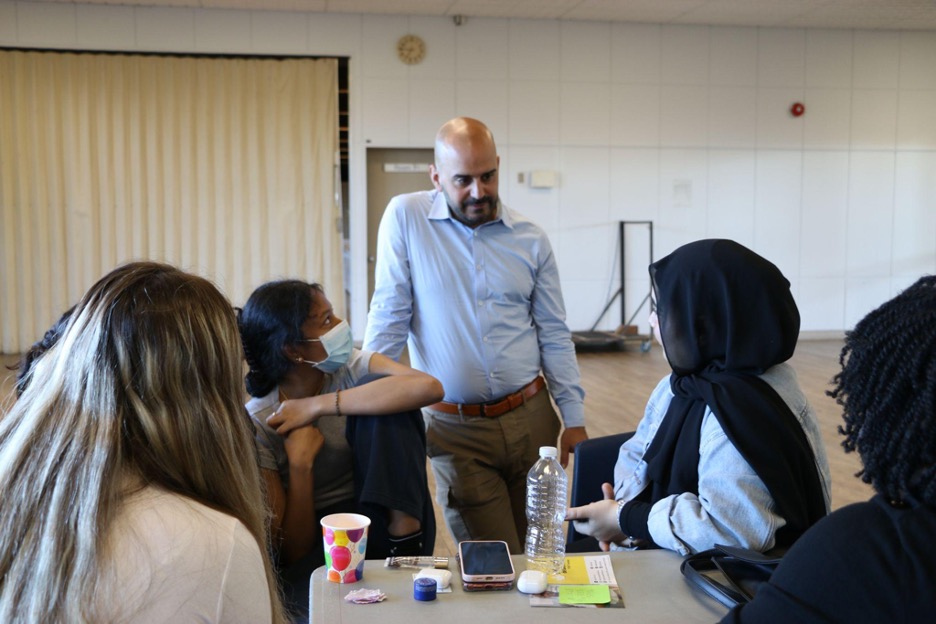 If elected, De Dovitiis would be the first Latin American to be elected to the Toronto District School Board since the Chilean teacher Luz Bascuñan 25 years ago. He recognized the education challenge in the Latin American community. 
"We have the lowest rate of post-secondary attendance in Canada and one of the highest rates of school dropouts in the TDSB," he said. " Engaging the community and helping lead changes in the system are a big part of why I want to run for trustee."
College teacher Monique Forster who has more than 30 years of experience in the education field and has been a trustee of the Durham Catholic District School Board since 2014, shared her concern for the high dropout rate in high schools.
"We have created opportunities for students who are at risk of dropping out of high school," said Forster who is the president of the Canadian Hispanic Congress. "We need to recognize that not all students have the same opportunities, there are always some disadvantages." The interviewees agreed that in the October 24 elections there is a Latino power willing to make important changes.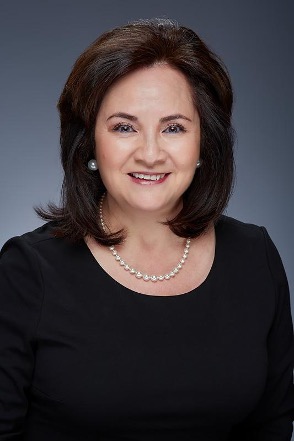 "Not once have I seen a community that does not benefit from Latino immigrants," Alvarez said. "Our contributions range from hard-working labourers, many of whom are undocumented and yet contribute immensely to Canada's healthy GDP, and our academics/, ntellectuals and artists." 
"It is an honour to see the high profile of Latino candidates," Forster said. "We are looking for that leadership because our community contributes in all areas of society, but this is the component that we lack: political representation."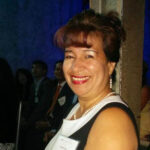 Isabel Inclan has worked as a journalist for more than 20 years, in both Mexico and Canada. She began working as a foreign correspondent in Canada in 1999 for Mexican media. She has been a New Canadian Media contributor since 2018. Her main areas of interest are politics, migration, women, community, and cultural issues. In 2015, Isabel was honoured as one of the "10 most influential Hispanic Canadians." She is a graduate of Masters in Communication and Culture at TMU-York University. She is a member of CAJ and a member of the BEMC´s Advisory Committee.