Women's voices and their participation in every aspect of society are more vital than ever. The Sisterhood of Salaam Shalom, is a female-only group formed in the US in 2010. The Toronto group formed after Trump's inauguration of November 8, 2016 to address the expected threat to religious minorities in Canada.
Led by Cynthia Levine-Rasky, a sociology professor at Queen's University, and Sabreena Ghaffar-Siddiqui, a doctoral student, the mission of SOSS is to build trust, respect, and relationships between Muslim and Jewish Canadian women.
The Toronto group received an overwhelming response and in less than a year, it grew to around 100 active members from both faiths. They are from all walks of life, diverse in age, religious identity and practice, as well as political outlook. The group's members commit to working together to limit acts of anti-Muslim and anti-Jewish sentiment. They stand up to hate against one another and engage in social action work to benefit their communities.
Group Gatherings and Activities
In monthly gatherings held in members' homes, these women talk about issues of shared concern: experiences, challenges, and recent events. They also plan activities of mutual interest.
Tamara Rebick, who with Tazeen Alam co-leads the North York circle, shared her experience. For Rebick, SOSS is a place where passionate and exceptional women sit together and "have authentic, meaningful and complex conversations for the purposes of learning and fostering respect, understanding and friendship."
The women do not share the same degree of religious knowledge. In fact, many describe themselves as secular and as not particularly knowledgeable. As a result, there are opportunities for sisters of both faiths to teach one another about each religion's teachings, customs, culture and traditions.
In their sessions, the host sisters create an opportunity for all sisters, Jewish and Muslim alike, to learn about important customs within their faiths.  Last year, Jewish sisters hosted a Women's Seder during the Jewish holiday of Passover. 
The Muslim sisters hosted an Eid Brunch featuring regional culinary foods, and one of the sister's sons built a model version of Al-Masjid al-Haram while Muslim sisters taught the group about the customs and background of Hajj. 
This year, the group will be celebrating the Moroccan Jewish custom of Mimouna. (A Moroccan Jewish custom, Mimouna demonstrates the close relationship that existed between Jews and Muslims in the region early in the 20th century). 
Since most Jewish sisters currently involved in the Toronto area are from Ashkenazic (Eastern and Central European) descent, they have never celebrated Mimouna.
As a result, this year's event is being hosted by a team of Jewish and Muslim sisters who are learning about the custom together and preparing an experience where everyone will commemorate this beautiful celebration of neighbourliness.
Connection with Intentionality is Natural
Talking about the historical antagonism between Muslim and Jewish people and the idea that they may be "natural enemies," the group leaders disagreed. "This is nothing but a spurious assumption…there is nothing natural about hatred towards someone you do not know," says Ghaffar-Siddiqui.
"What is more natural is how quickly people will find things in common and become friends, despite religious or cultural differences, if put in the same room together," she adds.
"Connection and camaraderie are more natural than antagonism, and simply require intentionality and opportunity to flourish," says Levine-Rasky.
Rebick believes that fear and ignorance feed much of the silos that exist in our communities. "There is more we don't know about one another than what we do know, and that leads to dangerous assumptions and unfounded and erroneous conclusions," she explains.
Tying back to exactly why she wanted to be a part of this group and has become so committed to it.  "I love learning about what I don't know, from someone who might be considered as, 'the other,' " Rebick states.
According to both leaders, the Sisterhood of Salaam Shalom represents the power in building strong bonds between Jewish and Muslim Canadian women. Simply standing together makes a powerful political statement for change, they say.
"When the opportunity arises, we stand together to fight anti-Jewish and anti-Muslim hatred in public spaces, in our public institutions, and wherever the need arises" says Levine-Rasky.
Modelling for Future Generations
The emphasis is on allyship and learning what actions and qualities create meaningful, effective and lasting allies — in the good times and bad. Rebick is encouraging her daughters to become familiar with the group. She wants them each to glean important values and lessons from a group like this one — about growing up as strong and accomplished women in their community, how to identify, manage and address adversity and ignorance, about the need for community and friendship, and about living beyond one's comfortable and familiar bubble.
Levine-Rasky confirms that there has been a long-standing interest to create a SOSS circle for members' teenage daughters. They are currently seeking qualified co-leaders for this initiative. 
"The potential impact is extraordinarily positive since youthful relationships may continue well into adulthood, shaping decisions and values that are established at this critical age," she added.
Ghaffar-Siddiqui believes, "The youth circle will be essential to ensuring this interfaith movement continues to grow and have a positive present and future impact on society."
As Ghaffar-Siddiqui explained, "In whichever role a woman operates — mother, entrepreneur, teacher, community worker, etc.— she has a unique ability to spread light and awareness to whomever she interacts with, whether children, co-workers, employees, or community members. This is why the Sisterhood is so important. Each sister brings a unique and important perspective to gatherings and conversations. What is even more important, however, is how far and wide our message of love and humanity travels, as each sister spreads it in her own unique way".
---
This piece is part of the "Ethnic Women as Active Participants in Ontario" series.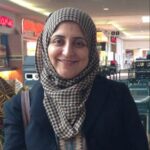 Tazeen is based in Mississauga and is a reporter with the New Canadian Media. Back in Pakistan where she comes from, she was a senior producer and editorial head in reputable news channels. She holds a master's degree in Media and Communication and a certificate in TV program production from Radio Netherlands Training Center. She is also the recipient of NCM's Top Story of 2022 award for her story a "A victim of torture, blogger continues fight for human rights in Pakistan"