Preparing for his last rally, the Rocky-esque NDP Leader Jagmeet Singh made his final stop on Thursday night at Grand Empire Banquet Hall in Brampton. This is where Singh pushed his message one last time. He also encircled himself with a cast of supporters who would advocate to help him get through to youth voters.
As a matter of first importance, speaker Jinder Mahal, a World Wrestling Entertainment (WWE) star, talked about Jagmeet Singh in detail. Mahal said that Singh's dreams were as large as his own, the former being a one-time world champion in the largest wrestling promotion in the world. Mahal continued by saying that Singh achieved his objectives by serving people and supporting them. Singh, according to Mahal, was the voice of a huge number of Canadians, as was the WWE performer.
After Mahal, NDP Ontario party leader Andrea Horwath said that many had claimed that the NDP would not get to cast a ballot in Ontario and they would never form a government. Jagmeet Singh was the NDP deputy leader in Ontario, said Horwath, and then noted that from there, now he is the leader of the National Federal NDP. Horwath predicted that indeed soon, he would be Prime Minister of the country.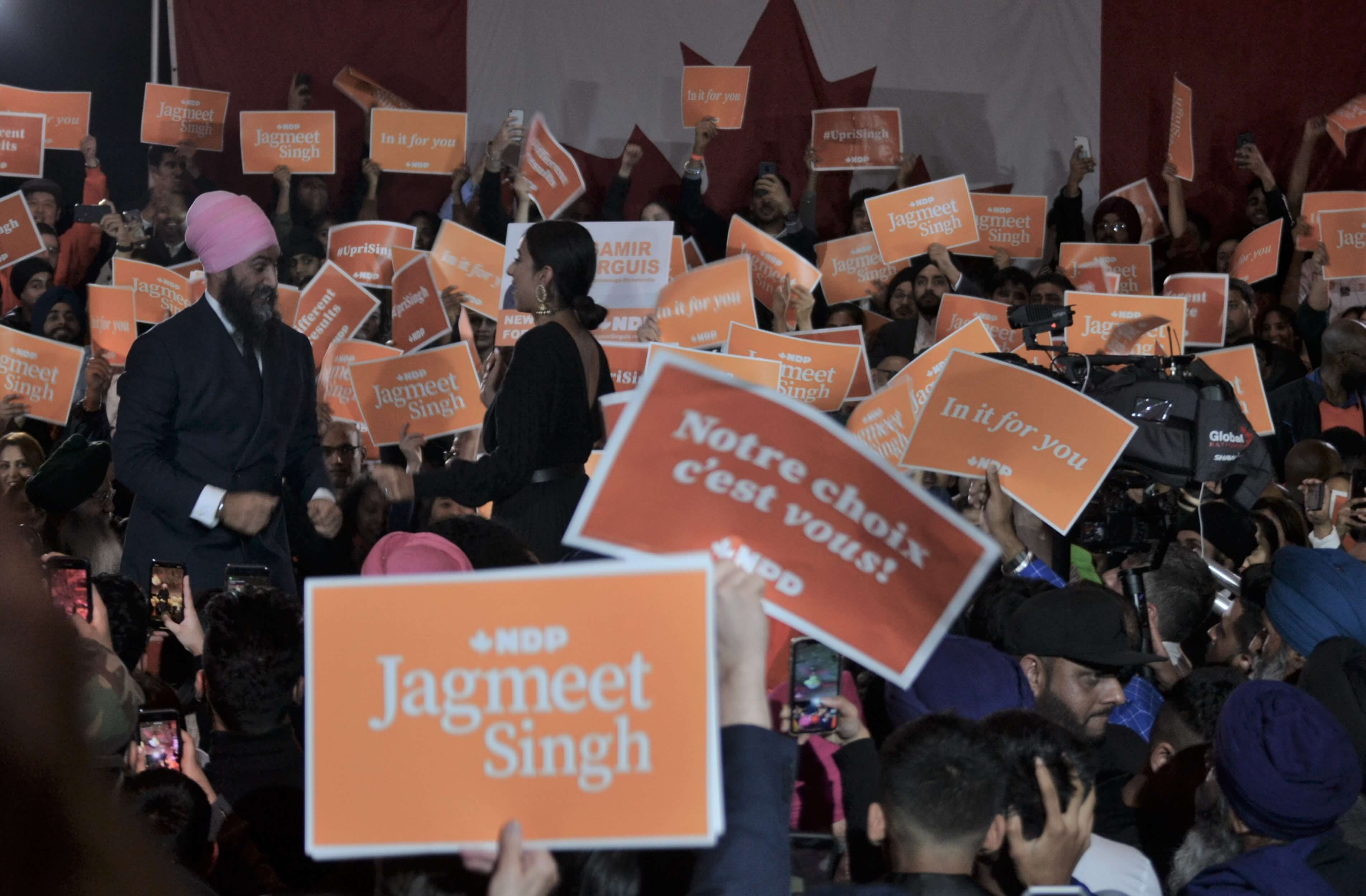 Jagmeet addressed his supporters in Brampton: "I want to be your prime minister. Be that as it may, whatever Canadians vote in favour of come Oct. 21, I need Canadians to win. What's more so, I'm starting to win. If you vote in favour of New Democrats, we will battle in whatever structure the administration takes, whatever the power the individuals offer us, to ensure we convey on the things that individuals need."
Singh likewise shared his guarantees for free dental consideration for family units making under $70,000, and a commitment of $10 billion throughout the following four years to make 500,000 new childcare spaces in Canada.
Talking about childcare Singh said, "At a time when families are struggling with rising child care costs, they need a prime minister who isn't afraid to take on Doug Ford and other conservatives. Unfortunately, Justin Trudeau is showing that despite his nice words, he's refusing to actually stand up for Canadians struggling with the cost of living. It's time for a government that is willing to show real leadership to make life better for people. Families should not have to choose between having kids and having a career."
Singh said that Trudeau's Liberals had made a guarantee to enable Canadians to get to moderate childcare. They had also taken on responsibilities regarding Pharmacare. Yet, nothing had appeared. Singh said that consequently, Trudeau did not deserve the vote.
Then Singh began attacking Andrew Scheer by saying, "I'm pleased with the way that I'm prepared to battle Conservatives, regardless. I think Canadians need that. Most Canadians don't cast a ballot Conservative. Most Canadians need a dynamic government."
Singh accused Trudeau that broken promises have marked his four years in power and that only an NDP government will tax the wealthiest Canadians to make life more affordable for working people.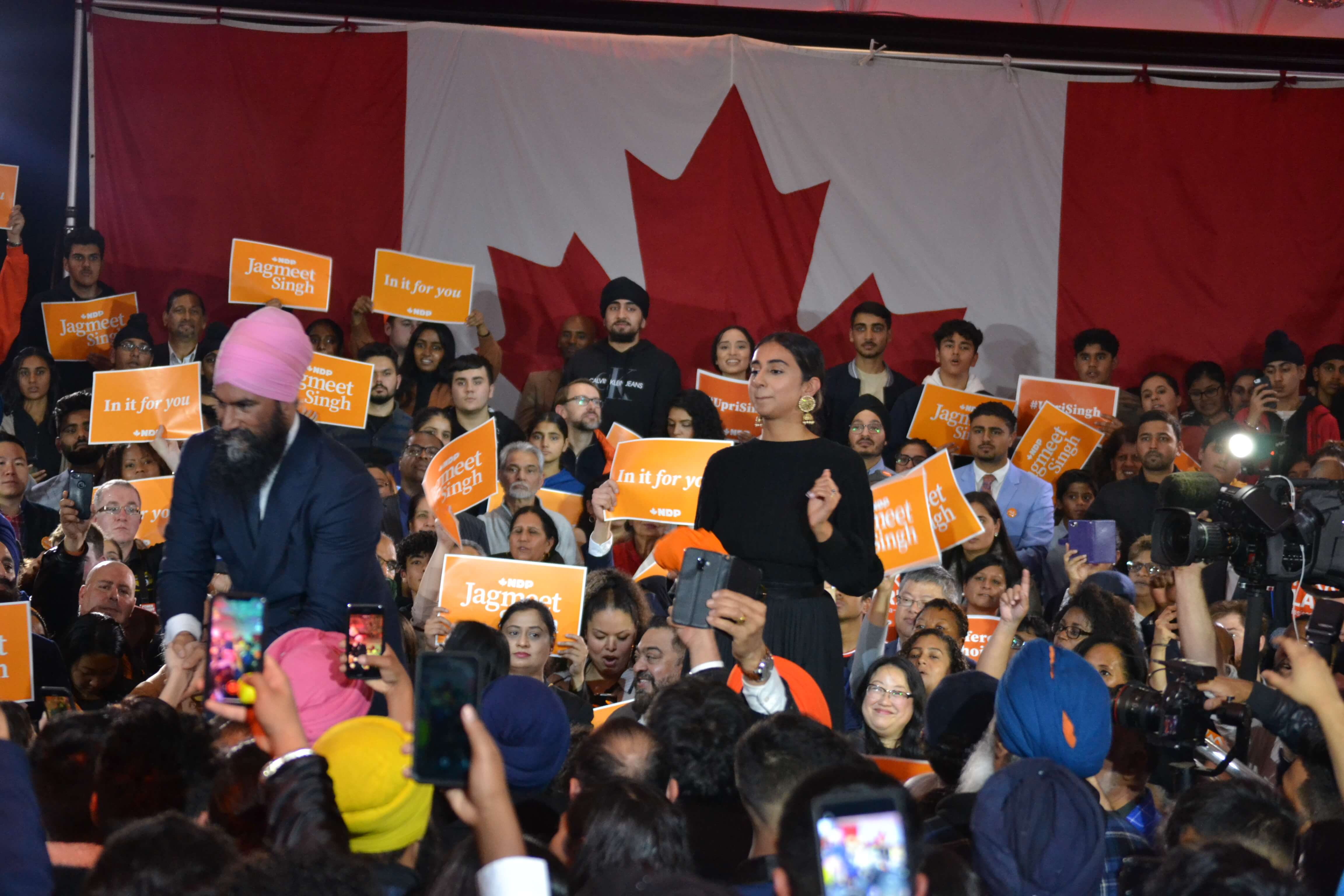 Singh proceeded with his push to win the hearts of his audience and said, "NDP government would put billions of dollars in moderate lodging to help Canadians battling to make a decent living."
Also, Singh said that the NDP commitment pledge was to expand social programs. The party's promises have included universal Pharmacare and free tuition for post-secondary education, while also promising higher taxes on large corporations and the wealthy.
Singh also deflected questions about how and when a NDP government would tackle the federal deficit, speaking only that he would make different choices from Justin Trudeau's Liberals and that his priority was helping Canadians if Canadians vote for NDP.
Pharmacare over pipelines
Singh kept attacking Trudeau and said, "We hear Mr. Trudeau talk about there is a housing crisis with more of those pretty words." He continued, "You know, acknowledging the problem, but then when it comes to the actual solving of the problem, empty promises."
Taking about the pipeline, Singh  said the NDP will always fight against the controversial Trans Mountain pipeline expansion, which would significantly boost tanker traffic off the BC coast. He repeatedly took aim at the Trudeau government's decision to buy the pipeline and unfinished expansion work for $4.5 billion using taxpayers' money.
Singh mocked the $4.5 billion for the pipeline and $14 billion in corporate tax breaks, which the administration has said were expected to enable Canadian organizations to rival U.S. contenders.
The other major duty for the NDP leader is to acquire what he is calling head-to-toe wellbeing inclusion. On that topic, Singh concentrated speaking on Pharmacare, saying that Canadians who need drugs, particularly those with lower levels of pay, ought not to pay with their credit cards; they ought to have the option to utilize their Health cards.
Singh ended the night by requesting everyone to strive for a better future themselves and their children. He noted that to get this, and for better Canada, to vote in favour of New Democrats on Oct 21.
Surjit Singh Flora is a veteran journalist and freelance writer. He is a popular media commentator on current affairs and member of the NCM collective.