The latest data from Statistics Canada shows the largest number of immigrants are arriving from India, the Philippines (11.4 per cent), China (8.9 per cent) and Syria (4.8 per cent) – in that order. 
Newcomers from Asia make up 62 per cent of immigrants in the census data collected from 2021. India leads the majority of new arrivals, accounting for nearly 20 per cent of the population migrating to Canada.
450 ethnic or cultural origins were reported by Canadians last year, revealing immigrants and non-permanent residents account for a quarter of Canada's population.
According to the second quarter population estimates from July 1 this year, Canada's population increased by over 200, 000, with international immigration accounting for 94.5 per cent of this growth. By the end of the summer of 2022, 269,305 people had migrated to Canada.
"This was due to high numbers of asylum claimants and permit holders (work, study, and other), including people affected by the Russian invasion of Ukraine," Statistics Canada said in their report.
The July estimates marked the highest growth in population within an annual quarter Canada has seen since the Baby Boomers at the tail-end of the 1950s.
Immigrants now make a quarter of the total racialized population
In the last five years, 33 per cent of immigrants reported being part of a racialized group, and now account for a quarter of the racialized population in Canada, a Statistics Canada spokesperson said.
Racialized groups make up less than 30 per cent of Canada, with South Asians accounting for the nation's largest racialized population at 7.1 per cent, followed by Chinese (4.7 per cent) and Black (4.3 per cent) communities surveyed.
Almost half of newcomers migrating to Canada are between the ages of 25 and 44. 53.9 per cent were selected for their economic contributions, with the number of female immigrant applicants still five points lower than their male counterparts. Refugees account for 15.2 per cent of the population.
In August, Statistics Canada reported 4.6 million people in Canada spoke a language that wasn't English or French, making up 12.7 per cent of the population.
Non-official languages spoken most often per province included Tagalog, Punjabi, Mandarin and Cantonese, and Arabic.
Portrait of ethnocultural and religious backgrounds
Today's portrait report is the latest and second-last themed release of the 2021 Census Population Profile, which was last updated on Sept. 21, 2022 – the National Day for Truth and Reconciliation or Orange Shirt Day.
While 53 per cent of the population remains Christian, Muslim religious beliefs reached 4.9 per cent, while Sikh and Hindu believers account for just over two per cent respectively of religions surveyed. 34.6 per cent do not observe a religious belief.
The demographics recorded in these religions continue to show a male majority of believers, with the exception of female-majority respondents found practicing Christianity, Buddhism, and (North American) Indigenous spiritualities.
15 per cent of the population identifies their ethnic origin as "Canadian." The largest ethnocultural community outside of the British Isles in Canada, included "Chinese" at 4.7 per cent and "Ukrainian" at approximately 3.4 per cent of those surveyed.
In 2016, the Statistics Canada ethnic and cultural origin portrait recorded 32.5 per cent of Canadians identifying with at least one origin from the British Isles. That number seems to have increased with the latest data estimating 49 per cent of Canadians reporting ethnic origins from English, Scottish, Irish and French descent.
56.3 per cent of the population is a third-generation Canadian – both parents born in Canada – with still a quarter of the population born outside of the country.
About 5 per cent of the population identifies as Indigenous in Canada. 3.4 identify as mixed-race with an Indigenous and non-Indigenous ancestry.
You can watch Canada's population change in real time through Statistics Canada's online model. It counts changes in populations, and lists demographic events like births and deaths in real time.
The clock estimates a new immigrant or newcomer to Canada approximately every minute, a non-permanent resident every three and a half minutes, and at least one emigrant – leaving the country – every eight minutes.
Statistics Canada will be hosting a webinar on these latest statistics on Nov. 2, with specialists to answer questions and go over key findings.
"Immigration will continue to be the topic of research for us," a Statistics Canada Canada spokesperson told NCM over the phone. At the end of November, the last round of 2021 census data will be released on changing labour markets, including topics on immigrant skills and perspectives.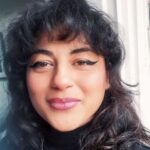 Keitlyn (they/them) is a multi-media journalist residing in Scarborough, Ont. They are interested in long-form journalism that highlights the visibility of BIPOC expression. True to millennial form, they are a small business owner, carpenter and freelance photographer. They were interested in NCM as it understands the "big picture." Journalists are dedicated to truth and democracy. Our communities have not always had access to these privileges. NCM is filling in a large gap that North American media has long neglected.