Every night before Yahaya Baruwa would fall asleep, he would pray. "What did I write today that will inspire 100 million people tomorrow?" According to his numbers, he's halfway there.
Since he began selling his first, self-published novel, "The Struggles of a Dreamer," in 2011, Baruwa has sold over 50, 000 copies. He estimates conducting well over 1,000 in-store events, more than 10, 000 hours promoting his book and knocking on over 27,000 doors selling his novels over the last decade.
"I've knocked on the entire Guildwood area, Morningside and Lawrence, and Bloor-West Village," the now 34-year-old writer said, referring to the neighbourhoods situated in suburban Scarborough, and downtown Toronto.
Seated in the Chapters at Kennedy Commons, just a few feet from his first in-store sales event, Baruwa recalled his first sale to his next-door neighbour in the suburbs a half-hour east of the GTA, near Keele & Finch.
Inspiration at home
Baruwa's family moved to Canada from the northern city of Kano in Nigeria when he was 12 years old, in 2001. The third child of eight, and a member of the Yoruba tribe, the author remembers the sacrifices his parents made in their careers, selling their family home, and the farewell bid by his peers before moving.
"That was a lot — leaving my home behind," Baruwa said. "I even put my parent's home on the cover of the third book to pay homage to my parents for the sacrifice they made."
He began writing his first book in 2009 at the age of 21 during his second year at York University. The author was dismayed by his father's disapproval of his dream of writing a novel. So, he would wake up in the middle of the night, when everyone in his Scarborough home was asleep, and write at his family's dining table until dawn.
"The Struggles of a Dreamer," is the story of a young man struggling to decide between obeying his father's wishes, or following his dreams.
"He [the protagonist, Tunde] had to go for his dream to be able to come back home to realize that his dad was just trying to protect him," Baruwa explained. "I began to write with all of that anger and resentment towards who I thought my dad was being."
The millennial author finished his first novel in less than a year, and the second in under a month. He wrote all three of his books by hand, transcribing and editing later for publishing, and also continued to write in secret.
"He doesn't like anyone to know when he's writing," said Eniola Akinsara, Baruwa's wife. "He doesn't want anyone to influence his writing style at all."
Wrapping up the series
The entrepreneur's second novel is written from a woman's perspective on the immigrant experience, influenced by his own mother's story who was a highly experienced nurse in Nigeria.
Baruwa watched his mother start her career from the beginning upon arriving in Canada. Though the author understood the way the nation regulates professionals, "it takes away from the experience people bring from a different country," he said.
The third and final novel in Baruwa's trilogy, explores the author's own story of immigration, and pays homage to his parents for the sacrifices they have made. It is due to be released this winter.
"I've seen him inspire people in so many ways," said Baruwa's wife, Akinsara. First-generation also from Nigeria, Akinsara grew up in Windsor, Ont. — a far cry from the diversity of Toronto, where she moved in order to study at the Toronto Metropolitan University.
Married in June earlier this year, she helped edit and transcribe her husband's latest book, and regularly witnesses the positive feedback Baruwa receives.
From the young to the old, people come up to him and say, "you inspired me to dream again," she said. NCM saw this happen during his interview. Fans heralded Baruwa for his influence, appealing for a photo or juicy details on their favourite characters. One person even shyly exclaimed their own newly-inspired approach to writing.
"A book I wrote when I was 21 and struggling to believe in myself is the same book people are drawing from to be inspired," Baruwa said.
Frances Ann can attest to Baruwa's inspiration to dream. From northern Ireland, Ann moved to Canada in her early twenties to escape the civil war in the late 1970s. Her son went to high school with Baruwa in suburban Toronto, and was re-acquainted when the author knocked on his door. She regularly writes reviews for Baruwa's novels and has shared them with her family and friends overseas.
"I still can't believe he asked me of all people to review his books," the Port Hope, Ont. resident and retiree said. "There's a lesson [in his books] for others to keep trying and not give up on their dreams, whatever they might be"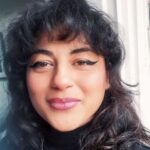 Keitlyn (they/them) is a multi-media journalist residing in Scarborough, Ont. They are interested in long-form journalism that highlights the visibility of BIPOC expression. True to millennial form, they are a small business owner, carpenter and freelance photographer. They were interested in NCM as it understands the "big picture." Journalists are dedicated to truth and democracy. Our communities have not always had access to these privileges. NCM is filling in a large gap that North American media has long neglected.