Even before our interview got underway, he told me, he was about to post a tweet that criticizes the Liberal government's plans to send peacekeepers to Africa.
"I'm blasting them and I said BS, Africa doesn't need peacekeepers; what we need to do is to provide training for African peacekeepers," says Deepak Obhrai, Conservative MP for Calgary, Forest Lawn.
That is the nature of the man seeking the leadership of the Conservative Party of Canada. Often touted as one of the most controversial MPs, Obhrai refuses the controversial tag, but says he is supposed to generate discussion and that is what he does.
"That is part of my job, to create national debates," he says.
He believes adding his voice to national discourse is very important.
"I'm putting my views across. If I feel a government policy is wrong, I'll say so," he adds.
"Elitist and white"
Obhrai recently criticized his own party for increasing party membership fees to $25, saying some of these new rules made the party "elitist and white". He had his way. The party overturned the decision to increase the amount and pegged it at $15.
"After I made that big noise, it went across the country and the party reduced it," he says amid smiles that suggest he feels he's won a big battle.
"That is an achievement. When you fight, you can do it," he adds.
That is not the only time Obhrai has fought his own party. He openly opposed Bill C-24 which gave power to the federal government to strip Canadian citizenship from dual citizens when charged with terrorism. He made some enemies, but he didn't care, as long as he put his message across.
"Of course, for a few days, I was marginalized," he scoffs.
Old Canada
Often outspoken, Obhrai says people who still think Canada belongs to just a few of them are living in the past. Obhrai says these people and their ideas need to be fought.
"There is what I call 'establishment' discrimination. The old establishment still thinks Canada belongs to the 1940's," he says.
"There is what I call 'establishment' discrimination. The old establishment still thinks Canada belongs to the 1940's," he says.
"I'm running to ensure my message that the Conservative Party is open to all [gets out].  I've been working 20 years at this, I just have to continue to work hard at it," Obhrai adds.
"They are criticizing me because I'm saying this is a new Canada," Obhrai says, without alluding to anybody in particular.
Attracting immigrants
Obhrai, who is the longest serving Tory MP, says the party was perceived and labelled as a racist party, and so he joined to change that perception from the inside.
"I worked hard over the years, and I spoke out. We were very successful."
He says those efforts helped the party especially in 2011, when they won a majority of seats in Parliament.
"But then we started sleeping," he laments.
Citing the controversy over Bill C-24 and the one surrounding the niqab, Obhrai says this portrayed the Conservative party as "anti-immigrant". He says the party lost a majority of new Canadians in last October's federal election.
Obhrai says, "This is not the party I worked for; this is not the party that I built."
Obhrai says, "This is not the party I worked for; this is not the party that I built."
He says the party needs to bring on board all new Canadians and make it attractive for them, adding that he is best equipped to lead the charge. .
Born in Tanzania
Obhrai was born in Tanzania and moved to Canada at a young age. Since being elected to the House of Commons in 1997, he has served in various capacities. He is currently the dean of the Tory caucus. As parliamentary secretary for 10 years, he says he has gained a lot of international recognition and needs to bring this experience to his party.
"In the 10 years that I worked as parliamentary secretary, I gained a huge amount of respect from overseas, in Africa, Asia and the Pacific; everybody knows me," Obhrai says.
"I am a man with tremendous experience."
He says with this and his vast knowledge of the grassroots, his message is unique and that is what the party needs at this time.
Proud Immigrant
Obhrai takes every opportunity to make people aware he is an immigrant. Taking me through some of the large collection of souvenirs in his Parliament Hill office, he points out a framed certificate from his former high school, Arusha Secondary School in Tanzania with pride. Indeed, it was the first thing he pointed to in his office.
Obhrai also prides himself as the only immigrant MP to be profiled in a textbook for students in Canada.
"By the way, me, an immigrant from Africa, is profiled in the high school book of Grade 9 in the whole of Alberta," he says proudly.
He fetches the book from his table and opens straight to the page. "Every high school student in Grade 9 reads about me. That is an achievement for an immigrant."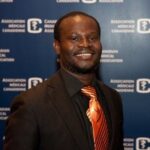 International Storyteller. Freelance Writer. Graduate, Carleton University Journalism School.