Fifty prominent Indo-Canadians were recognized in Ottawa recently for promoting and fostering India-Canada relations.
Carleton University hosted a celebration of their achievements on Feb. 4, alongside a launch for The A-List, a book compilation of their stories written by Indo-Canadian journalist, Ajit Jain.
Now in its second edition, The A-List features Canadians of Indian origin who through their various careers and community efforts have helped promote relations between the two countries. This year's event also celebrated three Canadians considered "friends of India" who have made similar efforts.
An all-inclusive list
Four cabinet members from the new Liberal government were recognized for bringing joy and pride to the Indo-Canadian community.
Minister for infrastructure, Amarjeet Sohi; minister for small businesses and tourism, Bardish Chagger; national defence minister, Harjit Sajjan, as well as Navdeep Bains, minister of innovation, science and economic development make up the highest number of Indo-Canadians in the federal cabinet in the history of Canada.
They also set the record as the highest number of cabinet ministers appointed who are visible minorities from one particular country.
"They have raised the profile of other Indo-Canadians to greater heights by virtue of leadership in their respective fields."
In addition, the list includes 90-year-old world-renowned geologist Dr. Deshbandhu Sikka, who discovered magnetic iron ore deposits in Kudremukh, Karnataka, India. Sikka also discovered gold and copper deposits in billions of quantities in India's Madhya Pradesh.
The A-List also features 24-year-old Manasvi Noel, currently Miss India-Canada, who was born in Dubai to Indian parents and immigrated to Canada. She traveled to Mumbai to learn belly dancing, which she performed at the Miss India-Canada competition.
"They have raised the profile of other Indo-Canadians to greater heights by virtue of leadership in their respective fields," said Jain at the launch.
A-Listers are 'bridge builders'
According to The A-List, between 1946 and 1955, there were a total of 1,100 Indians, then referred to as persons of East Indian origin, in Canada. Today, there are more than one million Indo-Canadians in Canada.
There are now 20 members of Parliament (MPs) of Indian descent – four of whom are cabinet ministers in Prime Minister Justin Trudeau's government – compared to in 1993 when there were just three MPs.
"What a proud moment it is for us," Jain said.
"What a proud moment it is for us."
The A-List was created to honour Indo-Canadians who continue to inspire others in the diaspora.
"They are the bridge builders between Canada and India," Jain added.
President of Carleton University, Roseann O'Reilly Runte, commended the efforts and services of those who made the list in fostering stronger ties between Canada and India. She called their stories "very extraordinary."
Runte went on to acknowledge the growing ties between Canada and India as "a great partnership."
She said this was special because Canadian and Indian collaboration in education has a rich history, hence Carleton University hosting the book launch. Currently, the school has partnered with other universities in India where students embark on exchange programs.
Runte said Carleton University has more students who have gone to India than any other university in Ontario.
Great, pluralism and jugaad
Eight out of the 50 people named in The A-List were present at the ceremony and received copies of the book from Runte.
"There are three things that define us as Indo-Canadians," said Dilip Soman, professor of marketing at the University of Toronto's Rotman School of Management. "These three things are great, pluralism and jugaad."
Jugaad is a Hindi word, which means the ability to improvise and make do with what's available.
"… [W]e need to think about ways we can better support new Indo-Canadians and help them succeed."
Soman, who moved to Canada 14 years ago from the U.S., was also named in The A-List. He said he was honoured to be recognized and that there are others who are also promoting Indo-Canadian relations positively in their own endeavours.
"The A-List is amazing, but I think it is just [the] tip of the iceberg," he said. "There are many people who I think are doing amazing works, but are not on The A-List."
He added, "There are a lot of people whose works go unrecognized because there isn't enough in terms of pages."
Soman said there there are also people who will not be written about because they may not have the opportunity to achieve success. 
"As a country and as a community, we need to think about ways we can better support new Indo-Canadians and help them succeed in anything that they choose to do," he said.
The best way to avoid situations where Indo-Canadians do not achieve their dreams when they come to Canada, he explained, is to support them when they first arrive in the country.
He also urged his other colleagues on The A-List to learn from each other and build a more solid Indo-Canadian community.
The A-List, which has already recognized the work of 100 Indo-Canadians, will honour more in the coming years, as Jain and his team have already started the 2017 list.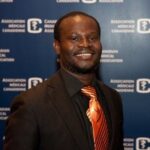 International Storyteller. Freelance Writer. Graduate, Carleton University Journalism School.